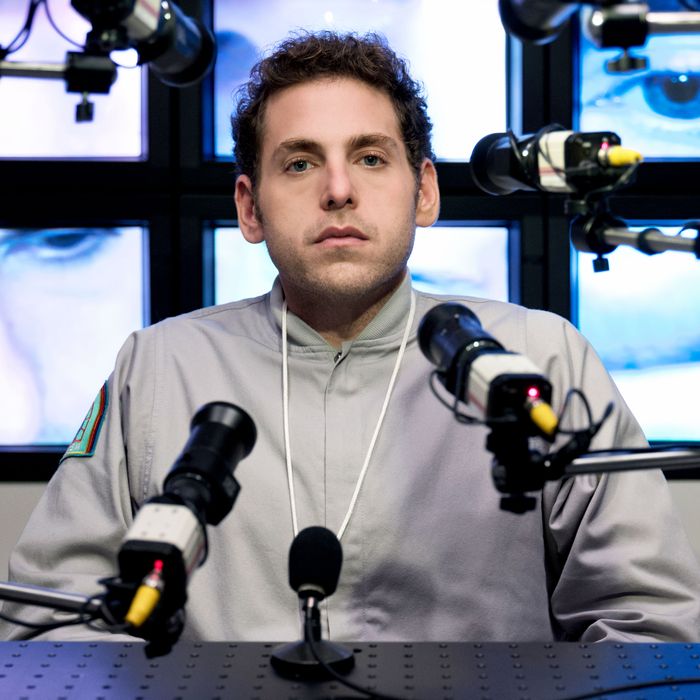 Photo: Michele K. Short / Netflix
If you've worked your way through the three-pill cycle and discovered new neural pathways, I have some terrible news for you. You're out of Maniac to watch.
But don't fear. The delightfully odd sci-fi story from director Cary Joji Fukunaga and writer Patrick Somerville has the fingerprints of some pretty fantastic (and streamable) works all over it, just waiting to be your next deep dive into the wonders of the human psyche.
For this list of recommendations, we tapped into Maniac's particular vision of the future, it's playfulness when it comes to genre, and the retro-futuristic vibes that are infused into every frame. Suffice it to say that like Maniac, these titles may cause some unusual side effects such as light-headedness, cynicism, and the loss of several hours.
Sin Nombre (2009)
Fukunaga's thrilling first feature, about a young girl's race to the U.S. border, is especially interesting almost a decade after its initial release for two reasons. One, it announces the arrival of an incredibly assured filmmaker, and secondly, it offers a realistic, brutal, but humane portrait of MS-13 members. If Trump sketches the gang as cartoon villains, Fukunaga is more of a photojournalist, not shying away from the actual violence in Latin America while never representing its perpetrators as anything other than human beings, as flawed as they may be. Sin Nombre is accessible art-house entertainment made exceptionally well.
Eternal Sunshine of the Spotless Mind (2004)
Without assigning too much intent to Fukunaga and Somerville, it's hard to imagine Michel Gondry and Charlie Kaufman's romantic, mental road-trip-in-reverse in Eternal Sunshine not having some influence on the shared dreams of Maniac's Annie and Owen, especially as the show's Neberdine technicians try to tear them apart. Eternal Sunshine is one of the best examples of a film taking the messy subjectivity of the mind and placing a character smack in the middle of it. Joel's recollections about his relationship with Clementine shape the world around him, and the movie's treatment of memory, despair, and how the two mingle echo the drug trials in Maniac and the experiences of its the subjects.
Brazil (1985)
Nothing can really out-crazy Terry Gilliam's satirical take on an Orwellian dystopia, but Maniac shares Brazil's hyper-consumer-driven image of the future mixed with flights of fancy. Television ads sell more attractive duct work — which is everywhere. The Ministry of Information arrests suspects and charges them for their confinement. A young girl is delighted to receive her first credit card as a Christmas present. Brazil is a gonzo, bleak, hilarious look into our self-obsessed, bureaucratic future and one man's (Jonathan Pryce) naïve struggle against the machine.
The Lobster (2015)
Maniac's mixture of deadpan humor, slightly off futures, and a sweet view on genuine human connection bring to mind Yorgos Lanthimos's twisted take on dating. Colin Farrell's David is similarly institutionalized, but the idea is to find a mate at the end of his 45-day hotel stay or live out the rest of his life as the animal of his choosing. (Lobsters live for over 100 years, are blue-blooded like aristocrats, and stay fertile all their lives. He also likes the sea very much.) Lanthimos's strange parable somehow manages to cut straight into the absurdity of human relations while also never demeaning the value of a true companion.
Her (2013)
Spike Jonze's vision of the near future is all about outsourcing relationships. Joaquin Phoenix's Theodore works for a company that will write your grandma a beautiful handwritten letter, spit out by a computer. When he can't get his life in order, he buys a new OS, Samantha (Scarlett Johansson), whose artificial intelligence he eventually falls for. As their connection progresses, Samantha suggests they hire a surrogate (played by Mr. Robot's Portia Doubleday) so that they can simulate intimacy. It all pairs incredibly well with Maniac's rentable family members. The idea of simplifying and commodifying the messiness of relationships and the troubles that stem from that concept run through both stories with equally effective results.
Legion (2017– )
This is the obvious visual comparison to Maniac in terms of what's on TV right now; it's is apt, beyond the superficial. Though both series take on a technicolor, retro-futuristic palette as they explore the inner reaches of their characters' minds, the FX don't-call-us-an-X-Men-show show dramatizes mental phenomena to different ends. Where Maniac and its drug trials are about demonstrating our blind spots to trauma, the Noah Hawley–created Legion gives form to mental illness in inventive and exciting ways. Its methods turned off some superhero fans, but thrilled audiences looking for something new in their basic cable drama.
Total Recall (1990)
Philip K. Dick's approach to dreaming up the future always involved clever extrapolations of technology he saw in the world. That perspective is particularly present in two films adapted from his short stories, Total Recall and Minority Report. Both films imagine a grotesquely capitalist near future, but what puts Total Recall over the top is director Paul Verhoeven (whose RoboCop could also make this list). The Dutch filmmaker's influence is all over Maniac, especially in Neberdine's glass block aesthetic and the way in which we're clued into what Justin Theroux's James Mantleray has been up to. Recall's humor puts Arnold Schwarzenegger to perfect use, and honestly, is totally worth a watch even if you've never seen Maniac.
"Inside Paul Rudd's Computer" from Tim and Eric Awesome Show, Great Job! (2010)
Whether you're more of a Celery Man, an Oyster, or a Tayne, there's a program to your liking in this bizarre and hilarious clip from the Tim Heidecker and Eric Wareheim's Adult Swim sketch show. Paul Rudd, starring as himself, and his office computer bear more than a little resemblance to the floppy disc VR worlds of Maniac. If you haven't seen it, go ahead and carve out the one minute and 48 seconds right now. And make sure to crank up the 4D3D3D3.
Inception (2010)
Yes, it's kind of obvious, but when was the last time you watched Christopher Nolan's dream heist flick all the way through? One could argue that the path for something as layered and structurally complex as Maniac was blazed Nolan, who taught wide audiences how to watch things like that almost a decade ago. Maniac obviously scores points for taking the shared-dream concepts to more imaginative and over-the-top places, but Inception still stands as a dense-but-mainstream piece of psychological pop art.