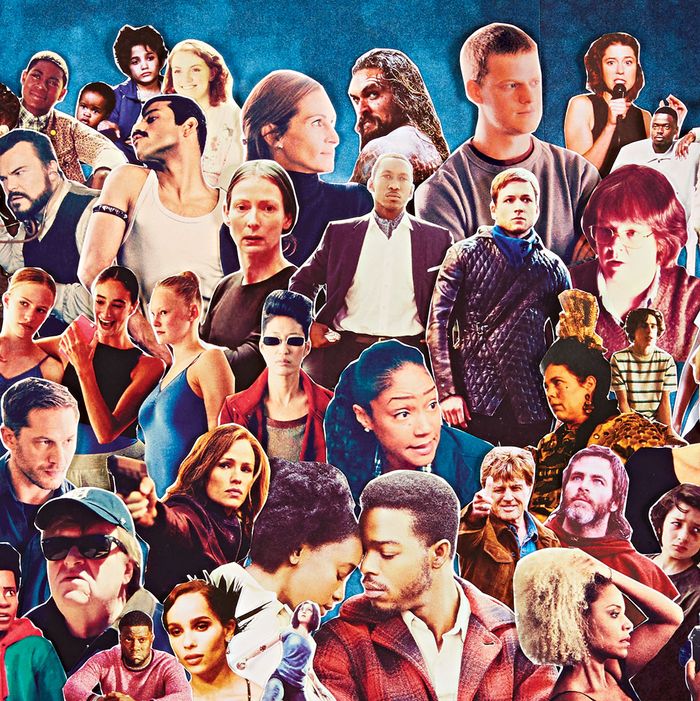 Photo: All courtesy of the studios. Collage by Stevie Remsberg.
What's that smell in the air? Is it maple syrup? Pumpkin pie? No — it's Oscar season, baby! The arrival of autumn brings four months of period pieces, sensitive literary adaptations, and okay, a few big-budget tentpoles, too. (You can't expect the money men to take the whole season off.) Below, find the twelve movies Vulture is most excited for, followed by this fall's full film slate.
A Star Is Born – 10/5
The tale of a troubled male artist romancing an ingenue, her star rising as his falls, captures something elemental about show biz, and this will be the third remake of the 1937 original (which was itself heavily inspired by 1932's What Price Hollywood?). Like the Streisand version from 1976, this one moves the action from movies to the music industry, with Bradley Cooper (also making his directorial debut) taking the role of an alcoholic country singer opposite Lady Gaga (in her first starring role!). Judging by the trailer, the emotions, the sweat, and the wigs are all turned up to 11.
First Man – 10/12
La La Land duo Ryan Gosling and Damien Chazelle reunite to explore a different type of star system in this Neil Armstrong biopic, adapted from James R. Hansen's book of the same name, which attempts to reintroduce suspense into the story of the most famously successful space mission in history. Claire Foy plays Armstrong's long-suffering earthbound wife, while Corey Stoll is an impeccably bald Buzz Aldrin.
Beautiful Boy – 10/12
Oscar nominees Steve Carell and Timothée Chalamet go toe-to-toe in this adaptation of a pair of acclaimed memoirs from David and Nic Sheff. Chalamet's a son struggling with a meth addiction; Carell's the caring father who doesn't know how to help. Tears, hugs, and father-son surfing trips ensue — will a trip to the Dolby Theater follow?
Boy Erased – 11/2
The other movie about a fractious father-son relationship starring a guy from Lady Bird that's adapted from a memoir with "boy" in the title. Based on Garrard Conley's book, Boy Erased has Lucas Hedges as a gay teen forced by his Baptist father (Russell Crowe) to attend a conversion-therapy camp, where he butts heads with its intractably homophobic leader (Joel Edgerton, who also directs). Nicole Kidman plays Hedges's loving mom, while Troye Sivan does Sufjan Stevens one better, not only contributing to the soundtrack, but also popping up as one of the campers.
Suspiria – 11/2
Luca Guadagnino's new movie is apparently only loosely inspired by Dario Argento's 1977 horror film, but he decided to call it by that name anyway. Dakota Johnson stars as a dancer at a prestigious Berlin academy where dark forces are running amok. The academy's led by Tilda Swinton, who has of course possibly also taken the role of an elderly German psychotherapist. (Production insists he's played by a nonprofessional actor by the name of Lutz Ebersdorf.)
The Ballad of Buster Scruggs – 11/16 (Netflix)
This Coen brothers' Netflix Western was first announced as a "limited series," but now, thanks to the wonders of streaming, it is apparently an anthology movie. Tim Blake Nelson will play Scruggs, alongside a cast that also includes James Franco, Zoe Kazan, and Liam Neeson. If the photos are anything to go by, this will be one of the Coens' sillier efforts. Here's hoping it's more Hail Caesar than Ridiculous Six.
Widows – 11/16
After 12 Years a Slave, Steve McQueen has cleared the cobwebs with what looks like a crackerjack genre thriller. Based on a 1980s British TV series, Widows follows a group of women avenging their bank-robber husbands' deaths by going into crime themselves. The incredibly stacked cast includes Viola Davis, Elizabeth Debicki, Michelle Rodriguez, and Cynthia Erivo as the women; Liam Neeson and Jon Bernthal as the late hubbies; Brian Tyree Henry and Daniel Kaluuya as baddies; Colin Farrell as a politician; plus Robert Duvall and Carrie freaking Coon in small roles. Everyone in Hollywood must love Steve McQueen.
Creed II – 11/21
Michael B. Jordan, Tessa Thompson, and Sly Stallone all return for the sequel to 2015's best boxing movie, but alas, director Ryan Coogler has moved on to bigger, superhero-ier things. Taking his place behind the camera is up-and-comer Steven Caple Jr., whose sole previous feature was 2016 indie The Land. Whether Caple can fill Coogler's shoes is an open question, but he's been gifted a great twist: This time, Adonis Creed must fight Viktor Drago, son of the man who killed his father.
The Favourite – 11/23
You wouldn't expect Yorgos Lanthimos, the oddball behind The Lobster and The Killing of a Sacred Deer, to make his next movie about Queen Anne. But that's maybe because you wouldn't expect anyone to make a movie about Queen Anne, the last Stuart monarch, who died childless in 1714. The Crown's Olivia Colman stars as the little-loved queen, with Rachel Weisz as her frenemy (and rumored lover) Sarah Churchill, Duchess of Marlborough, and Emma Stone as Churchill's upstart rival Abigail Masham. To quote a friend of Joe Alwyn (who plays Stone's husband): Baby, let the games begin.
If Beale Street Could Talk – 11/30
Barry Jenkins had to wait eight years between his first two films. Now, Oscar in hand, he can work at a slightly more prolific pace. Just two years after Moonlight comes Jenkins's adaptation of James Baldwin's 1974 novel about a Harlem couple — Selma's Stephan James and newcomer Kiki Layne — torn apart by a false rape accusation and a racist justice system. Baldwin's treatment of the former has attracted its fair share of criticism, and we'll see if Jenkins can handle the subject with more sensitivity.
Mary Queen of Scots – 12/7
Last year's Oscar nominees Saoirse Ronan and Margot Robbie go head-to-head — and risk losing theirs — in this retelling of the political and religious struggle between Mary (Scottish, Catholic, wife and mother) and her cousin Elizabeth I (English, Protestant, childless). Directed by theater pro Josie Rourke, the film should give Ronan another part of the British Isles to explain to American talk-show hosts.
Roma – 12/14 (Netflix)
Alfonso Cuarón's first movie since Gravity is a semi-autobiographical portrait of two women — a housekeeper, and the mother she works for — navigating the personal and political upheavals of 1970s Mexico City. It's apparently Caurón's tribute to "the matriarchy that shaped his world," and it's filmed in loving black-and-white.
9/7
The Nun
People were so scared of the freaky nun in The Conjuring 2 that they made a whole movie about her.
Peppermint
Jennifer Garner is an assassin seeking revenge on the gangsters who killed her family.
Sierra Burgess Is a Loser (Netflix)
A remake of Cyrano de Bergerac, with Barb from Stranger Things as a nerd texting with a hunk who thinks she's the most popular girl in school.
9/13
Reversing Roe (Netflix)
Documentarians Ricki Stern and Annie Sundberg take on abortion rights in a movie that's sure to be less controversial than that other Roe movie.
9/14
Bel Canto
Julianne Moore is an opera singer booked as the entertainment at a wealthy businessman's (Ken Watanabe) b-day party — to which a band of uninvited guerrillas also turn up.
The Predator
Shane Black was killed by the Predator in the 1987 original; now he's rebooting the franchise.
Lizzie
Chloë Sevigny stars as the 19th-century ax-murderer Lizzie Borden, and Kristen Stewart plays the maid she falls in love with.
The Land of Steady Habits (Netflix)
Ben Mendelsohn plays a Connecticut retiree in midlife crisis in a new feature from Nicole Holofcener.
White Boy Rick
The true story of Richard Wershe Jr., Detroit's top Caucasian drug dealer and the youngest FBI informant ever. Matthew McConaughey straps on a mullet to play Richard Sr.
The Children Act
Ian McEwan wrote the screenplay for this adaptation of his 2014 novel about a judge (Emma Thompson) deciding whether a teenage Jehovah's Witness (Dunkirk's Fionn Whitehead) has the right to refuse a lifesaving blood transfusion.
A Simple Favor
Blake Lively stars as a menswear-loving mom whose disappearance enthralls her blogger best friend (Anna Kendrick).
The Angel (Netflix)
A biopic of Ashraf Marwan, a longtime aide to Egyptian president Anwar Sadat.
9/21
The House With a Clock in Its Walls
Jack Black and Cate Blanchett play sorcerers helping a young kid look for a hidden clock in a magical house.
Life Itself
This Is Us's Dan Fogelman hits theaters with another time-jumping tearjerker about a group of random characters who are connected in unforeseen ways. The man knows his lane.
Colette
Keira Knightley stars in this biopic of French novelist Colette, whose work was, how you say, stolen by her terrible husband (Dominic West).
Assassination Nation
A group of teen girls attempt to survive after a massive phone hack throws their town into anarchy.
Quincy (Netflix)
Does Quincy Jones have any secrets left to spill? If he does, this doc co-directed by his daughter Rashida might include them.
Nappily Ever After (Netflix)
A rom-com about one woman's (Love & Basketball's Sanaa Lathan) journey of self-discovery through hair.
Fahrenheit 11/9
If you somehow have the emotional fortitude to revisit Election Day 2016, Michael Moore is here for you with a documentary he was able to pull out from the wreckage of the Weinstein Company, which posits that Donald Trump is "the last president of the United States."
The Sisters Brothers
Joaquin Phoenix and John C. Reilly are brothers whose last name is Sisters and who are also assassins in the Old West.
9/23
The Big Bad Fox & Other Tales
In a gift to short attention spans, this French children's film is actually an anthology of three separate stories.
9/28
All About Nina
Mary Elizabeth Winstead is a troubled female stand-up comic in this scabrous rom-com.
The Old Man & the Gun
In his allegedly final film role, Robert Redford stars in the "mostly true" story of Forrest Tucker, a gentleman thief who stole over $4 million and claimed to have escaped from prison 18 times.
Smallfoot
An animated film in which Channing Tatum voices a yeti.
Hell Fest
A horror-themed carnival … turns real!
Night School
The comedic talents of Kevin Hart and Tiffany Haddish finally combine; Hart's an adult trying to get his GED, while Haddish plays his long-suffering teacher.
Hold the Dark (Netflix)
This thriller stars Jeffrey Wright as a wildlife expert who goes to Alaska to investigate a boy said to have been taken by wolves.
10/5
Venom
Sony's attempt at creating another Marvel cinematic universe sees Tom Hardy stepping into the role of the fan-favorite anti-hero.
The Happy Prince
Rupert Everett directs himself in this biopic about the tragic last years of Oscar Wilde.
Private Life (Netflix)
Kathryn Hahn and a one-balled Paul Giamatti combine their neuroses as a middle-aged couple struggling with infertility.
10/10
22 July (Netflix)
Paul Greengrass gets back to his docudrama roots with this exhaustively researched account of how Norway recovered from Anders Breivik's 2011 terror attacks that left 77 people dead.
10/12
The Oath
A gonzo satire from Ike Barinholtz that imagines Thanksgiving dinner in a world where politics somehow got even worse, owing to the introduction of a mandatory loyalty oath to the president.
Bad Times at the El Royale
A collection of over-the-top characters violently collide at a hotel straddling the California-Nevada border in the early '60s.
Goosebumps 2: Haunted Halloween
More family-friendly scares adapted from the work of R. L. Stine.
Apostle (Netflix)
The Raid's Gareth Evans returns with a thriller about a vengeful brother (Dan Stevens) infiltrating a cult in Edwardian England.
Feminists: What Were They Thinking? (Netflix)
In this doc, women who sat for photographer Cynthia MacAdams's acclaimed series of '70s feminist portraits, including Gloria Steinem, Lily Tomlin, and Laurie Anderson, reflect on the legacy of the Second Wave.
The Kindergarten Teacher (Netflix)
Maggie Gyllenhaal stars as a woman who is convinced one of her students is a prodigy.
10/19
The Hate U Give
An adaptation of the controversial YA novel about a code-switching young black girl forced to take sides after her friend is shot by police.
Can You Ever Forgive Me?
Melissa McCarthy gets dark in this biopic of Lee Israel, a frustrated journalist who turned to forgery once her career dried up.
Mid90s
Jonah Hill goes behind the camera with this nostalgic coming-of-age film about L.A.'s '90s skate culture.
Wildlife
Paul Dano's directorial debut, an adaptation of Richard Ford's novel about a fraying marriage (Jake Gyllenhaal and Carey Mulligan).
What They Had
Hilary Swank and Michael Shannon deal with their mother's (Blythe Danner) dementia as best they can.
Serenity
Matthew McConaughey's a fisherman, Anne Hathaway's a femme fatale who wants him to kill her husband (Jason Clarke).
Halloween
David Gordon Green and Danny McBride wipe the slate clean with this reboot, which pretends that all the other sequels didn't happen. Jamie Lee Curtis returns.
10/26
Dovlatov (Netflix)
In Soviet Russia, the big issue is illegal emigration: In this biopic, the writer Sergei Dovlatov (Milan Maric) must decide whether or not to join his friends in exile in America.
Hunter Killer
A submarine crew led by Gerard Butler attempts to rescue the Russian president and prevent World War III.
Johnny English Strikes Again
If there's one upside to Brexit, it's that the suspension of EU regulations means it's finally legal to make Rowan Atkinson movies again.
Shirkers (Netflix)
In early-'90s Singapore, three teenage girls set out to make their country's first road movie, but the American man they hired to direct stole the footage and disappeared. In this doc, one of the now-grown filmmakers investigates.
11/2
The Nutcracker and the Four Realms
Is there any public-domain intellectual property that can't be turned into a CGI-heavy blockbuster about warring fantasy kingdoms? According to this movie's existence, the answer is no.
Bohemian Rhapsody
Rami Malek becomes Freddie Mercury in this band-approved biopic of the late Queen front man.
Nobody's Fool
A Tyler Perry comedy about a mismatched pair of sisters (Tika Sumpter and Tiffany Haddish) who overcome their differences in order to take down an online catfish.
A Private War
Rosamund Pike stars in this biopic of award-winning war correspondent Marie Colvin, who covered conflicts in East Timor, Sri Lanka, and Syria, among other places.
The Other Side of the Wind (Netflix)
Thanks to the hard work of Peter Bogdanovich and the largesse of Netflix, Orson Welles's legendarily lost Hollywood satire has finally been completed. Hopefully it's good! (It'll be released concurrently with the making-of doc They'll Love Me When I'm Dead.)
11/7
The Front Runner
The tragicomic tale of Gary Hart gets the big-screen treatment, courtesy of director Jason Reitman and Hugh Jackman.
11/9
Dr. Seuss' The Grinch
Enough time has passed since the Ron Howard–Jim Carrey misfire that we're getting a new Grinch. This one's CGI and stars Benedict Cumberbatch.
The Girl in the Spider's Web
Claire Foy takes up the role of Lisbeth Salander — a character as far away from Elizabeth II as humanly possible — in this reboot of the "Millennium" series. Swedish actor Sverrir Gudnason is the new Daniel Craig, while Uruguayan horror director Fede Alvarez takes over from David Fincher behind the camera.
Overlord
Ah, you think, it's been a while since we've had a good old-fashioned war film, and this movie about WWII paratroopers seems just the ticket. But nope: The paratroopers are fighting monsters created in a Nazi lab.
Peterloo
Mike Leigh (Mr. Turner) returns to 19th-century Britain with this detailed re-creation of the 1819 Peterloo Massacre in Manchester, when cavalry charged into a crowd demanding democratic reforms.
Outlaw King (Netflix)
Chris Pine never fails to surprise us with his choices, and he's outdone himself by agreeing to star in this biopic of Scottish hero Robert the Bruce, who won back the nation's independence in the early 1300s.
11/16
At Eternity's Gate
How has it taken this long for Willem Dafoe to play Vincent van Gogh? They look alike, and their names rhyme. (As long as you're not Dutch.) The oversight has now been corrected thanks to director Julian Schnabel.
Fantastic Beasts: The Crimes of Grindelwald
In this allegorical retelling of WWII, the wizarding world is split between the forces of good (Eddie Redmayne's Newt Scamander and Jude Law's Albus Dumbledore) and the fascist analogue Gellert Grindelwald (Johnny Depp).
11/16
Instant Family
Mark Wahlberg and Rose Byrne set out to adopt one kid and decide — ah, what the hell — they'll take three.
Girl (Netflix)
Lara, a trans teen in Belgium (played by cis-male dancer Victor Polster), navigates hormone therapy, the pressures of adolescence, and her career as an aspiring ballerina.
11/21
Ralph Breaks the Internet
The Wreck-It-Ralph sequel sees our lovable lug exploring the wonders of the internet. Well, not the whole internet — this is a children's film, after all.
Robin Hood
Remember how last year Guy Ritchie made a movie about King Arthur that recast the mythic British hero as a streetwise hustler? This is that, but with Robin Hood.
Green Book
Peter Farrelly goes solo with this road movie about a bouncer (Viggo Mortensen) driving a famous black pianist (Mahershala Ali) across the South in the early '60s.
Second Act
It's been too long since J.Lo starred in a glossy New York rom-com. But now she's back, playing a humble Queens woman whose life is transformed by one weird trick: a fake résumé!
11/23
Shoplifters
Hirokazu Kore-Eda's film about a family of Japanese petty criminals who take in a little girl won the Palme d'Or at Cannes this year.
11/30
Anna and the Apocalypse
If you only see one British Christmas musical about zombies this year, it should probably be this one.
Happy As Lazzaro (Netflix)
A magical-realist comedy about a sweet, simple lad (Adriano Tardiolo) caught up in a kidnapping hoax.
12/4
Capernaum
An uplifting Lebanese drama about a boy who sues his parents for bringing him into a world full of poverty and suffering.
12/7
Under the Silver Lake
21st-century L.A. gets the film noir it deserves, with Andrew Garfield as a hipster investigating the disappearance of his beautiful neighbor (Riley Keough).
Ben Is Back
Lucas Hedges is a troubled teen who surprises his mother (Julia Roberts) with a Christmas visit. It's directed by Hedges's real dad, Peter.
12/14
Spider-Man: Into the Spider-Verse
Ultimate Spider-Man Miles Morales (Shameik Moore) makes his big-screen debut in this animated feature about the Marvel "multiverse."
Backseat
Adam McKay's evolution from frat-pack bard to lefty satirist reaches its apotheosis with this biopic of Dick Cheney, starring Christian Bale.
Mortal Engines
A steampunk vision of the future where cities have been mounted on giant wheels and roam around competing for resources.
12/19
Mary Poppins Returns
In which Emily Blunt takes up the iconic handbag.
12/21
Aquaman
Our wettest superhero makes his solo debut.
Alita: Battle Angel
A manga adaptation starring Rosa Salazar as a motion-capped cyborg whose eyes are anime-big.
Bumblebee
Travis Knight takes the keys of the Transformers franchise from Michael Bay with this '80s-set prequel about a girl (Hailee Steinfeld) and her friendly yellow car.
Holmes and Watson
Do you need another Sherlock Holmes? Does your answer change if he's being played by Will Ferrell with John C. Reilly as Watson?
12/21
Cold War
A romance between two music-loving Poles torn apart by the Iron Curtain.
Welcome to Marwen
Steve Carell stars in the real-life tale of an artist who creates a miniature WWII village to cope with PTSD.
12/25
On the Basis of Sex
Felicity Jones stars in this biopic about Ruth Bader Ginsburg's early days at the ACLU.
*This article appears in the September 3, 2018, issue of New York Magazine. Subscribe Now!