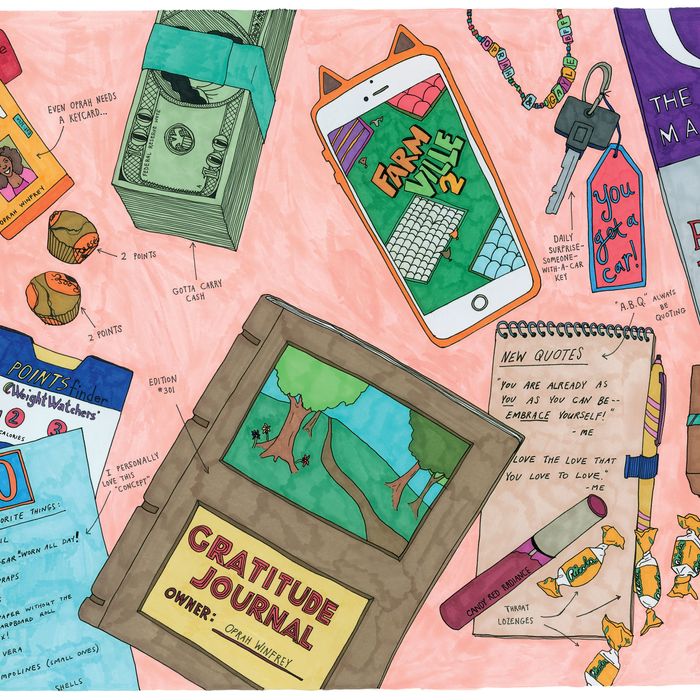 What Jacobson imagines is in Oprah's bag.
Photo: Courtesy of Abbi Jacobson
Being one of the high priestesses of Comedy Central aside, Broad City's Abbi Jacobson is an incredibly warm and witty illustrator, talents of which went on display two years ago upon the release of her first full-fledged illustrative work, Carry This Book. In it, Jacobson imagines a world where people's handbags — both real-world celebrities and fictional characters — get the X-ray treatment, and its contents are on display for all the world to see. Elegant fake lashes? Throat lozenges? Dave & Buster's membership cards? Blunts? You name it, it's there. "You can find out so much about someone by what they carry around with them and what they have handy," Jacobson explained to us over the phone this week, calling in from Broad City's set. "People's bags are interesting to me, even how they organize them, too. The more I thought about it, the more I thought it was an interesting and voyeuristic idea."
Jacobson, who grew up in an artistic family, attended art school in Maryland as an undergraduate, but it was only upon moving to the concrete, claustrophobic jungle of New York City that she pursued illustration as an artistic medium. "I did drawing and painting, but I changed to illustration because I didn't have a studio anymore, so I had no space," she said with a laugh. "I had a desk, so I switched to illustration, because I only had that workspace available." With 100% of the proceeds going to support the ACLU, Jacobson will be selling some of her original artwork to benefit the organization during a pop-up on September 30, in New York City, at 163 Bowery. In anticipation, she was nice enough to guide us through five of her favorite illustrations from Carry This Book.
RuPaul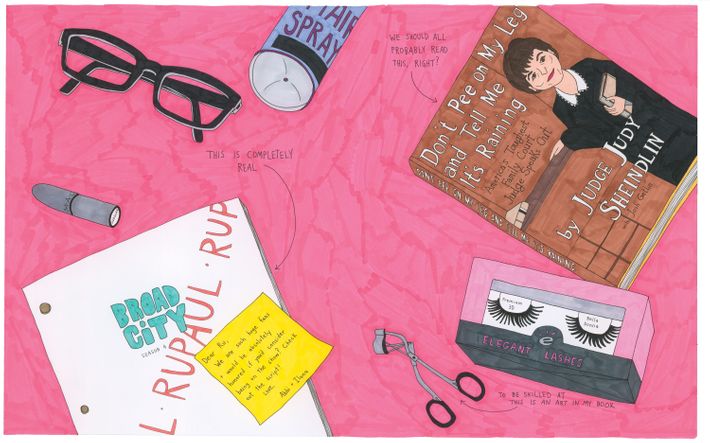 "Judge Judy is one of RuPaul's favorites, which I found out doing some research. That page is hilarious to me, because he hadn't done the show yet, and I legitimately put that in there because we were writing the fourth season at the same time I was making the book. I was like, I'm getting him on the show! I'm putting the script in here for him to do the show! We hadn't gotten him to agree yet, so it was hilarious to me how meta it was."
Ruth Bader Ginsburg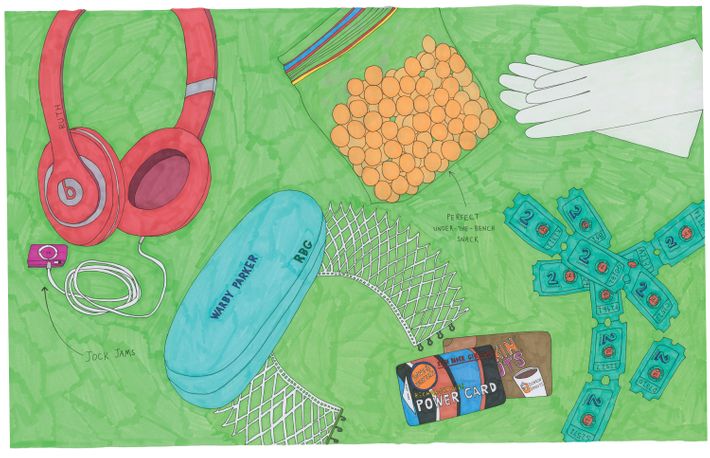 "Selecting who was going to be in the book was hard — and I could've done a lot more people — but I love and admire her so much, so that was an easy decision. I thought it could be funny, not so much what was in her bag, but what was in her bag under the bench. The judges have to sit for so long, so what snacks does she have? I love imagining that she pumps herself up with Jock Jams. The whole thing of looking inside any celebrity's bag is the relatability factor. You wanna see something juicy and wanna be like, Oh my God, I have that too! Right? That's what we're always seeking out. I love the thinking of It's such a nerve-racking job, so what does she do to calm herself down?"
Oprah Winfrey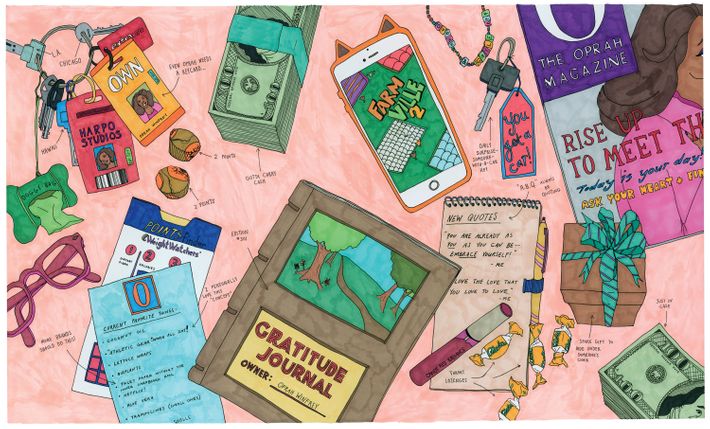 "Some pages in the book are definitely more jam-packed, the more I either love the person or the more information I know about them, for whatever reason. With Oprah, I had so much fun with her because I'm a big fan. With Farmville, I don't play Farmville, but wouldn't it be funny if Oprah plays some game on her phone all the time that you'd never think? The keys were so fun for a lot of different people, seeing somebody's keychain. I'm sure Oprah doesn't even have to carry any actual keys for all of her different houses and cars! And with money, she's always so generous and giving people stuff all the time. The gratitude journal I've known forever about her. When I was researching her, the amount of quotes Oprah has that people recite I couldn't even tell you, because it was so many. It was hard to pick, she's just that inspirational. She was one of the first illustrations I did, so I started off strong."
Anna Wintour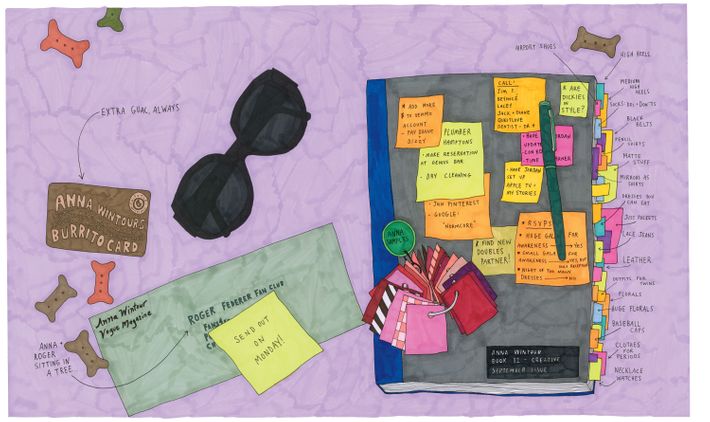 "The illustration of her 'book' was one of my favorite things to do. Anna's book! I get to write what all of these crazy, ridiculous, and probably not even that-far-off fashion trends! Those little pads in her book. Then I thought, it would be so funny if Anna Wintour ate Chipotle every day. Just picturing her in line at Chipotle makes me laugh."
Abbi Abrams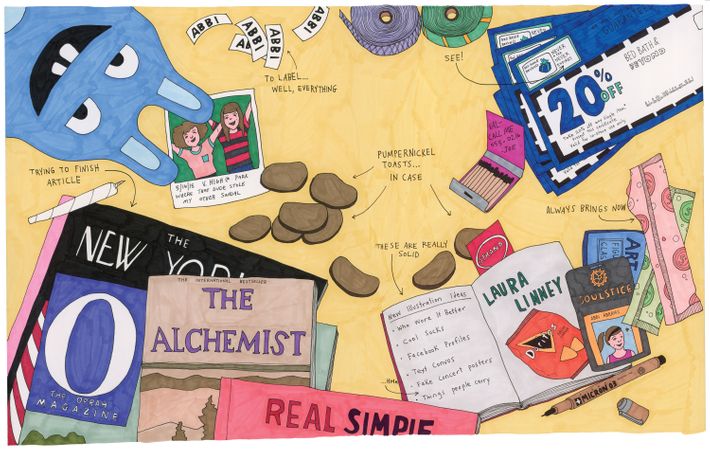 "Drawing Abbi and Ilana's pages were so fun, because it allowed me to do all of these little inside jokes and get, from a totally different perspective, their lives and what things they might have with them in their bags. I give my character a lot of my illustrations on the show that I've had years ago. All of her artwork is stuff I drew. So it was a nice moment for me to draw her stuff, since her style is also in my style. It was also cathartic, too, because doing the book was really stressful while we were writing the fourth season. It was so nice that I was diving into these characters in a different way."