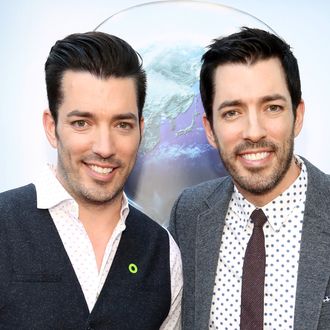 Drew Scott and Jonathan Scott.
Photo: Jonathan Leibson/Getty Images
No matter who is chosen as the Bachelor in the future, know that it could have been a Property Brother instead. In an interview with Us Weekly, Drew Scott (the one that got married in May) said that ABC has approached Jonathan (the single one) "like, I think four times now" to be on The Bachelor. "He don't need that," he added, saying that his brother is "just focusing on what we're doing" (home renovation and country songs). "I said my third no to being the Bachelor about a month ago," Jonathan said. "I cannot. That is absolutely not me. I would love something like Amazing Race. [It] would be fun … but not The Bachelor." In a way, it is somewhat comforting to think that ABC asked someone else before they finally went with Colton.