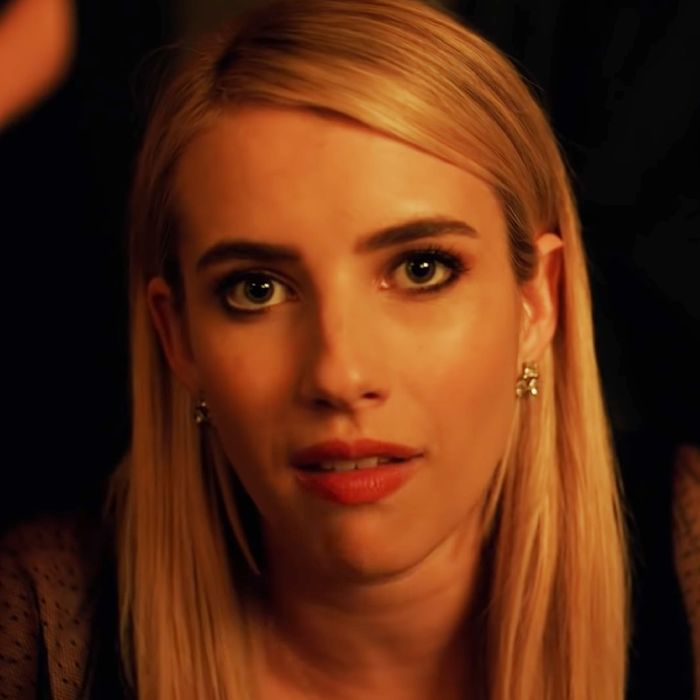 Emma Roberts in
American Horror Story: Apocalypse
.
Photo: FX
American Horror Story: Apocalypse is back this week, and sources can confirm the end of the world still sucks! We begin this episode with Emily, who is changing from her "End Is Nigh" eveningwear to her Armageddon pajamas. Lo and behold, her armoire is infested with snakes. This worries our solemn survivors but excites Meade because it means they'll have fresh meat that isn't human for dinner. Unfortunately, when she serves the group, the snakes regenerate and slither all over their table. Something is fishy about this snake soup. Could it be that Stevie Nicks and her coven are nearby, or am I just excited that the coffee shop I'm in is playing "Landslide"? Either way, something is afoot …
By the way, I love that Evie is cool with eating snake because she did it with some rich people once. That logic tracks: If I ever ate crap with the Queen, poop should become a delicacy and you plebeians would just have to accept that. Evie is a cultural icon and I hope to be as influential and full of it as she is one day.
Langdon interrupts everyone's immersive dinner to start interrogations for the cooperative sanctuary, which he describes as "cooperation." I like that in the end of times, people have stopped trying. It gives me hope that my efforts now are truly futile. For some reason, Gallant volunteers to be cooperated first. The interrogation goes like this: Gallant tells the long-haired, soft-faced man about his childhood and Langdon reads him to filth. I like this game! I'm going to start being rude and claim it's because humanity is dying. Somehow, Gallant finds himself alone with the Rubberman he believes to be Langdon and they become intimate — or as intimate as you can be with someone whose face you can't see or voice you can't hear. Now, if you remember, the golden rule of the apocalypse is that sex is forbidden unless Sarah Paulson gives permission. Evie catches Langdon in the act, and takes the opportunity to sell out the only living relative she has left because she wants a ticket to this so-called sanctuary.
On the other side of the fallout shelter, the world's horniest teens, Emily and Timothy, plot against Langdon and the Outpost. While they are right to be suspicious of any long-haired, soft-faced man claiming to have all the answers, I don't believe they are smarter than he is. Timothy got into UCLA literally two weeks ago and Emily was arrested for protesting! I'm sure they are great for their age bracket, especially since everyone their age is dead, but they are not smarter than an all-knowing demon Antichrist. They need to slow their roll.
Emily and Timothy go snooping in Langdon's room that mysteriously has its door ajar. I love that in the apocalypse, Macbooks are still the computer of choice. Hard same. I will give up my Retina display when you rip it from my cold, dead, irradiated fingers. Through their nosiness, Emily and Timothy find that Sarah Paulson has been lying about the no-sex rule for fun. This, now, gives them license to have sex. I believe Emily and Timothy's fundamental problem is that they don't want to accept that the world is over. Which is fine! They are entitled to their opinions, but they should just die with the rest of humanity if they don't like the rules. Otherwise, do what you're told and learn to love dry humping.
Now it's Sarah Paulson's turn for the cooperative interrogation cooperation. If reading is fundamental, call her Levar Burton because she reads everyone to filth about why they don't deserve to go to sanctuary. Langdon responds by reading her scoliosis. Damn, who would have thought that the nuclear winter would be such a cold world out there? Everyone is so mean. When Langdon is gone, Sarah Paulson and Meade conspire against him, Paulson believes that he knows Gallant from before the end of the world. (I should note, the reason that I keep referring to Mx. Venable as Sarah Paulson is because I think that Sarah Paulson is the perfect actress and I am obsessed with writing her name. Sarah Paulson! Sarah Paulson! Sarah Paulson! Where is her EGOT? I could listen to her read the Urban Dictionary … which would get her that Grammy!)
Now we're at dinner and everyone is roasting the hell out of each other. What I appreciate about Evie is that she doesn't even deny snitching on her grandson and setting him up to die. She has no reservations about wanting to "eliminate the 10 Indians standing between her and the golden ticket out of here" — which I assume is a racist metaphor, although I can't pinpoint its root. (And Then There Were None, I guess?) At her core, Evie is a selfish, heinous (definitely bigoted!) person. And isn't that what the apocalypse is about? People at their most desperate revealing their true selves when the Rubberman meets the road. And if you're the Antichrist — cough, cough — bringing this dissension is your literal only job.
So let me just come out and say it: I don't believe that the sanctuary exists, not in the literal sense at least. The sanctuary is death/Heaven. This is the only outpost left, Langdon is not receiving any orders from anyone but his own little permed head, and the purples' actions reflect whether they are going to die as good people or as bad people. Yes, this theory is based on two episodes! But Lost really messed with my head and I trust no plot or reality. Anyway, I digress …
Emily keeps trying to have sex with Timothy. I'm sorry, but nothing about this captive scenario would make me horny. Maybe it's the cannibalism or the familial betrayal, but I just don't think it's the right time!
Somewhere in the middle of all this madness, Gallant follows up with Langdon about their tryst. Not only does Langdon say the spandex daddy wasn't him, he says he wouldn't have sex with Gallant if he was the last man on Earth (which he is!) because Gallant is too needy. This hurts Gallant and when he sees the spandex daddy again, he stabs him with a pair of conveniently placed scissors. Turns out the Rubberman is actually a Rubberlady, because Gallant was hallucinating and accidentally kills his iconic grandma Evie. Cue Emma Roberts surprise GIF.
(Also worth noting, Evan Peters played the Rubberman in American Horror Story: Murder House and now he's playing Gallant. This means that technically the Rubberman could be having sex with himself? I don't know how this will work itself out, but I am open to anything! Okay, back to the Emma Roberts GIF.)
After having sex, Emily and Timothy are violently woken up out of their sleep by Meade because, again, the golden rule is to not have sex. Their defense is basically "This rule sucks!" That is not useful or productive. I agree with Emily and Timothy that they shouldn't have to follow rules that are made up, but where is the impulse control for goodness sake? Why would you play with your life like that? Speaking of, why is there a loaded gun just chilling within arms' reach in the room where people are executed? Seems irresponsible to me, but what do I know! Timothy shoots Meade before she kills Emily and Meade bleeds milk because she is most likely an android (or an ice cream cone). This is an interesting twist, but I've noticed there are still no witches. Where my coven at?