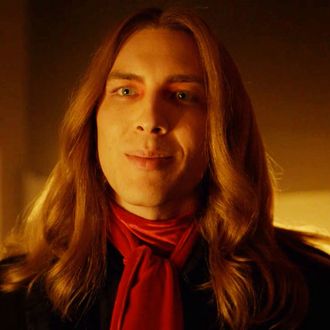 Ahead of the American Horror Story: Apocalypse premiere, FX teased clear connections between the eighth season of the anthology series, which returned Wednesday night, and seasons one (Murder House) and three (Coven). But how exactly is this trio of horror stories tied together? We don't know quite yet, but the Apocalypse premiere revealed a major piece of the puzzle.
The first hour of Apocalypse was a crazy train of new information — nuclear war! Underground bunkers! A very creepy shadow government known as the Cooperative! — but at the very end of the episode, we did get to see what looks like the first link back to the beginning. Just as Sarah Paulson's Wilhemina Venable is explaining to her charges (or are they prisoners?) in the subterranean containment facility that they will have to restrict food rations even further, the compound is breeched by a very Interview With the Vampire–looking man named Michael Langdon, played by Cody Fern. Langdon has come to inform Wilhemina that he can provide shelter at an unimpregnable fortress with more supplies than her own — but first, he's going to determine if anyone at her bunker is worthy of rescue.
Sure, Michael Langdon is a pretty milquetoast name for someone who seems so cavalier about leaving a bunch of people to rot in a fancy coffin, but this is no ordinary man in a red neck scarf and long leather trench. Michael Langdon is the unholy offspring of Vivien Harmon (Connie Britton) and Tate Langdon (Evan Peters), conceived in AHS: Murder House when Tate, a ghost, raped Vivien in her bed one night. You'll remember that Vivien died in childbirth, and of the twins she was carrying, one was stillborn and the other was adopted by Constance Langdon (Jessica Lange). Ryan Murphy even shouted out Michael's lineage on Twitter last night:
You may be wondering what Michael Langdon's introduction will mean for Apocalypse. Well, it can't be anything good: As the spirit medium Billie Dean Howard (Paulson) told Constance in episode nine of Murder House, "The precise nature of the Antichrist" would be "a child born of human and spirit [who] will usher in the end of times. It is the essence of evil, a perversion of the immaculate conception." To drive the point home, Billie said, "The Holy Ghost merely whispered in the Virgin Mary's ear and she begat the son of God. If the Devil is going to use a human womb for his spawn, he's gonna want a little more bang for his buck." It's worth noting, too, that the technician who administered Vivien's ultrasound that season also quit her job in distress after claiming to see the Antichrist in Mrs. Harmon's womb.
The last time we saw Michael, he was a sweet-looking 3-year-old boy who had just murdered his babysitter, Flora, by cutting her throat open. That was way back in the season finale of Murder House, and he seems to have maintained his sunny disposition over the years.