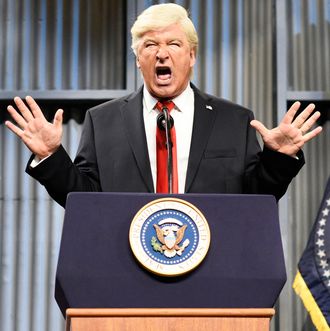 Alec Baldwin as President Donald J. Trump on
Saturday Night Live.
Photo: NBC/Will Heath/NBC
Saturday Night Live isn't getting a new Donald Trump this year. Alec Baldwin confirmed during an interview on James Andrew Miller's podcast Origins that he is, in fact, returning to Saturday Night Live for season 44 to play Trump, but he might not appear as often as he has in the past. Here's an excerpt of what Baldwin said to Miller about the impression and the more negative response it's gotten from audiences recently:
Let's say previously 75% said "We think that's funny" or "Good for you" or "We're glad that you're sticking it to him" – they might not have even thought it was that funny, but they loved the idea of putting it to him in that way because they are so disapproving of him. But now it's like 50/50 – not even because of their politics. There's two subsets: One who are supporters of Trump, and another group who just don't think I'm funny or it's funny, and they say it very loudly. Half the people I see out there are saying "You gotta stop." I think to do a little bit less of it – which, I have to have that schedule necessarily anyway – might be for the better. Because I think people are really really … you know, they're scared. They're scared. And God knows people hate Trump, they hate him. They hate him like he's Mussolini or Franco – they hate him. I'm not gonna say Hitler, cause Hitler's a separate category by himself, but they hate him like he's a fucking dictator, and they want him gone.
Lorne Michaels also confirmed Baldwin's return on the podcast. "We see each other a fair amount, so we don't much talk about it in the off-season … His agent Matt DelPiano texted me and said, 'I think he's doing Trump.' And I went 'Oh, okay.' But he is somebody you know you can always count on."
Season 44 of SNL premieres on September 29 with host Adam Driver and musical guest Kanye West.