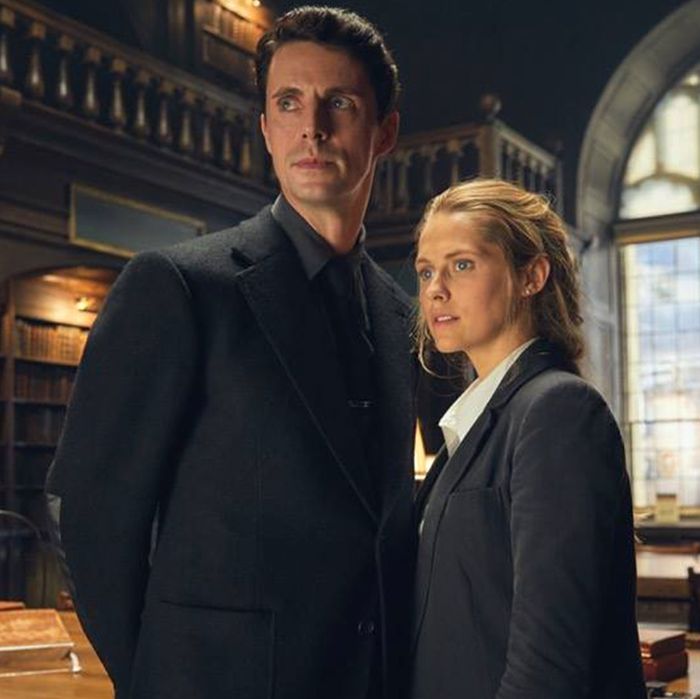 Matthew Goode and Teresa Palmer star in the TV adaptation of Deborah Harkness'
A Discovery of Witches,
part of her bestselling All Souls trilogy.
Photo: Sky One
On a recent sweltering weekend, nearly 400 self-identified witches, daemons, and vampires traveled from around the country to the Science History Institute in Philadelphia for two days of bookish revelry. The ladies — they were nearly all ladies — favored flowy cardigans and long crystal necklaces strung with alchemical symbols; they nibbled on punny delicacies ("maca-runes"); they attended lectures delivered by academics on such topics as the genetic mutations that might allow a creature to live forever by drinking the blood of others; they wept over alchemical manuscripts. "I've never experienced anything like it in my life," observed one of the librarians at the Institute. "Usually we deal with people who are interested in petroleum engineering."
The women (I counted seven men in total) were gathered for the third annual All Souls Convention, a fan-organized celebration of Deborah Harkness's best-selling All Souls trilogy, the story of a professor of alchemical history who falls in love with a vampire and reluctantly learns to embrace her own power as a witch. In recent years, fans of epic fantasy have had no shortage of series-specific conventions to attend — Game of Thrones has at least two — but the All Souls trilogy stands apart as one of the only series to have its own convention before the release of a screen adaptation. Although the books are sometimes described as Harry Potter for grown-ups, they are set in the real world — primarily at Oxford, a chateau in Auvergne, and a cozy house in the woods of Madison County, New York. The final volume of the trilogy was published in 2014, but in May, The World of All Souls, a companion guide co-written by Harkness, landed on the New York Times best-seller list, and this week, a minor character will get his own spin-off in Time's Convert. At the Science History Institute, anticipation for the new volume was so acute that one convention attendee warned me not to leave my advance reading copy unattended lest it "magically vanish."
Upstairs, Harkness, in her own diaphanous cardigan and beaded necklace, flipped through a fake alchemical text central to the plot of the All Souls trilogy — a prop for the upcoming TV adaptation of the first book in the series, A Discovery of Witches, out this month in the U.K. on Sky One and next January in the U.S. on Sundance Now. (Teresa Palmer and Matthew Goode star as the leading witch and vampire, a choice the crowd heartily agreed with — the mere mention of Goode's name was enough to stir up cheers and sighs.) Harkness, 53, is blonde and dimpled and vivacious. When we met, she held out a vial hanging from her necklace — a gift from a fan — and instructed me to take a whiff. "It's coffee!" she declared, beaming.
She turned her attention to the prop manuscript, Ashmole 782, which is based on a real alchemical text that has been lost for hundreds of years. Harkness, an executive producer on the series, argued with the production team over the size of the manuscript — they wanted it to be larger, but the real dimensions of the book are recorded in archival documents, and Harkness insists on authenticity over style. "There were tons of creative disagreements," she said. "I was really a pain in the ass, to be quite blunt."
Like her heroine, Harkness got her start as an intellectual historian specializing in the Medieval history of alchemy. She was a 43-year-old tenured professor at the University of Southern California, with two academic books on magic and science in Elizabethan England under her belt, when she first decided to try writing a fantasy novel. (She had also spent many years moonlighting as a wine blogger.) As she recalls it, her students and colleagues were shocked and dismayed. "One of my students asked me, 'Aren't you afraid no one will take you seriously anymore?'" Even her agent, Sam Stoloff, who'd worked with Harkness on one of her history books, was skeptical when he first got an email from the writer announcing she'd begun work on a novel. "My heart kind of sank," Stoloff told me. "Because I have a lot of academic authors and journalist authors, and a lot of them have entertained the fantasy of writing the novel, and usually it's trouble, because usually, they're not that good at it." In the case of Harkness, he had reason to be even more skeptical than usual: the first draft of the book came in at over 1,100 pages, the first 120 of which contained no real plot; instead, they mostly featured descriptions of the heroine studying various alchemical manuscripts.
"I would have read that," interjected Victoria Orzechowski, the librarian at the Institute, who'd arrived to escort us into the rare books room where they keep the actual alchemical manuscripts. We examined a leather-bound book by John Dee, an alchemist and mathematician who served as the astrologer to Queen Elizabeth I and also shows up as a character in the second book of Harkness's trilogy. Harkness smiled warmly at Dee's book, which catalogs conversations he claims to have had with angels. (Among other things, they allegedly told him that he should swap wives with a colleague.) She first encountered the books more than 30 years ago, when she was a junior at Mount Holyoke, in a class on occult science and the Renaissance. "Poor John Dee," she mused, as she carefully flipped a page. "He wrote major works of scientific scholarship, then he started talking to angels and people went: 'Okay, he's checked out.'" Harkness laughed — she could relate. "I think there's still that tendency to think: 'She's lost her mind!'"
Dee's conversations with angels were the subject of Harkness's graduate school dissertation. Not long after she submitted it, she was paying one of her regular visits to Oxford's Bodleian Library when she had an uncanny experience that would later form the basis for the All Souls trilogy. Arriving at the library one morning to pick up a manuscript that she'd ordered from the stacks, the librarian at the front desk informed her that the keeper of rare books wanted to see her. As if by magic, her call to the stacks had summoned up a manuscript from Dee's collection, an ancient book of magic that scholars had long believed lost to history. As it turned out, its disappearance was a mere filing mistake. A Discovery of Witches begins in a similar way, with the protagonist accidentally unearthing a missing text that lays out the secret origin of vampires, witches, and daemons. "We live in a world where we think the mysterious is retreating farther and farther from our lives and eventually we will know all there is to know," Harkess said. "I love the idea that somehow, there are still things that can be magical. It felt magical for me to find a missing book hiding in plain sight in a library that was extremely well-documented and researched. How is that possible?"
When Harkness finished writing the trilogy, she considered returning to academic writing, where she would once again have to limit her observations to facts she could prove. But after spending a year back in the classroom, she realized she had ten more books she wanted to write, and only one of them was straight history (an account of a 17th-century experiment undertaken by the Royal Society of London to study the magical properties of morning dew). She decided to stick with fiction, in part because writing the novels would require so much research that she wouldn't have time for much else. Time's Convert primarily takes place in the Enlightenment era, 200 years after the period Harkness spent her academic career studying. To research her protagonist, a young surgeon in the Revolutionary War who was reborn as a vampire in 1781, she attempted to read every text he may have encountered in his life, beginning with the primers printed in New England to teach children how to read. "I had a hell of a lot of reading to do," she said. "I basically became a graduate student in 18th-century history."
Downstairs, at a lecture on the genetic composition of magical beings, a molecular biologist and community college professor sketched out a pair of witch's chromosomes on a whiteboard. "If I had professors like you, I wouldn't have flunked biology twice," a woman remarked during the Q&A. Harkness seemed as delighted by her fans as they were by her. Not all fantasy authors are. Some struggle with the expectations of readers who always want more than they can give — more books, more inscriptions and selfies, more Q&As, more time. But Harkness insisted on adding several extra autograph sessions to the weekend so she could have a personal exchange with every reader, whose names she remembered more often than not. She asked each person she met how they were enjoying the convention; she asked after their spouses and their favorite All Souls characters; she offered professional advice and the occasional wine recommendation. ("I had a frosé for the first time recently," she told me, "and I've seen God now.")
"I'm super inspired by you as a person," said a woman in an All Souls T-shirt who wanted to become a history professor and a novelist. "How's your Latin?" responded Harkness, ready, as always, to get into the details. "For the classics, you really need it."
A previous version of this piece incorrectly stated that the All Souls trilogy was the only series to have its own convention before the release of a screen adaptation.