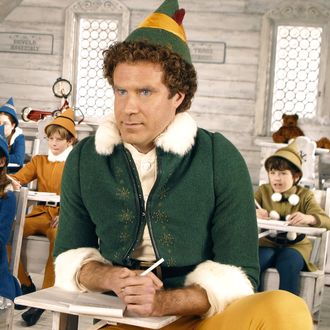 Photo: Michael Ginsberg/New Line Prods.
Ho, ho, whoa: In a move worthy of Saul Goodman (and the Grinch), AMC has stolen away broadcast rights to a trio of holiday classics closely associated with rival Freeform's decades-old 25 Days of Christmas programming stunt. Starting in November, three Warner Bros.–distributed titles — Elf, National Lampoon's Christmas Vacation, and The Polar Express — will air exclusively on the network of The Walking Dead, Vulture has learned. AMC will use the movies, along with more than four dozen other holiday films and specials, to anchor a new, monthlong marathon of Yuletide programming it's dubbing "Best Christmas Ever." Halloween is more than a month away, but the war for Christmas viewers has already started.
While linear TV ratings have been in something close to free fall the past few years, there's ample evidence audiences will still show up for carefully curated events, even in the age of Netflix. Something small like a one-day marathon of The Office can boost a network's viewership by double-digit percentages. More ambitious offerings, such as the aforementioned 25 Days or Hallmark's Countdown to Christmas, inflate tune-in numbers for weeks, giving networks the chance to attract audiences who might not watch their regular series or who've gotten out of the habit of watching live TV. The reach of these stunts can be huge: Nielsen estimates 150 million viewers caught at least a few minutes of last year's 25 Days spectacular on Freeform.
As for AMC, it's no stranger to the phenomenon of seasonal stunts. The network's October FearFest lineup of horror-themed movies has been a Halloween habit for decades, while its annual Thanksgiving tradition of trotting out The Godfather reliably yields a ratings lift. And when December rolls around, the network (which used to be known by its formal title of American Movie Classics) has long offered viewers a smattering of holiday films. "We've always had a Christmas presence on the network," says Tom Halleen, AMC's executive vice-president of programming and scheduling. "Miracle on 34th Street, White Christmas, Home Alone, Scrooged — they always performed extraordinarily well. But they were limited. Five, maybe six movies would be part of the schedule."
That all changes this year. Starting the Monday after Thanksgiving (November 26) and running through Christmas Day, AMC will program over 600 hours of holiday movie and TV chestnuts, replacing its usual assortment of edgy series and adult-oriented movies with holiday content all day and night. Beyond the three big films it's grabbed away from Freeform, the network has also made a deal with Warner Bros. for 12 of the 18 holiday specials produced by the legendary Rankin/Bass production company (The Year Without a Santa Claus, Jack Frost, Rudolph's Shiny New Year) and signed with DreamWorks for a smattering of more modern specials (Merry Madagascar, Donkey's Caroling Christmas-tacular). Best Christmas Ever will also include throwback holiday faves from the 1940s (Miracle on 34th Street) through the '80s (Gremlins) and '90s (Jingle All the Way), as well as some non-holiday family films (the original Willy Wonka and the Chocolate Factory and Planes, Trains & Automobiles). There's even a 2017 Mariah Carey direct-to-DVD concert special making its TV debut. All in all, AMC has lined up 35 films and 18 specials for the inaugural Best Christmas Ever, a level of content that Halleen says "has been years in the making."
Beyond seeing how well other networks did by leaning into the holidays, the AMC exec also had a very personal understanding of the meaning of the season: Halleen was an executive at Family Channel (the network now known as Freeform) when 25 Days of Christmas was born back in 1996. While he didn't create the franchise, he played a pivotal role building it during its formative years, right up until he joined AMC in 2002. He's been quietly looking to create something similar at AMC for years, but landing the rights to the movies necessary for such an endeavor has meant waiting for studio deals with other networks to expire. "We had to find the opportunity in order to really bulk up the inventory," Halleen explains. "Most of the studios — you know, Warner Bros., Paramount, Sony, even [Freeform sibling] Buena Vista — they've all helped us build this over the course of many years."
In the case of the movies it's snatched from Freeform — Elf, Christmas Vacation and Polar Express — he says AMC closed its rights deal with Warner Bros. all the way back in 2015. "It was an open negotiation and all parties had an opportunity to participate, as I understood from Warner Bros.," Halleen says. "And we were fortunate to be able to walk away with not only these three movies, but the Rankin/Bass titles, [which] also came from Warner Bros., as well as an assortment of other feature films." Halleen won't say exactly how long AMC's deal for the movies extends, other than it's a "multiyear" agreement.
As tough as it will be for Freeform to lose three big movies from its holiday roster — particularly Elf, which has been the network's star 25 Days performer the past few years — it's actually not unheard of for holiday movies to hop networks. Christmas Vacation called the Turner-owned TBS and TNT home for years before it drove over to Freeform (then known as ABC Family) during the early part of this decade. And Elf didn't make its premiere on Freeform predecessor ABC Family until 2012. That said, given how frequently Freeform aired the films, their absence will be noticed. Last year, the Disney-owned network ran Elf and Christmas Vacation nearly two dozen times each over the course of 25 days, with Polar Express airing about a dozen times.
A rep for Freeform says that 25 Days of Christmas, marking its 22nd year this December, benefits from synergy with other Disney-owned TV networks like ABC and Disney Channel, and will still boast holiday heavyweights such as Tim Burton's The Nightmare Before Christmas, The Santa Clause, and How the Grinch Stole Christmas. Freeform has also been bulking up its original Christmas content, including the premieres of two new movies this winter:  Life-Size 2, starring Tyra Banks in a sequel to the popular 2000 Disney Channel movie, and No Sleep Til Christmas, starring married actors Dave and Odette Annable.
That said, audiences responded big time to the trio of holiday movies that AMC just snagged: Halleen notes than among adults under 55, the demo group AMC is targeting with Best Christmas Ever, 15 of the top 20 movie telecasts in 2017 were holiday-themed (with four of those 15 consisting of Freeform airings of either Elf or Christmas Vacation). While Halleen doesn't know yet how often he'll run the movies on AMC, "we're definitely going to make sure people have the opportunity to see them," he says. Because it's 2018, most of the titles in AMC's bulked-up Christmas collection will of course be available to AMC subscribers to stream on-demand. But Halleen is also determined to create what he calls a "lean back" experience for the audience, whether they're watching by themselves or with friends and loved ones. "I want viewers to know they can put us on, and they can keep us on, all month long," he says. "That's what our ultimate goal is. And I believe we have the product to do that."