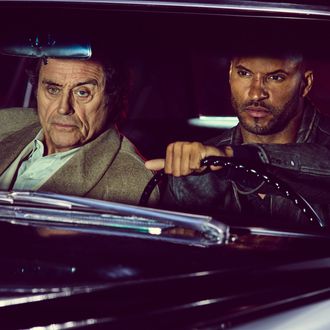 Photo: James Dimmock/Starz Entertainment, LLC
It sounds like things are going poorly on the set of American Gods season two. After Bryan Fuller and Michael Green exited as showrunners, Jesse Alexander was hired for the role in February, and the CEO of Starz said at the winter Television Critics Association event that Neil Gaiman, who authored the source material, would take on an expanded role in the show's operations. But according to a new article from The Hollywood Reporter, production on season two has been heavily delayed by script rewrites, efforts by Gaiman to assert greater control over of the show (i.e., to render it truer to his book version after Fuller and Green veered off in their own direction), and disagreements between the production studios (Starz and Fremantle) and Alexander about the creative direction of the show.
According to anonymous sources, this has resulted in Alexander's being effectively sidelined as showrunner — without the word "fired" coming into play, however. According to THR, he "has been asked not to sit in on editing, be involved on set or participate in any other areas of production or postproduction." The season is reportedly weeks behind on shooting, with the script for the finale said to be in its seventh draft. That has forced the budget to explode on an already very expensive show, because "now they're spending to spice up what was flat on the page" and to just get it done, according to a source. Actors are also said to be rewriting script pages to keep the dialogue more in line with the original vision of the show (sources speak of "screaming matches" between Ian McShane and the showrunner), and Starz is said to be unhappy with the more "conventional" direction in which Alexander has taken the show.
In spite of delays, Starz told THR they will have footage out soon, "We are confident that when the fans get their first look at season two in just a few weeks at New York Comic-Con, they will agree it was worth the wait." In their own statement, Fremantle added that "season two will exceed expectations." It will not return to air until sometime in 2019.