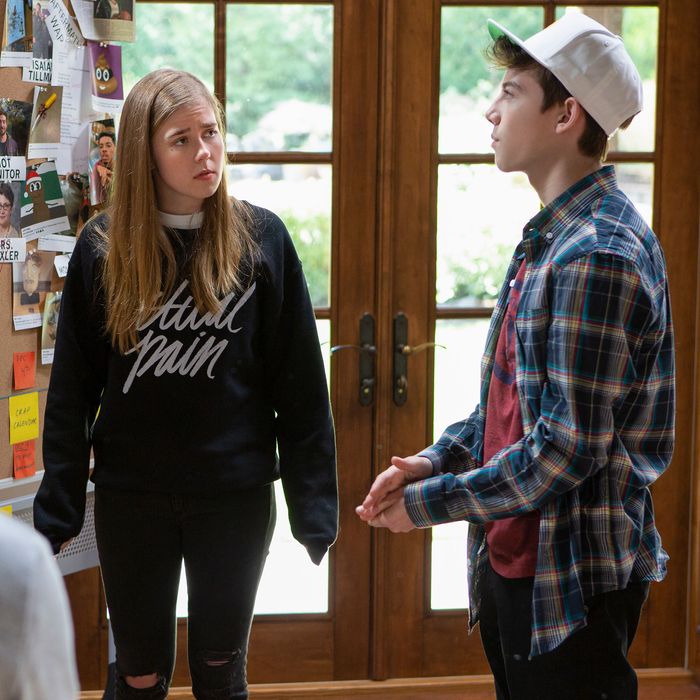 Photo: Scott Patrick Green / Netflix
"She paid us on the spot. You've gotta respect her for that. If you're rich and you're a terrible driver, that's the way to be, that's responsible." —DeMarcus Tillman on Jenna Hawthorne
"Because I was there and I helped, but I didn't do it … I just did the gym and that's it, literally none of the other stuff. She, like, blackmailed me … I'm just — sorry guys, I'm just, like, way too stoned to do this right now, 'kay?" —Jenna Hawthorne on Jenna Hawthorne
A really excellent female dirtbag covers a multitude of sins as far as I'm concerned, and Jenna Hawthorne is the first real contender this season's been able to throw our way. She has perfect rich-girl hair, a constant, low-level haze of confusion on her face, pretends to know Kendall Jenner, and regularly lies about her internship to go smoke weed in the parking lot. I love her. She's a big part of Lou and DeMarcus's plan for the shit-launching prank at the pep rally. Turns out the reason they were late — and the reason the team captain sent around an email urging the other players to lie and say they'd been there the whole time — was because DeMarcus had to see a physical therapist about a recently injured ankle, and didn't want word to get out. The reason they were later than even they'd anticipated they'd be is because Jenna backed her car into theirs in the parking lot. Lou shows Peter the $750 Venmo receipt Jenna sent them immediately after, and DeMarcus gives her credit: "You gotta respect her for that, if you're rich and you're a terrible driver, that's the way to be, that's responsible." (It's definitely runner-up for second-best line delivery of the episode, number one going to Lou for saying, "Yeah, I punched him in his eye. I don't give a shit. I'll tell anybody that," about Trevor Gonzalez's black eye.
The high-water mark of the episode is easily Jenna's confession. Peter has a realization while staring at their crime mood-board that the TB sent DMs to Peter at the exact same moment all three suspects, DeMarcus, Lou, and Kevin, were recorded having a confrontation outside of the 24 Stop. Lou shows them footage of the damage from the accident and they realize that Jenna had pep rally T-shirts in the back of her car that she could only have gotten from the cannons themselves. "Can I?" Sam asks. "Do your string thing, man," Peter tells him, and Sam moves the red string from DeMarcus's yearbook picture to Jenna. They find her — where else — in the school parking lot, where she seems to be spending most of her time ever since her fall from grace. They show her footage as she eats corn chips in the front seat of her car, window only halfway rolled down, increasingly suspicious. Then she switches from a flat denial to a full confession, before blurting out that she's way too high to talk about this and rolling her window back up. Peter, doing his most serious voiceover, says, "Jenna agreed to sit down for a formal interview after she had time to get less high."
Everyone spends a lot of time waiting this episode — Peter and Sam wait to find Kevin, who's been avoiding them, Jenna waits to get less upsettingly high — and watching the kids of American Vandal waste time has always been one of its greatest pleasures. (Peter and Sam try to flip full bottles of water; Jenna tries to wipe corn chip dust off her steering wheel; Kevin sits on the floor of the 24 Stop sadly eating ice cream cones.) Kevin goes so far as to get Miles to answer the door on his behalf and tell the guys that he's not home: "He's on house arrest," Peter says disbelievingly.
The only other place Kevin goes is the nearby convenience store, the 24 Stop (he's posted a lot of videos there since being expelled, mostly about what he considers to be unfair price-gouging). The guys try to describe him — "the, uh, kid with the newsies cap and the pocket watches" — but it's hardly necessary, as the clerk rolls his eyes immediately and claims to have banned him for eating ice cream without paying for it. He's willing to turn over the footage in exchange for Sam buying seven hats, and it's definitely Kevin listlessly getting kicked out of the store, then confronted by DeMarcus and Lou in the parking lot — the night before he backs out of the documentary. It looks worse than it is; Lou and DeMarcus are angry about the rumors because they're already anxious about DeMarcus's ankle injury and just want some of the heat off.
Once Jenna is sober enough for an interview, she starts talking about why she sabotaged the pep rally. After the picture with Kendall Jenner had been revealed to be fake, she lost everything, including her girlfriend. A few months ago, a girl named Brooke Wheeler had started liking a bunch of her Instagram posts in a row, "which you only do if you want someone's attention." Brooke wasn't like a lot of the status-obsessed students at St. Bernadine's. "She's like a normal girl, except she's cute. Really cute." They quickly started texting every day, sending one another pictures and videos (some merely affectionate, others racy), and it wasn't long before Brooke said, "I think I'm falling in love with you." It was a huge relief and source of support after her social isolation, and Jenna's main concern at the time was how she was going to tell her family she was in love with someone who lived an hour away. But Brooke changed after that, encouraging Jenna to take revenge on the student body for rejecting her, then threatening to publish her nudes and emotionally revealing conversations if she didn't, "so that everyone can see you're full of shit." Afterwards, she stopped hearing from Brooke entirely.
I can't help but wonder what a season built around Jenna might have looked like, or at least with more Jenna. Whatever resolution the finale has to offer feels secondary (which is a relief, because careful readers of this column will detect a hint of fatigue when it comes to this particular recapper and this particular plot). AV has such a fabulous track record with endearing burnouts (remember, too, that Dylan lamented his choice to smoke a victory blunt for "no reason, and now I'm like, upsettingly high") that it feels like a missed opportunity to bring her in so late. But! Better late than never. I wish there'd been a supplementary half-season focusing on Hot Janitor and Jenna Hawthorne, but it's wonderful that American Vandal is still at the top of its game when it comes to dirtbag character development.