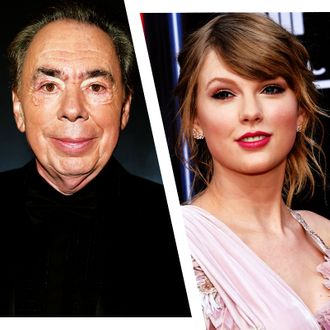 Andrew Lloyd Webber and mystery cat.
Photo: Getty Images
Between earning his EGOT status, celebrating his 70th birthday, releasing his memoir Unmasked, and being honored last night for his legendary career at the annual American Theatre Wing gala, 2018 has been a big year for Andrew Lloyd Webber. (And he knows it, too.) When Vulture caught up with him at the gala, he joked that "it's just the year that I'm 70 — the year that they want to pension me off," but acknowledged that he really is busier than ever. "I've actually suddenly realized that I've got more work at the moment than I've ever had," he said.
In addition to working with British writers Tom MacRae and Emerald Fennell on a contemporary staged retelling of Cinderella, Lloyd Webber is also involved in Tom Hooper's screen adaptation of Cats, which was was recently given a December 20, 2019, release date, and according to him, starts filming in November.
"We're beginning to rehearse now," Lloyd Webber said of the film, which stars Jennifer Hudson as former "glamour cat" Grizabella, along with James Corden and Ian McKellen.
The casting news that's gotten the most notice, however, is that cat lady Taylor Swift is playing an as-yet-unnamed role. On her casting, Lloyd Webber spilled a little milk, telling Vulture that Swift will play either the flirty Bombalurina or the skittish Demeter, the duo who sing "Macavity the Mystery Cat."
"She's going to play one or other of the 'Macavity' girls," he said, though he's "not sure yet" which one. "Well, basically, Tom Hooper thought it was a really good idea, and of course, she loves cats," Lloyd Webber said, cheekily. "We'll see. I mean, I haven't met her, so I'm looking forward to meeting her and seeing her [at work]."