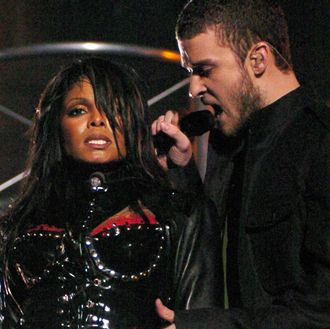 Jackson.
Photo: KMazur/WireImage
Embattled CEO and chairman of CBS Les Moonves is apparently big on holding grudges, so much so that the multiple sources for this latest report by the Huffington Post all chose to remain anonymous out of fear. According to them, a target of his ire for many years was Janet Jackson, thanks to that Super Bowl incident where the world kind of saw her nipple for just over half a second. Moonves was enraged by it and developed a "fixation" on the singer. He apparently believed the nip slip was an intentional bid to stir up controversy, and that Jackson did not apologize to him enough for it.
As punishment for this perceived slight, he barred her from performing at the 2004 Grammys and ordered VH1 and MTV, as well as all the similarly Viacom-owned radio stations at the time, to stop playing all her music and videos, impacting the sales of her then-new album Damita Jo significantly. Seven years later, Jackson signed a book deal with Simon & Schuster, which is owned by Viacom, for her book True You: A Journey to Finding and Loving Yourself. Moonves was reportedly furious about it and promised "heads would roll" as a result. Though it's unclear what action, if any, he took on the publication of the book, Moonves is currently negotiating his exit package from the company, and Janet Jackson has a new single out.