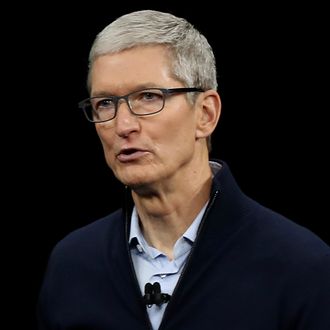 Photo: Justin Sullivan/Getty Images
According to a Wall Street Journal report on Apple's upcoming foray into television, the Dr. Dre biodrama series Vital Signs got the ax from CEO Tim Cook himself because of the show's adult themes, which included "characters doing lines of cocaine, an extended orgy in a mansion and drawn guns." All of which one might have expected to see in, you know, a biographical television show about Dr. Dre's life.
However, according to WSJ, it wasn't so much that specific show or those specific scenes that rankled Cook, as it was mature content in general. Unlike, say, Netflix or HBO, Apple Inc. is reportedly hoping to brand themselves as your go-to source for family friendly (or, at least, drug-fueled-orgy free) entertainment with broad appeal, consciously steering away from projects with "gratuitous sex, profanity or violence." As a company that sells consumer products, the logic goes, backlash to potentially offensive content could come at a higher price for Apple than for other platforms.
Among other series that reportedly experienced pushback from Apple around sensitive topics, M. Night Shyamalan's upcoming psychological thriller series "about a couple who lose a young child" was allegedly approved only after the show agreed to "eliminate the crucifixes in the couple's house," seemingly to skirt the subject of religion. In another instance, Apple reportedly stepped away from a #MeToo-themed show about a college ombudsperson from Whitney Cummings.
According to WSJ, some at Apple even jokingly refer to the platform's taste in programming as "expensive NBC." That being said, from projects with Chris Evans, Oprah, Reese Witherspoon and Jennifer Aniston, Emily V. Gordon and Kumail Nanjiani in the pipeline, there's plenty of wholesome series with which Apple can potentially find success. And really, if all of them got together and decided they needed to shoot a lengthy drug-fueled orgy scene, is Apple really going to say no to that?