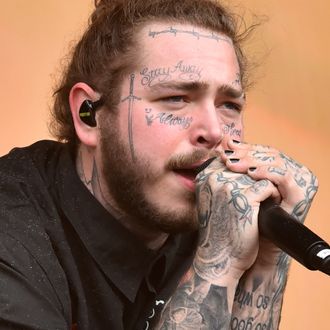 Post Malone.
Photo: Photo: C. Brandon/Redferns
Did Post Malone disturb an ancient mummy's tomb? Did he run through an entire pack of black cats? Did he build his home under a ladder?? Weeks after emerging unscathed from an emergency landing on his flight to London, and days after emerging even less scathed from a serious car crash in West Hollywood, the rapper has again avoided even a single scathing by no longer living in a home targeted by armed robbers last week. On the night of September 1, three men brandishing guns barged into a San Fernando Valley house where Malone once lived, pistol-whipped a current resident, and demanded to know where Post Malone was. The assailants made off with over $20,000 worth of stuff, but didn't get to confront Post, who had moved months before and didn't know the current residents. Police suspect the robbery could be tied to a number of others in the area, as TMZ reports Rae Sremmurd, Wiz Khalifa, Bella Thorne, Christina Milian, Yasiel Puig, and John Mayer have all dealt with burglaries recently.
Post himself mused on Twitter after his car crash that "god must hate me lol," but a much more reasonable explanation is that Post Malone is immortal.