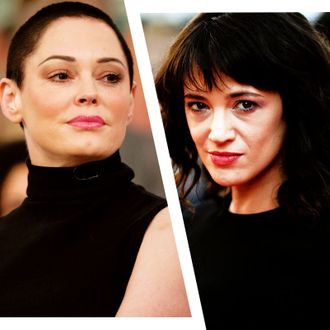 Rose McGowan and Asia Argento.
Photo: Getty Images
In mid-August, the New York Times reported that Italian actress and #MeToo advocate Asia Argento had reached a deal to pay a former co-star — Jimmy Bennett — who accused her of sexually assaulting him as a minor. Shortly after, Argento's fellow-activist and Harvey Weinstein accuser Rose McGowan released a statement addressing the report, in which she said that text messages purporting to contradict Argento's denial of the allegation had been handed over to police by the person she was dating, Rain Dove. On Monday, Argento issued a threat: McGowan must "retract" her statement within 24 hours or face legal action.
"Dear @RoseMcGowan. It is with genuine regret that I am giving you 24 hours to retract and apologize for the horrendous lies you made against me in your statement of August 27th," Argento wrote on Twitter. "If you fail to address this libel I will have no other option than to take immediate action."
In August, New York Times reported that Argento had reached a deal to pay $380,000 to actor Jimmy Bennett, now 22 and her former co-star from the 2004 film The Heart Is Deceitful Above All Things. Bennett had accused Argento of sexually assaulting him in a California hotel room when he was 17 years old and she was 37. (The age of consent in California is 18.) In a statement released after the report was published, Argento "strongly" denied the allegations. However, she did admit to agreeing to pay Bennett, claiming her late boyfriend, Anthony Bourdain, had orchestrated the deal out of "compassion" for Bennett.
But in the days following Argento's denial, text messages and pictures that seemed to contradict her denial began to circulate. On August 27, McGowan issued a statement about the texts, saying that they had been exchanged between Argento and Rain Dove, a gender-non-conforming activist and model. The statement reads, in part:
I received a phone call and series of messages from the being I've been dating- Rain Dove. They said that they had been texting with Asia and that Asia had revealed that she had indeed slept with Jimmy Bennet. Rain also shared that Asia had stated that she'd been receiving unsolicited nudes of Jimmy since he had been 12. Asia mentioned in these texts that she didn't take any action on those images. No reporting to authorities, to the parents, or blocking of Jimmy's social media. Not even a simple message "Don't send me these images. They are inappropriate." There were a few other details revealed as well that I am not at liberty to mention in this statement as investigators do their job. 
Dove later released a statement as well, confirming that the text messages were theirs and that they had released the messages to police. Dove said in a statement:
I would also like to address allegations that Jimmy Bennet extorted Asia Argento by saying simply- keep both actions separate. They are two different accusations and all victims of a crime deserve justice. All guilty parties must be honest. I would also like to state that the case between HW and Asia Argento is separate from Jimmy Bennet's case and that Asia deserves the same respect in that case that Jimmy should receive in this one. Their choice to lie to the NYT does not mean that they are lying about HW. Their accounts for that case should be held separately and fairly.
Argento has issued no further statement beyond her tweet at this time. We will update this post if more information becomes available.