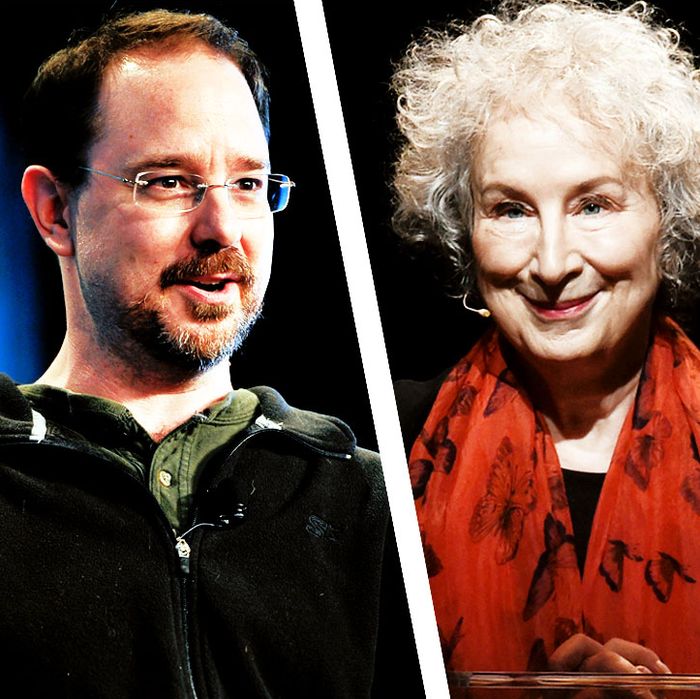 Audiobook sales are the fastest-growing sector of publishing by far. Vulture presents several stories guiding you through the year's best (and best-selling) audiobooks to date, favorite author recordings from the industry's prehistory, and a little dream-casting of our own. But first, a little background.
The rise of audiobooks, a small but rapidly growing piece of book publishing, is by now well documented, but rarely is it framed as a tech story. It's maybe a little counterintuitive to think of what we once called Books on Tape (so cumbersome they had to be abridged to remain affordable) as a format on the disruptive cutting edge. But this decade's double-digit annual growth — with total sales doubling to $2.5 billon over the past five years — has a clear analog in the e-book boom that preceded it, and the same company has driven it: Audible.com owner Amazon.
Back when Audible publisher Beth Anderson first joined the company, more than 20 years ago, it was an independent startup, and recorded books were a hard sell — especially when it came to repeat customers. Audible invented a dedicated 4-megabyte MP3 player and subsidized it for users — the origins of a subscriber model that predated Amazon's (and continues to this day: $15 a month, which includes 12 books a year). Then came smart devices, which all but killed the CD, and then came streaming.
As with e-books, which Amazon also cornered quickly (fighting a pricing battle with the industry in which the DOJ sided with the monopolist), the Big Six (now Five) legacy megapublishers were initially slow to adapt. Audio had always been an afterthought for publishers, and many books sat unrecorded, even as Amazon bought Audible in 2008.
"Some people complain about letting Amazon buy Goodreads," says one frustrated print publisher, referring to the crowd-sourcing review engine. "But Audible was the bigger mistake." By passing up the chance to acquire or partner with Audible or a competitor like Recorded Books or Brilliance Audio, publishers ceded the ground to outfits that rapidly picked off audio rights on their own. "We chose not to be in the fastest-growing category. That's a bad business decision."
Audible has always experimented with ways to grow and diversify — from having Robin Williams host a talk show in 2000 to commissioning playwrights for new recorded plays this year. But the real game-changer was Audible's ACX platform, launched in 2011 to help authors produce audiobooks independently. "The publishers started saying, 'Hey, we should start making more of these,'" says Michelle Cobb, executive director of the Audio Publishers Association (APA).
Now all the major publishers have their own audio divisions, and are experimenting with audio-only and theater pieces too. So Audible — which is also a retailer of all audiobooks — is looking for the next competitive advantage. There have been marquis audiobook exclusives by Michael Lewis, John Scalzi, and others, which represent a tiny piece of the market, at least for now. Recorded Books, an Audible competitor, was recently acquired by private-equity firm KKR, which means its buying power is sure to increase.
The audio companies have driven not only innovation but also spending, bidding aggressively on unsold rights (i.e., those not retained by print publishers). One big agent says Audible paid twice as much for one of his client's audio rights as a print publisher paid for the rest. "The Big Five will not relinquish the audio rights," the agent says, "so the only way Audible is going to get their hands on brand-name authors is to throw down an eyebrow-raising amount of money, in hopes that the agent will be willing to sell it to Houghton Mifflin Harcourt or Norton," two larger independent publishers without their own audio divisions.
A weird (perhaps temporary) side effect of the rise of audio is that smaller publishers benefit from the wrangling between audio producers and megapublishers, and make strange bedfellows in the process. Audio-only offers from Audible and their competitors can make it worthwhile for an author to take a smaller print advance from a publisher without the deep pockets of Penguin Random House. "We're getting involved with acquisitions that we probably wouldn't go for," says Grove Atlantic publisher Morgan Entrekin, "because of the price that Audible and others are paying. I'm not certain how sustainable it is, because you wonder if the prices they're paying for audiobook-only are really justified." Audiobooks accounted for about 5 percent of last year's trade publishing revenues. "But they're all thinking market share."
Audible's Beth Anderson says that Michael Lewis–style exclusives, as well as enhanced releases from the likes of Margaret Atwood, do very well for them — and that subscribers typically buy five books on top of the twelve included with their membership. (Fiction makes up 70 percent of audio sales, with genres predominating.) She says Audible has had double-digit year-on-year subscriber growth, keeping pace with the market.
Of course, e-books grew quickly as well, back when publishers were bemoaning the demise of physical books and bookstores. (And before Amazon opened bookstores of its own.) But now e-book sales are falling, while growth is slow in print. Will audiobooks follow the same trajectory? Unit sales grew "only" 21 percent last year, versus almost 34 percent in 2016, per the APA (though sales dollars trended up). "We have a lot of room to grow," says Cobb of the APA, "and a lot of members are getting into the market. We don't see any signs of it slowing down." Then again, ebooks still bring in three times the revenue, so audiobooks also have a long way to go.