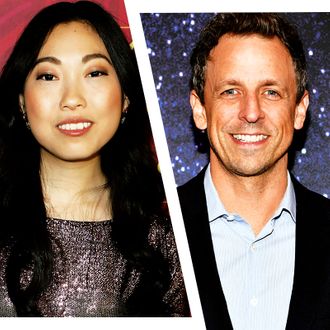 Soon-to-be
SNL
hosts Awkwafina and Seth Meyers.
Photo: Getty Images
Season 44 of Saturday Night Live kicks off this weekend with host Adam Driver and musical guest Kanye West, and now the show has revealed the lineup for the next two episodes.
First up is the October 6 episode, which will feature Ocean's 8 and Crazy Rich Asians star Awkwafina as host with Travis Scott as musical guest. The following week, on October 13, SNL alum and Late Night host Seth Meyers will host and be joined by musical guest Paul Simon. Both Awkwafina and Meyers will be making their Saturday Night Live hosting debuts, and Travis Scott will be making his SNL musical guest debut. Paul Simon, however, has performed on SNL plenty of times; October 13 will mark his 15th time on the show, and as a nice bonus, it will also be his 77th birthday.