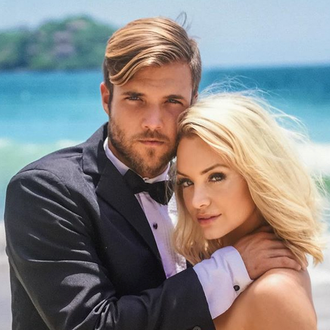 ABC's annual summer freak-fest Bachelor in Paradise didn't end with whimper or a bang this season, but rather, an epic scam tailor-made for reality television history. After accepting a proposal from Jordan Kimball in the show's finale, a tidal wave of allegations against Jenna Cooper soon piled up, which accused her, among other things, of faking her relationship with Kimball to get exposure for her business. (There are a bunch of receipts to back it up.) The claims eventually reached Kimball, who confirmed he was brutally heartbroken, "felt sick," and broke up with Cooper as a result. Cooper has denied everything and is currently seeking legal counsel on how to proceed, but not before offering another message on Instagram to reiterate how she intends to fight to get her man back.
"Please stand by as I prepare to provide the true facts that will demonstrate the fraud perpetrated by terrible individuals," she wrote on Friday evening. "Please be patient as this takes time … to Jordan, I am sorry that horrible people have used fabricated, hateful efforts to come between us. I promise you that the truth will be set free in the coming weeks, and it will unquestionably be to your satisfaction. To the persons that did this to Jordan, myself, our relationship, the show, our families, and our fans, justice is coming to you. To anyone who has had people callously, maliciously and falsely attempt to destroy all that you love, this is for you too. I look forward to returning to a place of happiness, joy, moving forward with Jordan, and life, knowing that everyone knows the truth."
Earlier this week, the website Reality Steve was sent incriminating text-message screenshots from a man claiming to be Cooper's ex-boyfriend, who said they were dating as recently as earlier this month. (Steve Carbone, who runs the website, said he independently verified the messages.) Throughout their correspondence, Cooper repeatedly disparaged Kimball and the Bachelor franchise, saying she only went on Paradise so people would be interested in her business. One particularly bad musing from her reads:
I told you yesterday and I keep telling you that this is all for my business. You know how much I need the money. Me and Jordan aren't together for real. I don't even like him let alone love him. I'm better than him and once I'm able to break it off for good I'll make up some story to make him look bad if it'll make you feel better. He means nothing to me and never has.
Kimball believes the veracity of these messages, telling People he's had the worst week of his life. "I know my Jenna, and I read those texts and in my heart, I know it's her. She was saying she didn't do it, but hinting towards the fact that there's a possibility that it happened," he explained. "In all reality, I don't expect her to own it. I would never have expected this. I feel sick about it. I just don't understand why someone would say that they're better than me and have ill intentions." Before the allegations became public, the duo were planning a June wedding in Mexico.