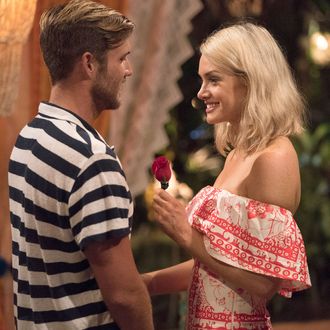 Photo: Paul Hebert/2018 American Broadcasting Companies, Inc.
We're now entering chapter four with our fall book-club pick: Jenna Cooper: Prolific Bachelor Nation Scammer? Two weeks after incriminating text messages allegedly sent by Bachelor in Paradise star Cooper were published on Reality Steve — messages that, among other things, stated she never loved her fiancé Jordan Kimball and was only using the franchise to get exposure for her business — Cooper is now doubling down on her defense, demanding that Reality Steve turn over the "fraudulent" messages to her legal team. "My attorneys have begun an investigation which included requesting that Stephen Carbone [Reality Steve] give the actual files of the fake texts to us so that the files may be forensically examined," she wrote on Instagram this morning. "My attorneys also requested that Stephen Carbone identify whoever provided the fake texts and tell us how he claims to have 'vetted' the texts that I know I didn't send." Cooper continues to assert that Carbone, through his lawyer, denied her requests:
Through his lawyer, Stephen Carbone said, 'Regardless, whether the information provided to Mr. Carbone was actually true is not the relevant inquiry.' Apparently, Stephen Carbone is not interested in showing you the truth, just drumming up what he called in his words, a 'shit storm.' I challenge Stephen Carbone to provide the text files he posted to his 'blog' to all of us. He will not because he doesn't want you to know that the texts were not from me — it would kill his story.
As a result of this scandal, Kimball broke up with Cooper and called off their engagement, believing the messages to be real. "It felt like a body drop. I got taken down. I'm weak in the knees and I feel like I have rocks in my stomach," he said earlier this month. "I know my Jenna, and I read those texts and in my heart, I know it's her." Before the messages were leaked, the pair was planning a Mexican beach wedding in June.
Update, September 22, 1:44 p.m.: Carbone has released his own statement on Twitter, in which he called Cooper's Instagram statement "silly" and picked apart all of her legal requests and conclusions. "I think her bleach job has seeped into her brain," he wrote. "If I were Jenna, I'd tread very carefully going forward because she would be opening herself up to a lot of her personal life being made public, and that's probably not something she wants getting out there. I know if I were her, I wouldn't."