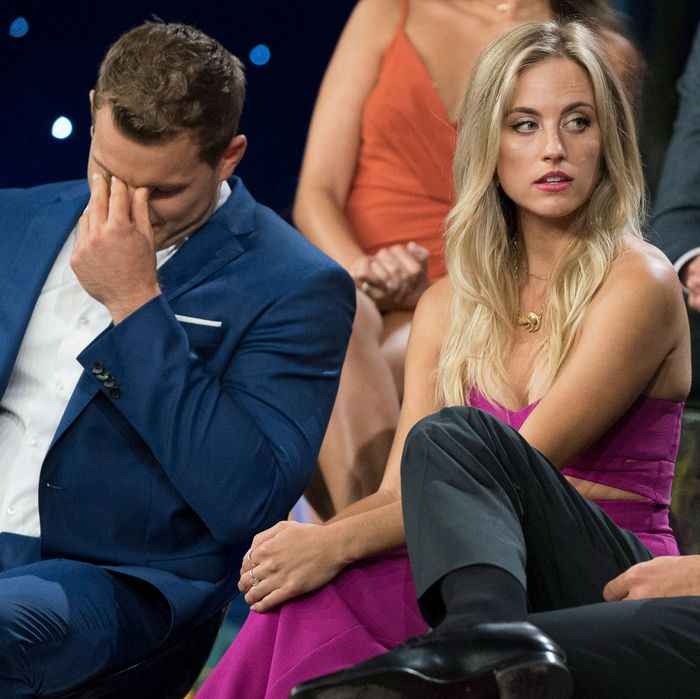 If you stick a few dozen gorgeous people on a secluded Mexican beach for a month, you're bound to generate enough petty drama to fuel a reality show for an entire summer. That's just math! And boy, oh boy, Bachelor in Paradise delivered in its fifth season. Some potential couples were lucky, others not, but in the end, they all had the distinctive honor of being part of the trashiest Bachelor iteration in franchise history. Here are the seven biggest bombshells we learned from Paradise's finale after-show on Tuesday night.
Angela forgave Eric for dumping her
In one of the most divisive Paradise breakups this season, Eric sent Angela packing after the arrival of Cassandra, despite the previous evening declaring they were "all in" on their relationship in matching robes. (Translation: Eric is a horndog.) Angela was devastated, Cassandra was meh, and Eric ultimately left his beachy confines the next morning because he was … we don't know … so upset? But now, Angela accepted Eric's apology for how their breakup went down. "I put energy and effort into the relationship, and I felt we never moved from a friendship and it didn't go anywhere. I didn't leave with the cheese," he said. "I apologize. The decision was wrong." To which Angela responded, "I just feel like you keep trying to downplay what we were when we were something the whole time." She's all good, though! She's dating Bachelorette alum Clay! The professional football player who injured himself while playing flag football!
Astrid and Kevin are back together …
You can let out a sigh of relief for this dream American-Canadian hybrid. Despite a truly shocking and unexpected breakup in Paradise's penultimate episode, Astrid and Kevin reconciled in front of the live studio audience, much to the cheers of their fellow contestants. "It didn't really become clear to me until I went home. I spoke to my family, I went back to therapy, and I realized it was my own fault and it was my own baggage," Kevin explained about why he initiated their breakup. "I brought baggage to Paradise and she got blamed for it. I feel terrible about it and it was definitely hard to watch. Trust is something that you don't have to earn, it's something that you have until you lose it. A complete fault of my own." As for Astrid, she admits it'll be harder for Kevin to earn back her trust, but said she was still in love with him. And Kevin? "I'm definitely madly in love with her." Awww!
… as are Grocery Store Joe and Kendall
Three cheers for another reconciliation! After Kendall blindsided Joe with a breakup in that same penultimate episode, she flew to Chicago to try to win him back mere days after returning home from Mexico. "Right after he walked away, because he had said so many things, and I think it was hearing those things that I realized, Wow, I'm running away from something that could be the best thing that's ever happened to me," she said. "I kept replaying things over and over in my head." Her Chicago trip proved fruitful, and the duo are happily back together and exchanging those coveted I love yous — but not without some initial skepticism from Joe. "I felt in my heart that she felt she made a mistake," he said. "It was a lot, because I already started shutting her out of my life."
Grocery Store Joe will be on Dancing With the Stars
Because of course he will! Chris Harrison, sensing that the couple wanted to be in the same city, "pulled some strings" and procured a special surprise for Joe to temporarily abandon Chicago for Los Angeles: He's been officially invited to appear on the upcoming season of Dancing With the Stars. He's a self-proclaimed terrible dancer, but we can't wait to see his tango.
Kamil broke up with Annaliese in front of everybody!
We can't say we're totally surprised Kamil and Annaliese's relationship didn't survive the post-Paradise real world, but perhaps Kamil should've learned from Arie's mistakes and not initiated a breakup with a camera crew present. Still, he says he came the realization that they weren't meant to be together about a month after Paradise ended, and he was doing the right thing by having this drama unfurl in front of an audience — since their entire relationship was already consumed by the public. "I know Annaliese is ready for a guy to get down on one knee and get engaged, and you deserve the best. I think I might not be the guy for you, because I feel like I lost that spark we had in Paradise after leaving and experiencing it in the real world," he said. "I don't want to string you along. I think it would be best for us to slowly part ways." As for Annaliese, she thinks this is a whole load of bullshit, and listed an impressive amount of things she did to keep their spark alive. (She sent his mom flowers, for instance.) "I just don't really know what to say still," she said through tears. "I really tried."
Krystal told Chris to cool it with his "tough guy" schtick — or else she'd leave him
Two former Bachelor Nation villains managed to find genuine love on Paradise, but not without Krystal giving Chris a stern talking-to if he wanted their relationship to continue moving forward. As Chris recounted during their after-show interview, he said that following the couple's second rose ceremony, Krystal addressed a serious issue she (and the group) were having with him. "I wouldn't be sitting here if this incredible woman didn't have a heart-to-heart with me," he explained with a few sniffles. "She said, 'You're going to lose me and you're going to not have any friends leaving here. This hard shell that you're wearing as Mr. Tough Guy and this act, it needs to stop. You need to become self-aware and take ownership and right wrongs.' I opened up my eyes and was telling myself, Wow, I have this incredible woman right here who's holding out a hand to help me." The couple are still happily engaged, and plan on moving in with each other soon.
Jenna might've been scamming Jordan this entire time?!
Don't let their zany, bottle-blonde cuteness deceive you: Jenna and Jordan's romantic engagement and after-show interview might've capped off this prolific summer of scams. Hours before Paradise's pretaped finale aired, Reality Steve dropped an atomic bomb of a scoop that's destined to divide Bachelor Nation. In it, the website published alleged text messages sent by Jenna to a man she's currently in a relationship with, and she writes how: (1) She's never loved Jordan, and (2) her participation in the show was only to get exposure for her business. (We should note that Reality Steve is a pretty reliable source for reality-television gossip, and he said he verified Jenna's phone number.) "He means nothing to me and never has," a particularly damning message reads. Jenna has since denied these "simply untrue" allegations, while Jordan, in a heartbreaking twist, believes they are indeed legit. "I know my Jenna, and I read those texts and in my heart, I know it's her," he told People. "I feel sick about it." This isn't the last we'll hearing about this Paradise scandal, that's for sure.