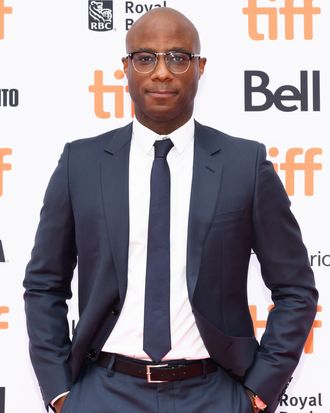 Photo: Tara Ziemba/WireImage
Sunday night at the world premiere of If Beale Street Could Talk at the Toronto International Film Festival, the writer and director Barry Jenkins ended the onstage Q&A portion — often a quick and slightly cursory proceeding — with a deeply felt personal story about why the film is so important. Jenkins had started writing the adaptation for James Baldwin's novel If Beale Street Could Talk — which looks at life between a black couple living in New York in the '70s when one is wrongfully imprisoned — before he even had rights to the book. In the movie, there's a scene between Brian Tyree Henry, who plays Daniel Carty, a man who just got out of prison for a crime he didn't commit, and his old friend of Fonny (Stephan James). Daniel talks about how the police claim he stole a car when he doesn't even know how to drive, and that prison was a place where white men would do anything they wanted to you. When an audience member asked Jenkins if there was a moment during production when everything clicked for him, Jenkins said that scene was it. "That really solidified what we were doing," Jenkins said. "I felt very deeply that this film, even though it was set in 1973–74, that it was relevant to today."
Then Jenkins told a story he'd never told before about the racism that he experienced during the height of promoting Moonlight. We've transcribed his words to the audience in full here:
During awards season for Moonlight, I was at some big party. It was the Governor Awards for the Academy. It's an amazing event. It's the event you hear about the least, where they honor all of these folks. The woman who cut Lawrence of Arabia, the editor, she received a lifetime achievement award there. It's all these cars, everybody's in tuxedos, and there's an after-party at the Sunset Tower Hotel. The Sunset Tower Hotel is this hotel that it's very hard to get in and out of. The valet line is very short. So cars come in and they go out, they come in, they go out.




So I'm at this party and I was trying to get to my homeboy Justin Simien's after-party for his show Dear White People. My driver, he had a hard time getting in and out of the valet, because if you pull up and your person's not there, you've got to drive out and circle around. I come out and the valet person is just like, shocked. I'm like, "What's up?" He's goes, "Oh, you shouldn't get in the car with that dude." I'm like, "Why?" He goes, "Oh, because when I was out here before, he looked all agitated, and I said to him, 'What's wrong?' He goes, 'Oh, you know, nothing, I'm just sitting around here waiting around to pick up this nigger.' And then he smiled and said, 'Oh, and he's probably going to get nominated for Best Director.'" Subtext: But he's still just a nigger.




And this is when I'm wearing a $5,000 suit. I've just come from the Governor Awards. So if it could happen to me with someone who's driving me, a person in power, what the hell do you think happens to some dude working a shift at the factory? Or some dude walking to the bar? So when we got to that scene I was like, This is fucking it. This is it. Everything we've been doing. Yes. Because I felt this at the height of my public awareness, whatever — [he] literally said, "This dude is probably going to be nominated for Best Director." And then he called me that shit right before. So if it can happen to me, it can happen to anyone and we've got to tell these damn stories.