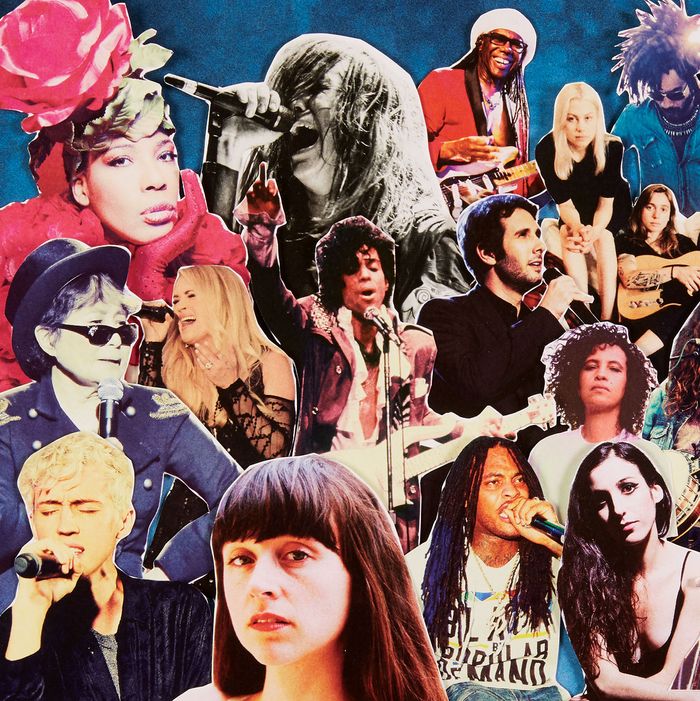 Photo: Photos courtesy of artists. Collage by Stevie Remsberg.
This summer, just about every A-list musician released an album. In less than three months, we got releases from Drake, Kanye West, Beyoncé and Jay-Z, Eminem, some more Kanye West, Ariana Grande, and some other things connected to Kanye West, among many, many others. If we learned anything from the experience, it's that we are finally out of artists to write about. Music is closed! Thank you for your time. Just kidding! Though this summer was unusually stacked, there's still plenty more good stuff coming. Check out some highlights below, followed by a "full" schedule. We put the full in quotes because artists are now releasing surprise albums like their jobs depended on it (maybe they do?).
Brockhampton, Iridescence (September, TBD)
Four albums deep, and Brockhampton are still exploring what it means to be a (self-proclaimed) boy band. To be clear, the Brockhampton project, loosely spearheaded by Kevin Abstract, is, at its core, a rap group. The way they play with identity and group dynamics, and how they're confessional and funny about everything gives them a warmth and an edge that recalls the interpersonal chemistry of De La Soul more than it does, say, Backstreet Boys.
Spiritualized, And Nothing Hurt (9/7)
Sure, it's possible that this, Spiritualized's eighth album, could be the band's last, but if it is, they've left us with nine lush, widescreen songs that will be perfect as the soundtrack to your next breakup, existential road trip, or, if neither of those things is in the cards for you anytime soon, throw the album on when you're feeling down and just want to wallow in the beauty of sadness as a concept.
Prince, Piano & a Microphone: 1983 (9/21)
There are allegedly dozens of records' worth of unreleased material sitting around Paisley Park, and the estate teases a bit here with nine tracks of Prince alone at the piano on the cusp of superstardom, just before Purple Rain.
Cat Power, Wanderer (10/5)
In 2012, when Chan Marshall, better known as Cat Power, released the brittle Sun, it was an album that sounded uncomfortable after a string of comfortable Cat Power albums that found Marshall sinking into warm soul and late-night bar wisdom. Wanderer is her first full-length since that album, and besides featuring Lana Del Rey, it's something of a return to form for Marshall. The uneasiness is still there, as is the warmth, and, like many of the best Cat Power songs, the great songs are great because they are each a quiet act of self-discovery made visible.
Phosphorescent, C'est la Vie (10/5)
Matthew Houck took a five-year break to have kids, ceding the indie-folk throne to Father John Misty, who took over as the king of richly orchestrated indie folk. On lead single "New Birth in New England," Houck swings for his title with a bubbly, polyphonic tune suitable for crowds in Margaritaville or on the roof of Elsewhere.
Neneh Cherry, Broken Politics (10/19)
A new album from Cherry — there have only been five in her near-30-year career — is a reason to celebrate. Further reason is the new, Four Tet–produced single, "Kong."
Kurt Vile, Bottle It In (October, TBD)
At this point, calling pretty much anyone in any field the voice of a generation is usually a quick ticket to Hyperbole City (unfortunately not a real city), but if you remove all the pomp to that phrase and allow for multiple voices per generation, then it is not unreasonable to say that Kurt Vile has tapped into a specific vein of laconic epiphanies that feel very relevant. His songs meander (more than a few clock in at over ten minutes on this album), but that's not a bad thing. He's not in a hurry to tell you about what he's learned about life and the world, but if you pay close attention you'll absorb them anyway.
The 1975, A Brief Inquiry Into Online Relationships (November, TBD)
Says Matt Healy, singer for this charming stadium-rock group, of their third album: "There are no big bands who are doing anything as interesting as us right now."
Boygenius, Boygenius EP (11/9)
It's dangerous to throw the term "supergroup" around. More often than not, the music does not live up to the promise that word carries, but Boygenius — comprised of downer folk singers Julien Baker, Phoebe Bridgers, and Lucy Dacus — does exactly what you'd hope here. If you're looking for bummer jams to soundtrack your fall, you can stop looking right away. Each song is a devastating jewel.
September
9/6
Hozier, Nina Cried Power EP
A new one from the Irish "Take Me to Church" singer-songwriter.
9/7
Lenny Kravitz, Raise Vibration
Don't expect a major reinvention: "What am I going to do, make a trap record?" Kravitz has said of his first album in four years.
Paul McCartney, Egypt Station
At 76, he has the writing bug, adding 18 new tracks to his fat songbook. If we're lucky, producers Greg Kurstin (Adele, Sia) and Ryan Tedder (Beyoncé's "Halo") will ensure there's a gem or two among them.
Paul Simon, In the Blue Light
Simon revisits his old stuff with a band of jazz greats, including Wynton Marsalis and Jack DeJohnette.
Waxahatchee, Great Thunder EP
After three fuzz-rock albums, Katie Crutchfield goes acoustic on six new songs.
9/14
Aphex Twin, Collapse EP
In recent years, Richard James won his first Grammy and has seen his dance music sampled by Lil Peep, Azealia Banks, and Kanye West. You probably shouldn't expect him to go pop, though.
Carrie Underwood, Cry Pretty
The country-pop American Idol takes her first shot at co-producing on her sixth record.
Low, Double Negative
For their 12th album, Low holed up at Justin Vernon's Wisconsin studio with Bon Iver producer BJ Burton, so expect this to be one of their woodsier efforts.
Willie Nelson, My Way
An album of Sinatra covers? Now, there's a novel idea.
9/21
Macy Gray, Ruby
Gray's last effort was an obligation of a jazz-covers record, but her tenth album promisesa return to form.
Josh Groban, Bridges
On his first album in three years, Groban croons in four languages.
Metric, Art of Doubt
Front woman Emily Haines says the band has "turned their guitars to 11" on their seventh album.
9/28
Chic, It's About Time
Nile Rodgers recruits new blood, including Vic Mensa and Anderson .Paak, for his band's first album in 26 years.
Marissa Nadler, For My Crimes
Her eighth album features guest spots from fellow indie-folkies Angel Olsen and Sharon Van Etten.
October
10/5
Waka Flocka Flame, Flockaveli 2
Flocka's fourth studio album and the sequel to Flockaveli, his 2010 debut.
Fucked Up, Dose Your Dreams
The Toronto hardcore sextet adds strings, courtesy of violinist-arranger Owen Pallett.
10/12
Elvis Costello, Look Now
It's Costello's first album of new material since Wise Up Ghost, his 2013 collaboration with the Roots, and his first release in a decade with his touring band the Imposters.
Preacherman, Universal Philosophy: Preacherman Plays T.J. Hustler's Greatest Hits
Preacherman is a 71-year-old former IBM repairman and Vegas lounge singer who released one record of wild, early synth-soul as T.J. Hustler back in 1979; here, he performs his own work. (It sounds weird, but David Byrne's Luaka Bop label rarely misses.)
10/19
Yoko Ono, Warzone
Ono revisits 13 songs from her discography since 1970, including a new take on "Imagine.
November
11/1
Sun Kil Moon, This Is My Dinner
Indie rock's grouchiest old man, Mark Kozelek, gets happy and covers the theme from The Partridge Family on the band's ninth album.
11/9
J Mascis, Elastic Days
The prolific Dinosaur Jr leader returns with his third solo album.
Laura Jane Grace & the Devouring Mothers, Bought to Rot
The Against Me! front woman debuts with her acoustic-rock trio.
*A version of this article appears in the September 3, 2018, issue of New York Magazine. Subscribe Now!