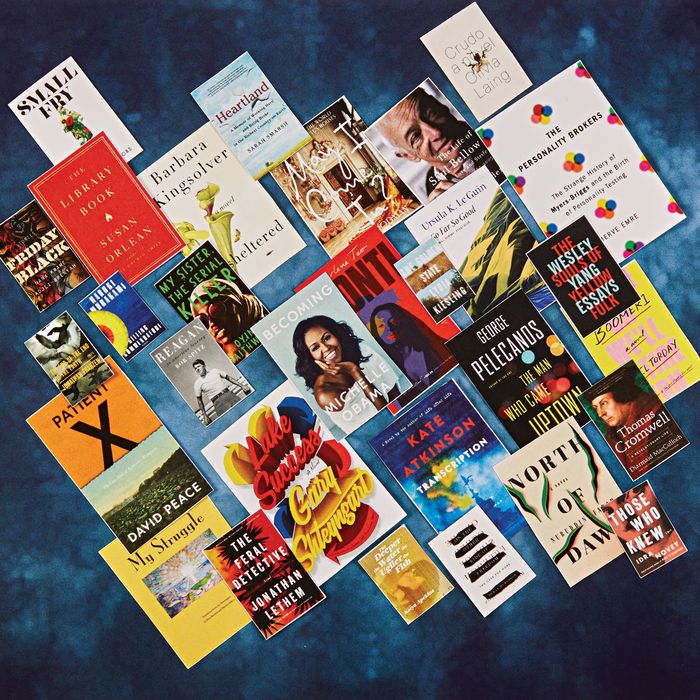 Photo: All Courtesy of the Networks. Collage by Stevie Remsberg.
Welcome to your second autumn of Trump, in which the year's best books — fact, fiction, and in-between — compete for precious brain cells with the nanosecond-long news cycle of tweet-rage. Fortunately, this fall brings a tremendous bounty of immersive distraction, whether you want to escape the madness with historical revisionist fantasies (Washington Black, She Would Be King), wallow in said madness's every tawdry detail (Bob Woodward's Fear), bask in political nostalgia's warm glow (Michelle Obama's Becoming) or watch beloved novelists (Gary Shteyngart, Jonathan Lethem) wrestle with the tension between escapism and resistance.
Editors' Picks
Shteyngart's last novel, Super Sad True Love Story, effectively proved that all great satire is a kind of dystopia. His follow-up is about the dystopia we're actually living in. As Trump vaults the primaries on his glide path to idiocracy, hedge-funder Barry Cohen (a Rubio fan) gets negative attention from the SEC and sees his assets under management implode. He responds by fleeing his wife and autistic son for a trip on Greyhounds across America, giving us the On the Road we deserve.
Small Fry, by Lisa Brennan-Jobs (Grove Press, 9/4)
A revealing memoir by the eldest daughter of Steve Jobs — who initially denied paternity, refused to pay her tuition, and told her he named his first personal computer, the Lisa, after an old girlfriend. While Brennan-Jobs delivers the gossipy goods (on stepmother Laurene, Steve's fixation on sex, the neighbors who took her in), the memoir stands on its own as a beautifully crafted narrative, made only more poignant because it happens to be about the last action hero of Silicon Valley.
She Would Be King, by Wayétu Moore (Graywolf, 9/11)
Magical realism meets the revisionist superhero in Moore's imaginative debut, in which several unlikely saviors — a super-strong escaped Virginia slave; a half-Jamaican who can disappear; and a West African woman prone to rising from the dead — converge on Liberia around the moment of its founding and fight to repel colonial incursions. Moore's breakthrough sheds heavenly light on the fleeting moment when the African diaspora reversed itself.
Fear: Trump in the White House, by Bob Woodward (Simon & Schuster, 9/11)
More trustworthy than Michael Wolff — never mind Omarosa — the dean of political journalism who made his career blowing up Richard Nixon won't exactly depose the president with this book (nor did his initial Watergate reports, you'll remember). But what he'll demonstrate, among more high-minded policy discussions, is just how little respect Trump's closest associates ultimately have for him, and how much they tremble for the republic.
My Struggle, Book 6, by Karl Ove Knausgaard (Archipelago, 9/18)
At long last we've reached the end of Knausgaard's fascinating, infuriating, brilliant, exhaustive, and exhausting 3,600-page series of six books on his life as a son, writer, and father in a repressed but very privileged culture. In this last and longest entry, he is as observant and digressive as ever, whether musing on Hitler or describing, in voyeuristic detail, the disastrous fallout of his confessions on his family and friendships.
There Will Be No Miracles Here, by Casey Gerald (Riverhead, 10/2)
From-poverty-to-the-Ivy-League is a trajectory common enough (and rare enough) that memoirs of the journey are hardly noteworthy in and of themselves. Gerald's further background — football scholarship, MBA, a spin on the TED Talk circuit — could prime you for a by-the-numbers story; instead he delivers a beautifully written cautionary tale about the toll taken by society even on those like him, fortunate enough to defy the tremendous odds against their success.
Frederick Douglass: Prophet of Freedom, by David W. Blight (Simon & Schuster, 10/2)
This historian's long-awaited biography captures a civil-rights founding father's many contradictions, documenting his escape from slavery, his self-education, and his abolitionist work — as well as his lesser-known contributions to women's suffrage and political campaigns — and documenting the many people, mostly women, who helped him along the way. In doing so, Blight counters the libertarian myth of Douglass as a radical individualist indebted to no one but himself.
Killing Commandatore, by Haruki Murakami (Knopf, 10/9)
When his marriage fails, a portrait artist seeks refuge in a friend's home — where a painting in the attic helps him slip into another dimension, and his reality slowly begins to shift: A tech baron seeks him out for a portrait, he meets a 13-year-old girl reminiscent of his late sister, and mysterious sounds lead him to a magical well. This one is for longtime Murakami fans hankering for more fantastical quests and morose meditations in the mode of The Wind-Up Bird Chronicle and 1Q84.
The Feral Detective, by Jonathan Lethem (Ecco, 11/6)
The title character of this expertly written noir set in the Pynchonian hinterlands of California's Inland Empire is supposed to be Charles Heist, a rescuer of trafficked runaways who keeps injured wildlife (human and animal) in his office. But that designation ultimately belongs to our real protagonist, Phoebe Siegler, a New York Times editor who, after Trump's election, calls on Heist in search of a lost New York girl. She finds much more than that — warring factions of a former Utopian cult and, ultimately, her own feral spirit — in Lethem's triumphant return to the genre.
Becoming, by Michelle Obama (Crown, 11/13)
The first fruit of the Obamas' $65 million, two-book deal, Michelle's memoir covers her South Side Chicago childhood, years in a white-shoe law firm, and time as First Lady. In the run-up to publication, Obama described the book as a "re-humanization effort," perhaps alluding to the right-wing media attacks — that "terrorist fist bump" et al. — that prodded her to sand down her edges. Let's hope there are some revelatory tidbits alongside the nostalgic inspiration, delivered by the woman whom friends often regarded as the young couple's stronger half.
September
9/4
The Golden State, by Lydia Kiesling (MCD/FSG)
After an immigration snafu strands her husband abroad, a new mother heads to the backwoods California of her mother's childhood in this debut from the editor of the literary website The Millions.
The Man Who Came Uptown, by George Pelecanos (Mulholland Books)
The crime novelist, also a writer for The Wire and Treme, renders the redemption story of an ex-con who emerges with a newfound love of reading, a debt to the man who got him out of prison, and bafflement at a partly gentrified Washington, D.C.
On the Other Side of Freedom: The Case for Hope, by DeRay Mckesson (Viking)
A memoir and manifesto from the Black Lives Matter activist on growing up the son of drug addicts in Baltimore, protesting in Ferguson, and forging a modern civil-rights movement over Twitter.
Pale Horse Rider: William Cooper, the Rise of Conspiracy, and the Fall of Trust in America, by Mark Jacobson (Blue Rider Press)
The veteran journalist tells the life story of the country's greatest "conspiracy salesman." (Read an excerpt from the book here.)
John Woman, by Walter Mosley (Atlantic Monthly Press)
The best-selling author of hard-boiled crime stories breaks form in this novel about a boy who reinvents himself as a professor named John Woman.
Berlin Book Three: City of Light, by Jason Lutes (Drawn & Quarterly)
In the final installment of this acclaimed illustrated series on Weimar Berlin's slide from cosmopolitanism to Fascism, Lutes's characters awaken from the drama of their personal lives to the signs of hell all around them.
Patient X: The Case-Book of Ryunosuke Akutagawa, by David Peace (Knopf)
The historical-fiction specialist novelizes the biography of Japanese short-story writer Akutagawa, whose work inspired Akira Kurosawa's Rashomon.
Ponti, by Sharlene Teo (Simon & Schuster)
Tapeworms, cult films, and social-media strategy propel the plot of this debut about Circe and Szu, two Singaporean teen girls haunted by Szu's wannabe-horror-starlet mother.
9/11
Evolution, by Eileen Myles (Grove Press)
The feminist author and social-media celebrity's first all-new poetry collection since 2011 combines old themes (sexuality, outsiders) with new (Twitter, Russiagate).
The Personality Brokers: The Strange History of Myers-Briggs and the Birth of Personality Testing, by Merve Emre (Doubleday)
A biography of mother-daughter team Katharine Briggs and Isabel Myers, whose test launched a mania for self knowledge that pervades quizzes, job interviews, and online dating.
Crudo, by Olivia Laing (W.W. Norton)
From the author of The Lonely City, a hyper-timely novel of the days and weeks leading up to a wedding, narrated by a woman who is part Laing and part Kathy Acker (if that author had lived to encounter Trump tweets).
9/18
These Truths: A History of the United States, by Jill Lepore (W.W. Norton)
The magazine writer and historian presents an ambitious, one-volume history of America, wrestling with our country's ongoing battles over fact and fiction.
In Pieces, by Sally Field (Grand Central Publishing)
The two-time Oscar winner goes deep on her lonely childhood and the shy, anxious interior that informed the roles (in Sybil and Norma Rae) that made her famous.
American Prison: A Reporter's Undercover Journey Into the Business of Punishment, by Shane Bauer (Penguin Press)
Bauer's 2016 undercover exposé of the private-prison industry earned him a National Magazine Award and became Mother Jones' most-read feature of all time. Here, he deepens the context, unspooling the history of for-profit prisons, which fail (he argues) by design.
The Deeper the Water the Uglier the Fish, by Katya Apekina (Two Dollar Radio)
After Edie and Mae's mother attempts suicide, the girls are sent from Louisiana to their estranged novelist father's home in New York, lighting the spark for his new masterpiece and the family's total destruction.
BOOMER1, by Daniel Torday (St. Martin's Press)
After Mark loses his staff writing gig and his girlfriend, he moves back into his mother's basement, where his YouTube screeds gain an online following and stoke a generational war between boomers and millennials.
Essayism: On Form, Feeling, and Nonfiction, by Brian Dillon (New York Review Books)
Essays about essays — the kind that load you down, lift you up, and maybe even save your life. Dillon's disquisitions range in subject from Montaigne and Virginia Woolf to his own ever-present melancholia.
Washington Black, by Esi Edugyan (Knopf)
This sweeping novel, long-listed for the Man Booker Prize, follows 11-year-old Wash, a slave in 1830s Barbados, who becomes a servant to a naturalist and abolitionist, then wanders the globe in search of a place to make a life for himself.
The Bodies in Person: An Account of Civilian Casualties in American Wars, by Nick McDonell (Blue Rider Press)
Using hundreds of hours of interviews and military documents, the novelist turned investigative reporter examines the toll of the wars in Afghanistan and Iraq.
Heartland: A Memoir of Working Hard and Being Broke in the Richest Country on Earth, by Sarah Smarsh (Scribner)
Addressing her imaginary daughter, Smarsh traces the causes and effects of poverty on her family of Kansas wheat farmers and her own attempts to escape it as a first-generation college student.
9/25
May I Come In?: Discovering the World in Other People's Houses, by Wendy Goodman (Abrams)
Over 30 years, New York design editor Wendy Goodman has seen an impressive range of private-home interiors. Here are more than 75 of her favorites.
Waiting for Eden, by Elliot Ackerman (Knopf)
In the Marine vet's third novel, an explosion in Iraq leaves one man dead and another mangled; the wounded soldier awaits his death in a San Antonio burn unit, while the dead man narrates from beyond the grave.
Transcription, by Kate Atkinson (Little, Brown)
A young woman who transcribes interviews for MI5 during WWII grows up to craft history programs for the BBC. Within a mystery structure, the author of Life After Life probes the limitations of language.
Your Duck Is My Duck, by Deborah Eisenberg (Ecco)
The short-story master's first collection since 2006 is populated by the rootless and the disaffected: washed-up Hollywood actors, the check-forging son of a CEO, and a super-woke puppeteer.
The Order of the Day, by Éric Vuillard, trans. by Mark Polizzotti (Other Press)
This semi-fictional epic and Prix Goncourt winner focuses on the small steps leading up to Hitler's Anschluss in 1938. Vuillard's meditation on Austrian complicity coincides with the resurgence of the global far right.
October
10/1
The Taiga Syndrome, by Cristina Rivera Garza, trans. by Suzanne Jill Levine and Aviva Kana (Dorothy)
A Lynchian noir from one of Mexico's best novelists tracks a missing couple in a ravaged no-man's-land, weaving a mystery out of fairy tales, disaster capitalism, and shadowy afflictions.
10/2
So Far So Good: Final Poems 2014–2018, by Ursula K. Le Guin (Copper Canyon Press)
The late genius of science fiction was always a poet, and in this collection, completed just before her death earlier this year, Le Guin is candid, unafraid, and as fiercely devoted as ever to shape-shifting creatures (and cats).
Reagan: An American Journey, by Bob Spitz (Penguin Press)
If you find yourself longing for the golden age of the Republican Party, brush up on the humble story and folksy charm of our previous celebrity president, whose legacy — for better and worse — still animates politics today.
Good and Mad: The Revolutionary Power of Women's Anger, by Rebecca Traister (Simon & Schuster)
Angry women are among us: protesting by the millions, running for office, and taking down high-powered abusers. In this analysis of our political climate, New York writer Traister delineates the ways in which women's anger has galvanized change throughout our history.
What If This Were Enough? by Heather Havrilesky (Doubleday)
A soothing and much-needed reminder to tap out of the digital jealousy game and give ourselves and others TLC from the Cut's sanity-saving "Ask Polly" columnist.
10/9
Godsend, by John Wray (FSG)
From the author of Lowboy comes a novel about a California teenager who travels with her boyfriend to Pakistan, where she expects to find spiritual salvation but instead becomes witness to (and perpetrator of) unspeakable violence.
White Dancing Elephants, by Chaya Bhuvaneswar (Dzanc)
Women both endure the world's violence and wield it against one another in these 16 stories about sexual harassment, affairs, a therapist obsessed with her new client, and a woman mourning her miscarriage.
The Witch Elm, by Tana French (Viking)
A man's life begins to unravel after he's brutally beaten by strangers and the police begin a murder investigation involving his family. The beloved author's latest might focus on a victim rather than a detective, but the core theme is still here: the slipperiness of both memory and identity.
The Souls of Yellow Folk, by Wesley Yang (W.W. Norton)
A collection of Yang's award-winning magazine writing on culture and the vagaries of the Asian-American experience—from Eddie Huang to Amy Chua's "tiger mom" child-rearing, and from pickup artists to the 2007 Virginia Tech shooting.
10/16
Unsheltered, by Barbara Kingsolver (HarperCollins)
The politically attuned author of The Poisonwood Bible turns to our postrecession malaise in a novel that follows characters used and abused by the 21st-century economy.
The Big Fella: Babe Ruth and the World He Created, by Jane Leavy (HarperCollins)
The sportswriter's definitive account of Ruth's life — which coincided with the rise of celebrity and sports marketing — covers Ruth's highs and lows, from his beginnings in a school for wayward boys to his 60-home-run season of 1927.
Riddance, by Shelley Jackson (Black Balloon Publishing)
In this polyphonic gothic novel from the author of Half Life, children with speech impediments at a vocational school learn to become "mouthpieces for the dead."
The Library Book, by Susan Orlean (Simon & Schuster)
The always-fascinating writer sets her sights on libraries in general and one very special one in particular: Los Angeles's flagship, which burned down in 1986, possibly at the hands of a troubled actor named Harry Peak.
Heavy: An American Memoir, by Kiese Laymon (Scribner)
The former Gawker contributing editor — and author of the 2013 essay collection How to Slowly Kill Yourself and Others in America — returns with a memoir about his relationship with his mother, his childhood obesity, and his rural Mississippi childhood.
10/23
Friday Black, by Nana Kwame Adjei-Brenyah (Mariner Books)
The stories in this debut collection warp the dark realities of American racism into vicious satire: A white man stands trial for murdering five black children in "self-defense," a theme park allows killing with impunity, and confidence is administered via intravenous injection.
10/30
Thomas Cromwell: A Revolutionary Life, by Diarmaid MacCulloch (Viking)
One of history's greatest villains has been having a bit of a moment in the decade following Hilary Mantel's Wolf Hall. Here, the preeminent scholar of the British Reformation reappraises Henry VIII's right-hand man, in a biography Mantel has touted as the book "we have been awaiting for 400 years."
November
11/6
Evening in Paradise, by Lucia Berlin (FSG)
Following the success of Berlin's posthumous 2015 collection, here come another 22 funny and Carver-esque stories, several of them about single moms or alcoholics or single-mom alcoholics.
The William H. Gass Reader, by William H. Gass (Knopf)
A 900-page collection of fiction, essays, and criticism from the late writer, who insisted on the artificiality of all prose — a world not like ours, but all its own.
The Life of Saul Bellow: Love and Strife, 1965–2005, by Zachary Leader (Knopf)
Leader's first volume followed Bellow on his ascent from street kid to Guggenheim fellow and expat. As the second volume shows, Bellow never stopped collecting wives, children, masterpieces, and awards.
Those Who Knew, by Idra Novey (Viking)
The second novel by the poet-translator, whose debut, Ways to Disappear, put her on a short list of boundary-busting young mystery authors, works in a dash of dystopia, untangling the dark history of a progressive senator ten years after the fall of a dictatorship.
11/13
The End of the End of the Earth, by Jonathan Franzen (FSG)
A new essay collection from the Ur-chronicler of midwestern malaise, whose mutually disdainful relationship with the internet sometimes overwhelms his endearing bird obsession and noble climate-change reportage.
Vile Days: The Village Voice Art Columns, 1985–1988, by Gary Indiana (Semiotext(e))
From the reluctant downtown genius, a collection of the late-'80s Village Voice art criticism that defined an era, covering Jeff Koons, Cindy Sherman, and many others.
11/20
My Sister, the Serial Killer, by Oyinkan Braithwaite (Doubleday)
Ayoola may be the family's beautiful golden child, but she just can't stop murdering her boyfriends. Older sister Korede quickly learns how to scrub away blood, stash a body, and nix inconvenient social-media posts — but can she keep Ayoola from coming after her love interest? One of the year's most anticipated debuts, this satire has already been optioned for a film in the U.K.
11/27
All the Way: Football, Fame, and Redemption, by Joe Namath with Don Yaeger (Little, Brown)
The football legend's memoir tackles his days as "Broadway Joe" as the sport was becoming more commercialized, as well as his struggles with alcoholism and, of course, his 1969 Super Bowl win for the New York Jets — possibly the biggest upset in history.
December
12/4
North of Dawn, by Nuruddin Farah (Riverhead)
A Somalian couple's comfortable life in Oslo is overturned after their radicalized son kills himself in a suicide attack back home. His devout wife and two teenage children migrate to Norway, where they must navigate new lives in an unfamiliar society.
Every editorial product is independently selected. If you buy an item through our links, Vulture may earn an affiliate commission.
*A version of this article appears in the September 3, 2018, issue of New York Magazine. Subscribe Now!