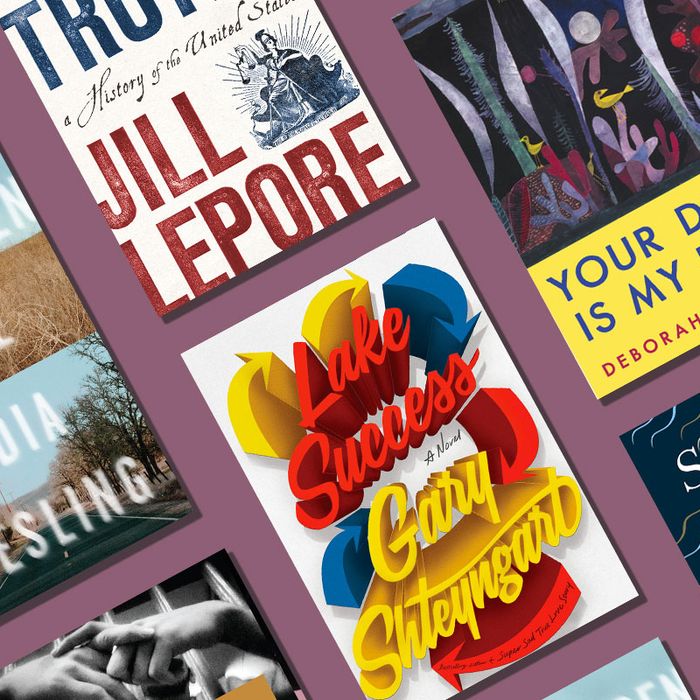 Each month, Boris Kachka offers nonfiction and fiction book recommendations. You should read as many of them as possible. See his picks from last month and next month.
The Golden State, by Lydia Kiesling (MCD/FSG, September 4)
The editor of the literary website The Millions has written a first novel of deep personal specificity that also illuminates broad cultural rifts. Daphne, a cosmopolitan San Franciscan working at an Islamic institute, is effectively rendered a single mother when her Turkish husband runs afoul of immigration laws. Losing her tether, she absconds to the California high desert and a family house she's rarely visited. There she comes to know (and form some surprising alliances with) the remnants of a lost America, who react as such left-behinds do — with fear, confusion, and zealotry.
Lake Success, by Gary Shteyngart (Random House, September 4)
Shteyngart's last novel, the near-future tragicomedy Super Sad True Love Story, effectively proved that all great satire is a kind of dystopia. His follow-up, eight years later, is about the dystopia we're actually living in. As Trump vaults the primaries on his glide path to idiocracy, hedge-funder Barry Cohen (a Rubio fan) gets negative attention from the SEC and sees his assets under management implode. He responds by fleeing his overqualified wife and autistic son and ditching his NetJets account for a series of Greyhound buses across America, chasing adolescent dreams and giving us the On the Road we deserve.
She Would Be King, by Wayétu Moore (Graywolf, September 11)
Magical realism of the post-colonial variety meets the latter-day revisionist superhero trope in Moore's imaginative debut, in which several unlikely saviors — an escaped Virginia slave with supernatural strength; a half-Jamaican slave-born boy with the ability to disappear; and a West African woman prone to rising from the dead — converge on Liberia around the moment of its founding and fight to repel colonial incursions. Moore veers from fantasy to lush descriptions and sharp characterization, shedding light on the fleeting moment when the vast African diaspora reversed itself.
Washington Black, by Esi Edugyan (Knopf, September 18)
In her third novel (after the Man Booker Prize–shortlisted Half-Blood Blues), Edugyan also takes slave history in a fabulistic direction, with echoes of Colson Whitehead's alt-historical Underground Railroad. Edugyan's language is exquisite, and the life story of her titular slave, a Barbadan who uses his extraordinary artistic talents to secure his freedom, is a swashbuckling adventure (Hot air balloons! Arctic expeditions! Science!). But the cruelties Edugyan depicts on the plantations would make Whitehead blanch. All of Black's eventual accomplishments can't counterbalance the suffering that spawned the New World.
These Truths: A History of the United States, by Jill Lepore (W.W. Norton, September 18)
Hardly the official story but not quite a people's history, the New Yorker writer and Harvard historian's sweeping and propulsive crash course zeroes in on the Declaration of Independence and its imperfect embodiment over the centuries. Lepore brings renewed focus to history's sidelined — women, slaves — but also sneaks across partisan lines to find the places where ideals are perpetually fought over, often heroically defended, and sometimes betrayed — by everyone from slave-owners to campus demagogues to a President for whom no truth unflattering to him is self-evident.
Heartland: A Memoir of Working Hard and Being Broke in the Richest Country on Earth, by Sarah Smarsh (Scribner, September 18)
In spite of inevitable comparisons to Hillbilly Elegy (guilty as charged), Smarsh's memoir of Midwestern poverty, cast as a book-length missive to the child she hasn't had, comes from a very different place. Smarsh's family history, tracing generations of teen mothers and Kansas farmer-laborers, forsakes detailed analysis of Trumpland poverty in favor of a first-person perspective colored by a sophisticated (if general) understanding of structural inequality. But most importantly, her project is shot through with compassion and pride for the screwed-over working class, even while narrating her emergence from it, diving into college instead of motherhood.
American Prison, by Shane Bauer (Penguin Press, September 18)
Growing out of a Mother Jones article that won a National Magazine Award, Bauer's book-length exposé of a private prison corporation, after he went undercover in a Louisiana facility as a corrections officer, takes a broader look at the history of cruel punishment in America. But the searing details of his time in the Winn facility form the brutal core of his indictment: evidence of systematic cruelty and profiteering that starts to erode the morality of prisoners and guards alike, and conditions sometimes worse than those in Tehran's notorious Evin Prison, where Bauer was once locked up for two years.
Your Duck Is My Duck, by Deborah Eisenberg (Ecco, September 25)
Eisenberg's streak of brilliant stories — which compel us to laugh and cry at the absurd sadness of the privileged — continues in these six long, absorbing pieces from her fifth collection. In one story, a painter is invited to a patron's impromptu artist's colony, only to find chaos, environmental depredation, and a strident puppeteer. In another (with the presidential epigraph: "I know words. I have the best words"), the son of a corrupt CEO forges a check and sets off in search of an elusive paramour who sends him cryptic postcards. It's all dark, weirdly stimulating fun — smelling salts for the brain.
Every editorial product is independently selected. If you buy an item through our links, Vulture may earn an affiliate commission.