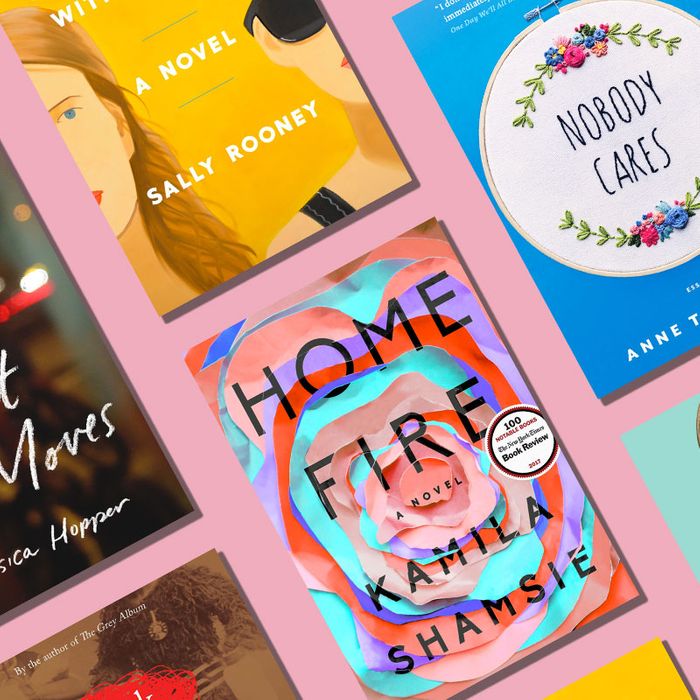 Each month, Maris Kreizman offers nonfiction and fiction paperback recommendations. You should read as many of them as possible.
Home Fires, by Kamila Shamsie
Modern-day retellings of classic stories are having a bit of a moment now, but few are quite so affecting as Kamila Shamsie's Booker Prize–nominated Home Fires, a reimagining of Antigone. Told from the points of view of three British siblings of Pakistani descent and the man who may hold the fate of all three in his hands, Shamsie's latest novel is urgent and impassioned, a meditation on family loyalty, religious ideology, and where romantic love fits into the equation. Given that Home Fires is an update on a Greek tragedy, it's not at all a spoiler to say that the final pages will haunt you long after you've finished reading.
Night Moves, by Jessica Hopper
This lovely and succinct memoir by music critic Jessica Hopper reads as if the coolest girl you know has let you take a peek at her personal diary. Each short chapter, many of which are titled with a song lyric or pun, contains vignettes about Hopper's Chicago in the early aughts, full of early AM bicycle rides and DJ nights, warehouse parties and dive bars. Night Moves features plenty of rock-critic insight, encounters with indie luminaries from St. Vincent and the Hold Steady's Craig Finn to El-P and Peanut Butter Wolf, and exhilarating descriptions of their fans, whom she characterizes as "aging loners waxing nerdy in the night light."
Bunk, by Kevin Young
You may have heard a thing or two about fake news lately. Poet Kevin Young's comprehensive history of hoaxes, grifters, and snake-oil salesmen in America is more than just a Book You Especially Need to Read Right Now. Bunk frames our current political climate as part of a long line of misrepresentations and deception that have shaped America's conversation about race and class and allowed so many voices to become marginalized. Consider Bunk to be an endlessly fascinating fact-check on everything we think we know about integrity.
Nobody Cares, by Anne Donahue
In her witty debut essay collection, Twitter sweetheart Anne Donahue writes about life "as an often horrifying shitshow instead of what it looked like under an Instagram filter." Donahue's messiness is an asset, of course. Her essays about the less photogenic moments of her life contain their own sort of beauty, the kind that comes from failing and persevering. From breaking down her anxiety disorder to getting in touch with helpful and well-deserved female rage, Donahue is as inspiring as she is droll.
Conversations With Friends, by Sally Rooney
The debut novel of a young Irish writer whose forthcoming novel Normal People earned her rave reviews and a Booker Prize nomination, Conversations With Friends is one of those campus novels in which all of the real education takes place off campus. When two young women, best friends but former lovers, become friendly with an older married couple, their lives intertwine and explode in a coming-of-age story that's weightier and wiser than you might expect.
Uncommon Type, by Tom Hanks
You may have heard of this plucky debut author. Come to his story collection expecting the same things you love about him on the big screen — a talent equally at home in the worlds of comedy and tragedy, and a sense of intimacy that's accessible in settings both broad and narrow. From a press junket gone hilariously, disastrously awry to a World War II vet trying to enjoy celebrating Christmas at home without being haunted by what he's seen in the past, these stories run the gamut of styles and tones but they're all sure to please.
Every editorial product is independently selected. If you buy an item through our links, Vulture may earn an affiliate commission.