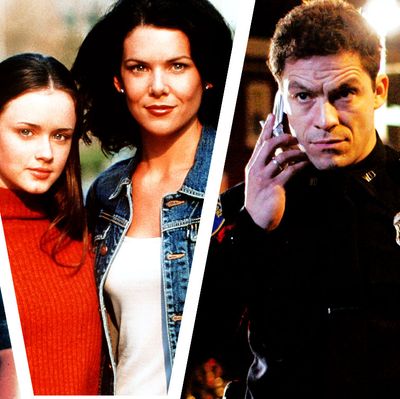 Photo: The WB Television Network/HBO
Start digging into Emmys history and within a few seconds tops, you'll be astonished when you realize how many terrific, even legendary programs were never nominated in the outstanding drama or comedy series categories. There are a lot of them. But for the purposes of this list, we've focused on 20 whose oversights we found particularly egregious.
Some of the shows on this list received nominations for other things — acting, writing, costumes — while others were overlooked entirely throughout their runs. But no matter how many nominations they did or didn't get, the fact that they didn't make the outstanding series cut is just crazy. So, with another Emmys ceremony upon us, peruse this rundown of snubs, and please join in sharing our still-simmering outrage.
Happy Days
It was one of the most popular TV shows of the 1970s. It spawned five spinoffs, two animated spinoffs, and two pilots that never made it to series. (I would have watched you, The Pinky Tuscadero Show.) It gave us one of the most iconic characters of all time in Arthur Fonzarelli and it's responsible for the now-commonly used phrase "jumping the shark." In its initial, pre-shark jump seasons, it also was a very good, warm, funny family sitcom. (The non-multi-cam seasons are especially unsung.) And yet here sits Happy Days, nominated for several Emmys over its run but never once for best comedy. —JC
Good Times
Would Black-ish, which is nominated once again this year for outstanding comedy series, exist if not for Good Times, Norman Lear's spinoff of Maude? I'll argue it would not, an easy argument to win since Black-ish has basically made the same argument, in episode form, itself.
Yes, the Evans family story sometimes centered a bit too much around J.J. and his love of the word "Dy-no-mite," but this was still a beloved series that portrayed a working class African-American family and became a touchstone not only for black kids growing up in the '70s, but all kids, period. Guess how many Emmy nominations it received, in any category? A grand total of … zero. —JC
Little House on the Prairie
Although it collected several nominations for categories like hairstyling and musical composition, and one nomination for its lead actress Melissa Sue Anderson, Little House was never recognized as an outstanding television drama. In its earlier seasons, nominations went to shows like Rockford Files and Upstairs, Downstairs; by the end of its run, Little House would've been in the category with Hill Street Blues. As a show forthrightly focused on domesticity and wholesome family stories, it was never an easy fit in an Emmys culture more attentive to crime dramas. But if Emmys voters were too inclined to write off Little House as "soft," they were absolutely not paying enough attention. Have you seen the episode when Mary finds out she's going blind?! —KVA
Roseanne
It's maybe one of the most baffling snubs in Emmys history, but somehow, the original run of Roseanne was never nominated for best comedy. Roseanne Barr, John Goodman, Laurie Metcalf, and Sara Gilbert were nominated again and again for best lead or supporting roles, and Metcalf and Barr both won. In spite of that, though, and in spite of the series's overwhelming presence as one of the best comedies in television history, it was never given the nod. It's speculation to say why, exactly, but it's hard not to notice that it shares one thing in common with many other shows on this list: its lead is a woman, and in particular, a woman who didn't fit in with typical ideas of what a woman's show should be like. —KVA
The Simpsons
It's hard to complain about The Simpsons not receiving enough Emmy recognition when it's been nominated for a zillion Emmys in its 876 seasons on the air.* But one category it has never been nominated in is outstanding comedy series, which is so infuriating it makes me want to dye my hair blue, grow it long enough to construct a Marge Simpson hair tower, then set all of it on fire.
Only two animated shows have ever been nominated in the outstanding comedy series category: The Flintstones, which is fine, and Family Guy, which is not, because how can you nominate Family Guy for best comedy and never nominate The Simpsons? Now, if you want to get technical, part of the problem is that Team Simpsons has to choose whether to submit in the animated category or overall comedy every year. They can't do both and since the mid-'90s they've opted to do the former. But for two years, The Simpsons tried to get into the broader category after the Academy altered then-existing rules that had prevented it from even giving that a try. Those weren't just any two years, either. They happened to coincide with seasons four and five, the best seasons of The Simpsons and quite possibly the best two seasons of a TV comedy that have ever made their way onto network television. "Mr. Plow"? "Marge vs. the Monorail"? "Cape Feare?" "Bart Gets Famous"? You're telling me these episodes pale when compared to what happening at the time on Home Improvement, which was nominated in 1993 and 1994? If so, all I have to say to you is the same thing Homer Simpson said in the season five episode, "Bart Gets an Elephant," to a cleaning product whose label insisted it must be used in a well-ventilated area: "Shove it, buddy." —JC
*Numbers approximate
My So-Called Life
The ABC teen drama only lasted a season. But it really, really deserved a best drama nomination for that one season, which depicted adolescent angst with an honesty so bracing that it still makes adults decades removed from high school ache with recognition while watching it. Voters were astute enough in 1995 to nominate it for writing, direction, and a career-launching lead performance by Claire Danes. But apparently that fifth season of Law and Order, one of the five nominees for outstanding drama that year, was too exceptional to allow room for what this website determined was one of the top two best high-school series of the past 30 years. —JC
Party of Five
After winning the Golden Globe Award for outstanding TV drama in 1996, it seemed like this sensitive portrayal of a family of orphans raising themselves after their parents' deaths could maybe, perhaps, get an Emmy nomination. It didn't. I still say it was worthy of one. It was more mainstream than My So-Called Life, and a bit less sophisticated, but it was still sensitively written, beautifully acted, and a weeper on par with This is Us well before This is Us was a gleam in Dan Fogelman's eye. —JC
Buffy the Vampire Slayer
If ever there was a show designed to completely fly under the Emmys radar, it was Buffy: a genre show about a teen girl fighting vampires (and also kissing them), a tone that toggles back and forth between comedy and drama, and a female protagonist with a silly sounding name. Buffy has been an undeniable cultural influence thanks to the gradual coronation of Whedon as a nerd king, but also more broadly in its monsters-of-the-week structure, in the tendency toward "badass" as a mode of female heroism, and in the way the show weaves together supernatural elements as metaphors for teen life. But as a pulpy supernatural soap with an audience of young women, it was just never going to get the attention of stodgy Emmys voters. —KVA
Freaks and Geeks
Another one-season-and-done teen series, Freaks and Geeks could be bleak as well as serious, and was an hour instead of 30 minutes. Perhaps those became barriers to an outstanding comedy nomination, even though it managed to earn two Emmys for creator Paul Feig's writing. Given the number of accolades and awards that the cast and crew of this coming-of-age favorite have received since then, I doubt any of them are complaining too much about the lack of Emmy love for the series that introduced many of them to Hollywood. But that's cool, because I'll complain about it for them, probably in a Kim Kelly voice that sounds really bitchy and totally over it, Lindsay. —JC
Gilmore Girls
Thanks to the rigid categories of what a television show should be, it's easy for shows like Gilmore Girls to fall between the cracks. The show is mostly comedic, but its hour-long format made it an uneasy fit as either a drama (not serious enough) or a comedy (not jokey enough). It should also be noted that like many shows on this list, Gilmore is a show about women with a largely female audience, two qualities that, to a certain mindset, instantly rendered it less important and less broadly appealing. Even outside the big "comedy" and "drama" categories, Gilmore's only Emmy nomination was for makeup, which is terrible snub of Lauren Graham and an absolute crime against Kelly Bishop. —KVA
The Wire
This might be Exhibit A in the case against the validity of the Primetime Emmy Awards. How off base can these annual statuettes sometimes get? So much that The Wire wasn't nominated for outstanding drama during any of its five seasons on the air. True, it received two nominations for outstanding writing — it lost both times, first to House, then to Mad Men — but it's still insane that one of the universally-agreed-upon best shows in television history got bupkes, especially when, during The Wire's era, CSI was nominated three times. That is a real crock of sheeeeeeeeiiiiiiiiit. —JC
Veronica Mars
The same voting body that wasn't going to recognize the excellence of Buffy the Vampire Slayer was similarly incapable of seeing the worth in a show like Veronica Mars. Its later seasons never quite lived up to the glory of the first season, but that first season was stellar: a fully formed California noir, painstakingly moving through its episode-length mysteries while tying in the larger season-length story, and also poking at issues of class and wealth with unerring accuracy. It was completely absorbing TV, and Kristen Bell's performance as Veronica should've catapulted the show toward a nomination all on its own. —KVA
Pushing Daisies
This Bryan Fuller beauty completely justified the purchase of a high-definition television, which, in the late 2000s, was still somewhat of a luxury item. Eye-popping, bizarre, morbid, yet brimming with oddball optimism, watching Pushing Daisies was like watching a kaleidoscope explode on your flatscreen every week. It also was filled with brilliant performances, from stars Lee Pace, Anna Friel, Chi McBride, and Kristin Chenoweth, and overflowing with life, which is a wonderfully paradoxical thing to say about a series in which a man repeatedly brings back the dead for a few minutes, then has to let them rest in peace again. Considering it only lasted two seasons, it rightly received quite a lot of Emmy nominations, for its art direction, costumes, makeup, directing, music, and some of its actors. It won a few, too, including one for Chenoweth and another for Barry Sonnenfeld's direction of the pilot, called "Pie-lette." Given all those recognitions of its excellence, it makes no sense at all that it wasn't nominated for outstanding comedy, too. I guess that fourth season of Entourage and fifth season of Two and a Half Men were just too groundbreaking for voters to resist. —JC
Better Off Ted
This one falls in the category of "not particularly surprising" Emmy snubs. Better Off Ted is a sitcom about a well-meaning single father who works at a fantastically evil giant corporation. It was never a popular hit, and it never participated in the kind of showy, wry cynicism that made shows like Arrested Development more visible satirical standouts. That said, Better Off Ted was stranger and goofier and more second-for-second delightful than most comedies on TV, and if the Emmys were actually about merit, it should've gotten a nomination at the very least. —KVA
Justified
If you're going to write a television drama today, you should watch Justified. If you're going to watch a television drama today and haven't seen Justified, well! Do we ever have a treat for you! And yet in spite of its excellence (Timothy Olyphant! Walton Goggins! Character actress Margo Martindale in an iconic role!), Justified never quite got the reputation as an important drama — it was clearly having too much fun. It was also participating in a very crowded Emmy field, going up against shows like Homeland and Mad Men and Breaking Bad. So it was passed over in favor of shows tilting more toward soap or toward darkness, and the genius of Justified's intricately balanced 13-episode seasons, with all their careful tuning between episode- and season-length arcs, was regrettably never recognized. —KVA
Parenthood
How often does a TV show based on a movie make you completely forget the movie even existed? Fine: Friday Night Lights did that. But Parenthood, another Jason Katims–run series, did so to an even greater degree. It had no gimmicky premise or quirky hook. It was a pure and simple family drama about several generations of Bravermans trying to do right by each other and not always succeeding. The only nomination it ever received was for Jason Ritter's guest acting role as Mark, the almost-husband of Lauren Graham's Sarah. This Is Us has drowned in Emmy love for the past two years. But even though Parenthood was, in my opinion, a better series, it got nothing but neglected, in outstanding drama and other categories where should have been embraced. —JC
Jane the Virgin
Like many shows on this list, Jane the Virgin falls into a tricky categorical middle place. It's a comedy that's also melodramatic, it runs for an hour, and it plays with soap operatic structures that have always been dismissed as less worthwhile than other, more traditionally male storytelling forms. It's got a title that makes it seem like it's not particularly serious, and although it's been a critical success from the get-go, it's also battled against the sense that it's disposable and fluffy. Not to put too fine a point on it, but: This is lunacy. Jane is head-and-shoulders over perennial Emmys favorite Modern Family, and it deserves at least a nomination, if not a win outright. It's not too late, Emmys voters! It's on for one more season! —KVA
BoJack Horseman
BoJack Horseman should absolutely have been nominated for outstanding comedy by now. It's an Easter-egg-packed, pop-culture-reference-heavy riot that's also heartbreaking and makes consistently bold, thought-provoking choices. But BoJack has the same problem that The Simpsons does, and I'm not talking about the fact that both BoJack and Homer drink too much. Netflix has to choose whether to submit the show in outstanding comedy or outstanding animated series, so they've gone with animated series. But here's what's crazy: It's never been nominated in that category either! I mean: what? —JC
The Leftovers
The lack of outstanding drama nominations for seasons two and three of The Leftovers are two of the most unforgivable Emmy mistakes of this decade. It is unfathomable that the show only got one nomination — for Ann Dowd's guest performance — when it was so beautifully written, ambitiously directed, and thoroughly transporting and moving. The fact that House of Cards was nominated for best drama instead during both of those Emmy seasons used to make me angry since it didn't unfold with anything close to the grace that The Leftovers had. Now, knowing what we know about what star Kevin Spacey was getting away with on that set, it's all the more upsetting. —JC
Halt and Catch Fire
It's not hard to understand why Halt and Catch Fire never broke through into Emmys glory. It's an obscure, small-scale drama about the birth of the computer age that gradually turned into a series about female friendship and the tiny, glorious, infuriating process of trying to make something. It was never buzzy, it was never overtly political (except in the way that all stories are political), it was never about big performances or big costumes or big, exciting, overwrought tableaux. Halt and Catch Fire was excellent, though — full of gorgeous acting and finely wrought writing (particularly near the end), and it was one of the best dramas on TV, Emmy or no Emmy. —KVA