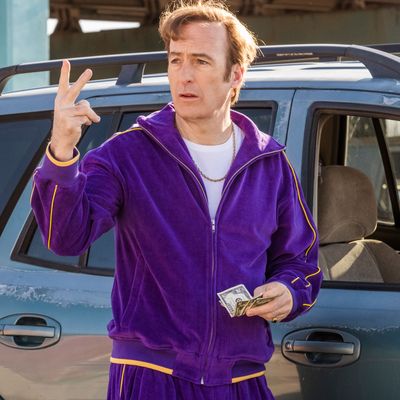 Photo: Nicole Wilder/AMC/Sony Pictures Television
Jimmy and Kim's most intimate moments have always been carefully cast among shadows and light, like the old noir flicks they love to watch so much. Alas, their Purple Rose of Cairo romance is dimming down to blackand-white. All that's really left in bed beside Jimmy is the negative space he's been beckoning. Kim is there in body but distant in spirit, pursuing her own independent path, letting the months pass by while Jimmy dwells further on the fantasy that he and Saul can coexist, and that they can share a life with Kim.
Yes, that's right: months. The show that has so dutifully (and to many viewers' lament) shuffled its deck over the course of three-plus seasons (spanning roughly a calendar year in Saul time) jumps ahead a relative eon by journeying through Jimmy and Kim's humdrum motions between spring 2003 and early 2004. Their split-screen divide is so subtle as to go taken for granted by each of them until the fateful evening when Jimmy joins his Kim as arm candy at a Schweikart & Cokley mixer. Drunk and stuffed on pass-around snacks, Jimmy hijacks some small talk about firm retreats and turns it into an escalating sales pitch for all-inclusive party-bus getaways to Aspen and Telluride. All Kim wanted that night was a charming date, but instead what reared its head was, as ADA Ericsen would put it, some "scumbag disbarred lawyers who peddles drop phones to criminals."
Is that really what Jimmy has become? The assistant district attorney may not "know the whole story," as Kim cautions following their tense conversation about Huell's arrest (more on that in a second), but Kim's been so busy by design that she's still able to tell herself the man she shares a condo with is defined more by past trauma than present choices. The revelation that he's been peddling drop phones by the side of the road to second-tier drug dealers hasn't entirely sunk in, and so she takes his willingness to come clean on that count as a kind of collateral act of good faith. Glimpses of her former professional idol, Chuck (that cameo last week was more than crowd-pleasing), are evident in the way she practically pities Jimmy in her office and grows uneasy with getting him out of another bind. Like her pro bono clients, Jimmy is no lost cause. Whether she'd normally volunteer time away from Mesa Verde and the Diana Penders of Albuquerque to fight on behalf of a bootlegger whose felonious bodyguard whacked a plain-clothes cop over the head with a bag of sandwiches is another story. (But hey, as she reasons, they were just sandwiches.)
If Mike weren't so won over by Werner, would he likewise be willing to let Kai's insubordinate antics slide? It turns out excavating tunnels underneath Lavenderia Brillante is no more a dream job than Jimmy's day gig at CC Mobile. And unfortunately, the crew's warehouse oasis in parts unknown has started to feel more like the nuclear-winter outpost in American Horror Story: Apocalypse (or perhaps Alien's Nostromo ship, though battle with a murderous E.T. might provide a welcome adrenaline rush), no matter how many pints of beer and games of pinball are on offer. Foreshadowing of something tragic is everywhere, from the aforementioned tension between Mike and Kai to the concrete column one of his colleagues knocks over like a fallen Parthenon pillar. Werner, sweet as he is, may well be a goner, hardening Mike — who's grown to let his guard down around the kindly kraut — even further into his cementlike stance as a silent assassin.
That's all speculation, but so are any projections for when the eight-months-and-running endeavor to build out Gus's meth lab might be wrapped. The bad news is it appears Mr. Fring is ready to forge ahead with at least one prog of his multi-point plan for regional underworld domination. Dr. Bruckner has helped rouse Hector to the point of, well, arousal. He can sit up, recognize and respond to colors and shapes, but most crucially — as Gus grins upon detecting while watching the hospital as he prepares a traditional Peruvian seafood dish (naturally) — he has a hankering to stare at nurses' cleavage and panty lines. Dr. Bruckner could take his progress further, but Gus deems it more satisfying to stall his recovery right at the point where Hector can almost taste what he desires without ever savoring it. Dr. Bruckner was caught off guard but pacified by the donations made to her new clinical wing. Neither Mike nor Werner, however, will be thrilled that Gus's urgency at growing his empire — and rubbing that success in the face of his enemies — has been newly stoked.
All this makes the stakes seem reasonably low for Huell, who would do 18 months max for his sandwich-bag bonking but probably far less. So long as he doesn't run. And assuming Jimmy doesn't encourage him to run. But she has a feeling he will, and she's got a plan B. It involves a shopping cart full of colorful writing utensils and related stationery, but we'll have to wait another week to see what she has in mind. She may save the day, temporarily forestall Saul and big-picture have "a better way," but as Werner (oh, Werner) says to Mike, "You can't keep men locked away forever."
Apart From All That
• Ehrmentraut = world-class strength. Who knew?
• I'd go with 10,000 Waves.
• You, Huell, are no DB Cooper.
• All they had to say was, "Episode writer Alison Tatlock worked on In Treatment."
• If only Jimmy could think small.