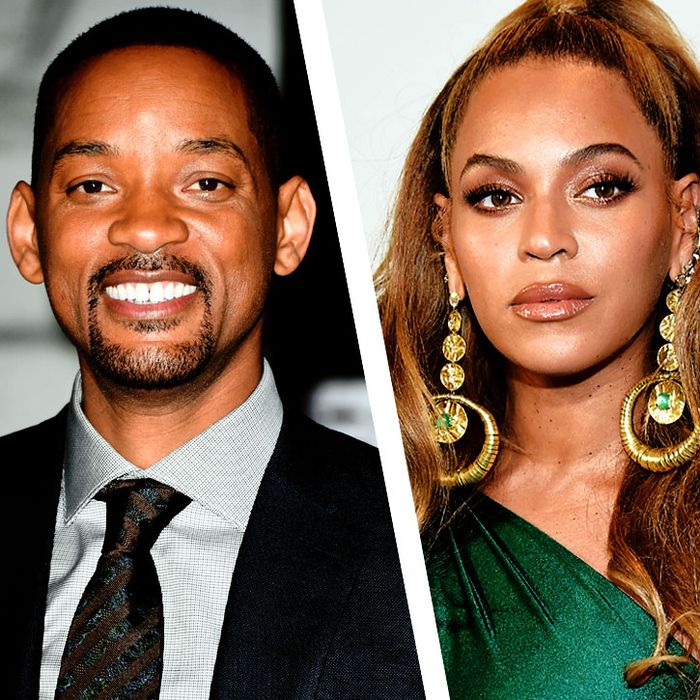 With raves from Toronto and Venice, A Star Is Born's star is already crowning. The Bradley Cooper–Lady Gaga drama follows the beats of the three previous iterations: A rising singer begins a romance with an alcoholic on his way to has-been status. But this latest remake has been a long time coming, with a handful of directors and stars dropping in and out of the project from as early as 2002. A Star Is Born might be Hollywood's favorite myth, but looking back at the musical chairs of its almost stars and directors is completely fascinating in and of itself. Vulture has taken a deep dive into the archives to track every Star Is Born pairing we almost got — along with the developments that derailed each one. A timeline is born!
July 2002: Will Smith wants to do a Star Is Born, he tells TV Guide, and he's found the director to help him make it happen. While promoting Men in Black II, Smith says he and Joel Schumacher are working on a reimagining of the tale as old as time. Among their big ideas is Alicia Keys or Jennifer Lopez as Smith's co-star. "Jennifer loves the concept, [and] Alicia really likes it [too]," Smith says. "What I like about Jennifer is that you could go Latin. The music and the environment could be the Latin world, which would be different from all of the other [versions]." That same month, he also suggests to People that the movie could be made under his production deal with Sony, and that he'd swap the roles, so his character would be the rising star.
September 2002: Joel Schumacher confirms to MTV that he's planning a Star Is Born remake, to star Smith and Lopez. "Who knows if the movie will go," he said. "[But] it seems [to be] a desire of the studio to do it. And now let's see if all of the ducks are in order."
October 2002: Alicia Keys is no longer attached to the Schumacher-Smith Star Is Born, according to her manager. "She was asked to do it," manager Jeff Robinson told MTV. "But her first movie shouldn't be a movie where she's basically playing herself. I don't think that's real acting, playing yourself. I think her first film should be a little more challenging, a little bit more dramatic." Okay!
January 2010: Warner Bros. announces that Nick Cassavetes (at that time best known for directing My Sister's Keeper and Alpha Dog) would take on a remake of A Star Is Born. "The project has been at WB for several years, originally in hopes of pairing Beyoncé and Will Smith. Cassavetes sparked to a draft by Will Fetters, a hot writer at the studio," Deadline reported. "Though she's made no commitment, Beyoncé is still on the wish list, I'm told, with Alicia Keys and Rihanna also mentioned as possibles."
February 2010: Starring (and born-ing?) opposite Beyoncé will be … Russell Crowe! "In what may strike cynics as a case of life imitating art, Russell Crowe looks set to take a leading role in A Star Is Born," the Guardian reported. "A remake of the classic Hollywood melodrama about a fading, drunken superstar who finds himself eclipsed by a younger model." Okay, miss shady!
January 2011: Cassavetes is, for whatever reason, out, and Clint Eastwood is announced as the director of a new Star Is Born remake. Beyoncé is still rumored to be the star. Every generation gets the Star Is Born they deserve, and among the names circulated for the male lead are Will Smith (still), Bey's Dreamgirls co-star Eddie Murphy, and "any white guy imaginable [like] Robert Downey Jr. and Jon Hamm," Deadline reported.
June 2011: While on the set of J. Edgar, Eastwood reportedly discusses his Star Is Born plans with J. Edgar star Leo DiCaprio. The rumor is that Leo's considering.
July 2011: Beyoncé confirms that she met with Eastwood, and is attached to star. "I met with Clint and I was so nervous, and I know that it is the biggest opportunity of my life," she told Reuters.
August 2011: After his Oscar win and as the Dark Knight trilogy is winding down, Christian Bale is eyeing a trio of new projects. Among them? A Star Is Born, according to Variety.
August 2011: Days later, Beyoncé announces that she's pregnant with future president Blue Ivy Carter! Warner Bros. planned for the Eastwood-Knowles Star Is Born to start shooting in February 2012, Deadline reported, but Bey's pregnancy pushes that date back. Also, Leo officially passes on the project, presumably deciding to choose Tarantino over Beyoncé, which is … a choice!
March 2012: Clint Eastwood starts talking to … Tom Cruise?! With Cruise's then-unseen Rock of Ages performance generating buzz, Deadline hears that he'll be able to "handle the singing part." Variety reports that Cruise is being courted by WB, and that he's eager to work with Eastwood. Two more new names pop up in the couple-shuffle month: Eminem and Hugh Jackman.
April 2012: As Will Fetters works on the script, to be directed by Eastwood, he describes a story that would focus more on the male singer's downfall than the love story. "The love story is there and it's been done five times, but I was more interested in, I feel like, right now is an interesting time," Fetters told Mandatory. "My industry's changing and trying to deal with it. People aren't going to the movies as much anymore. The music industry's changing. It's harder to be a successful artist and make money off it, especially if you're a dinosaur. If you're a guy in your 50s, in a world of Justin Bieber, if you're Kurt Cobain now in your 50s, what do you do? How do you exist in this world?"
The male lead in Fetters's script was inspired by Cobain: "When he died it was a huge horrible thing [for me as a teenager]. So I approached A Star Is Born, for me the framework was all right, if Kurt Cobain never got to go Unplugged and survived, and it's 20 years later and it's now, and he wanted to try to do that album with that understanding as this grunge icon. That'd be tough to get done if he was past his prime, no longer selling, how does he get that album?"
August 2012: At long last, Cooper finally gets the call! "Clint Eastwood is eyeing Cooper to star opposite Beyoncé in the director's remake of A Star Is Born at Warner Bros.," Variety reports. "Though there is no deal in place and Cooper has a very busy schedule."
October 2012: Fuck it up and then leave, come back, fuck it and leave again! Beyoncé is officially out, according to Variety. Now the movie is left without a star and someone to born her: Apparently, Cooper never got an offer, and talks with all the other white men stopped short. (Rolling Stone reports on Beyoncé's exit, with the added detail that Eastwood approached Johnny Depp at one point about starring.)
With Beyoncé otherwise occupied — read: busy raising the new leader of the free world — sources say Clint Eastwood is eyeing Esperanza Spalding.
March 2015: The stars align for Cooper to take over directing duties on A Star Is Born from Clint Eastwood. Deadline reports that Warner Bros. has started negotiating with Cooper to use the movie as his directorial debut, and then groom him into a Ben Affleck–style auteur. Beyoncé is again the dream casting for the rising-star role.
March 2016: Beyoncé is (again) approached for the Star Is Born role, and (again) declined. Warner Bros. reportedly couldn't afford a true diva's price!
June 2016: Lady Gaga is reportedly "in talks" to take over the Star Is Born remake.
August 2016: Gaga is officially in! Entertainment Weekly reports that Gaga will star in the Cooper-directed movie, and also write and perform new music for the film. Every generation gets the Star Is Born remake they deserve, and Gaga's rah rahs will get the job done.