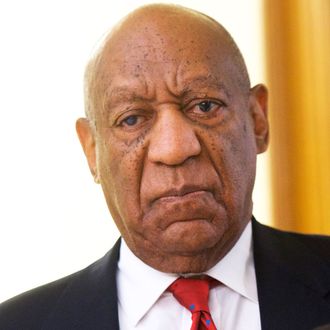 Cosby.
Photo: Mark Makela/Getty Images
As Bill Cosby awaits sentencing on his conviction of three counts of felony sexual assault in suburban Philadelphia this month, the comedian's wife issued a statement asking that the case be thrown out, and at the very least that the judge step down.
According to Andrew Wyatt, Cosby's longtime publicist, Mrs. Cosby is asking for a motion of dismissal, accusing Judge Steven O'Neill of withholding "pertinent information" about a so-called ongoing feud between the judge and former Montgomery County D.A. Bruce Castor.
Mrs. Cosby stated this week, "Bill Cosby was not afforded an impartial judge and he did not receive a fair trial. Instead, my husband was forced to go to trial before a judge, Steven T. O'Neill, who had a bitter, longstanding feud with one of the key witnesses in the case, Bruce Castor, the former District Attorney for Montgomery County, Pennsylvania. Mr. Castor testified under oath that when he was D.A. in 2006, he made a binding decision that because the evidence was weak, Mr. Cosby would never be prosecuted in this case, and that as a result of that decision, Mr. Cosby no longer had the right to remain silent and would be required to give a deposition in a civil lawsuit." Though Castor was not the D.A. who brought the case against Cosby; it was D.A. Kevin Steele, who unsuccessfully tried the case in 2017 that resulted in a hung jury.
Cosby has been under house arrest since his conviction while his new (and third) defense team's been busy interviewing witnesses they say prove Judge O'Neill failed to disclose his feud with the former D.A., something Mrs. Cosby now says damaged her husband's right to a fair trial. Since being convicted in April, Cosby fired his superstar defense team and hired attorney Joseph P. Green Jr. to take over the case. Thus far, every defense motion to overturn Cosby's conviction has been dismissed by the judge.
But according to Wyatt, the revelations Green has recently uncovered are juicy. In fact, one witness alleges that former D.A. Castor was aware of an affair Judge O'Neill was supposedly having with a female attorney on the D.A.'s staff while he was separated from his wife. Wyatt claims that Castor used the relationship to his advantage to retaliate against the judge during an election. The defense claims they have sources that will attest that the whole situation humiliated the judge and may have caused him to lose a bid for judgeship back in 1999.
In what's being seen by many as a last-ditch effort to free her 81-year-old husband from the possibility of serving any actual mandatory prison time, Mrs. Cosby now says that since O'Neill had bias toward the former D.A., and it created bias in the sex case against her husband. "The public, and Mr. Cosby, were entitled to know about Judge O'Neill's bias before the judge made these rulings," she said in a statement.
It's unclear whether the motion will be accepted since it was D.A. Steele who brought charges against Cosby, and not the judge. It's also highly unusual for a call for dismissal to come just two weeks before sentencing that's certain to make headlines as more famous Hollywood men (like former CBS honcho Les Moonves) are being accused of sexual misconduct.
D.A. Steele has already said that he plans to give accusers the opportunity to confront Cosby in the courtroom when the comedian's formally sentenced starting September 24. It's a decision that's already being compared to the Larry Nassar sentencing in which dozens of gymnasts confronted the sexual felon.
Cosby could face up to 30 years in prison.