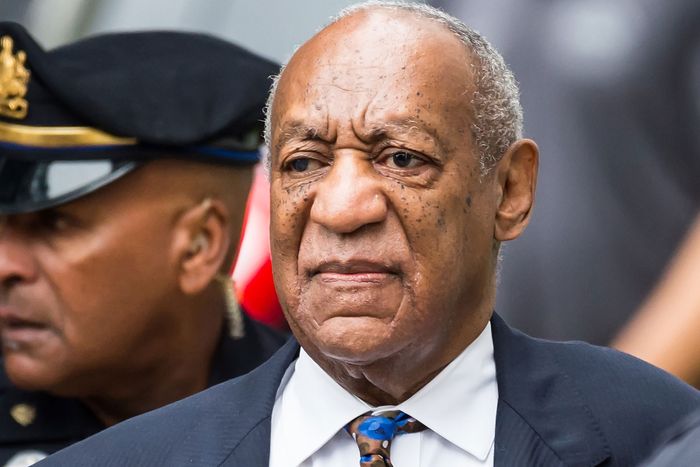 Photo: Gilbert Carrasquillo/Getty Images
When Bill Cosby was led out of the Montgomery County Courthouse outside of Philadelphia in handcuffs after being sentenced to three to ten years in state prison for three counts of felony sexual assault, people naturally had a lot of questions. As the comedian awaits word of his pending appeal, which could cut his sentence short, we looked at what happens next in this famous case, like how long Cosby will likely serve behind bars and what it's really like being one of the world's most famous inmates.
What was Cosby's actual sentence?
Cosby was sentenced to three to ten years in state prison for all three felony convictions, but the time he actually spends in prison could depend on a number of factors (more on that below). The sentence was handed down by Judge Steven O'Neill at the Montgomery County Courthouse outside of Philly yesterday. Initially, Cosby faced a maximum of 30 years (10 years for each count) but the prosecution and defense successfully negotiated rolling all three charges into one for the sake of a swift sentencing. The charges in which he's been convicted carry mandatory jail time in the state.
When making his ruling, the judge likely took into account Cosby's age, health, criminal history, and state recommendations. The state said during sentencing that Cosby should be classified as a "dangerous sexual predator," and that if given the chance, he would likely offend again.
Up until yesterday, Cosby had been under house arrest on $1 million bond.
What's the statue of limitations on sexual assault?
In Pennsylvania, a person who alleges child sexual abuse typically has until age 30 to file a civil suit. For adult rape or sexual assault, an accuser has two years from the date of injury to file a civil suit.
In criminal court, a sexual offense against a minor can be prosecuted up until the accuser turns 50 years old. In all other sexual abuse cases, there is a 12-year statute of limitations.
In Cosby's case, Constand's 2004 assault just qualified under the state's statute of limitations. Each state has different statutes, and several states have eliminated the statutes all together.
What happened when Cosby left the courthouse yesterday?
Cosby, in handcuffs, was taken by sheriff's deputies from the Montgomery County Courthouse to the nearby Montgomery County Correctional Facility, where he was officially processed as an inmate.
What happened when he got to jail?
At the county jail, Cosby would have been asked to hand over all personal items (like jewelry, keys, his wallet, and even his shoes). He also would have been searched for any illegal or dangerous items. His mug shot was also taken.
Was he strip-searched?
Most likely. All new inmates go through routine bodily inspections to ensure they are not bringing weapons or contraband into the facility in their oral or anal cavities. In Cosby's case, he would have been searched by a male officer before being outfitted with a prison regulation jumpsuit. There have been issues in the past when celebrity inmates have not been subject to the same processing as other inmates.
What happened next?
Next, Cosby would have been subjected to both physical and psychological exams. A medical assistant at the facility would be expected to take Cosby's blood pressure and ask about any medical conditions. He would also be asked a series of questions to help gauge his psychological state, namely if he's suicidal. He would also be fingerprinted at this time before being taken to a jail cell where he would spend his first night.
Is he sharing a cell with someone?
Probably not. Because Cosby is a celebrity, he will likely be placed in a single cell while awaiting transfer. If it's determined that he is depressed or may be a threat to himself, he could be placed under suicide watch.
What's suicide watch?
Inmates who are on suicide watch are put under continuous or frequent watch by a guard, prison officer, or other security personnel at the facility. For most people, this simply means being housed alone in a cell without any potentially threatening items, and with ongoing periodic checks. It also means that any items that could be used to harm oneself would be taken away (like shoelaces, sheets, and even underwear).
How long will Cosby stay at the county prison?
According to TMZ, Cosby has already been transferred from county prison directly to a maximum-security prison in Schwenksville, Pennsylvania, where he is expected to remain for the duration of his sentence. Another mug shot was taken of Cosby at Schwenksville. He was also given the inmate number of NN7687.
Why was he sent to a maximum-security prison?
The decision to incarcerate Cosby in a maximum-security facility is somewhat surprising. Most older offenders like Cosby are sent to Laurel Highlands, the same correctional facility where Jerry Sandusky, George Feigley, and Ira Einhorn are or have been housed.
According to Nellie Fitzpatrick, a crime-victim attorney with Laffey, Bucci and Kent in Philadelphia, "All inmates are processed into an intake institution and then most are assigned to another institution to serve their sentence." For Cosby, this happened very quickly — in less than 24 hours.
Before his transfer, Cosby would have been evaluated based on danger level, health, and age. A big part of the decision, says Fitzpatrick, would have come down to the danger posed to and by an individual serving a sentence within a state correctional institution. Numerous factors such as age, disability, mental-health needs, notoriety, gender expression, and sexual orientation have a major impact on assessing the safety of the individual inmate. "The institutions must evaluate each inmate and work to ensure their safety during their period of incarceration," she explains.
The maximum-security facility where Cosby's been transferred houses some of the most violent offenders in the state. The prison, says TMZ, currently has 3,830 beds.
Will Cosby share a cell with anyone else?
There's always a chance that an inmate could spend time in a cell with another inmate or multiple inmates. "Cosby's housing assignment should be based solely on what the correctional staff deems necessary to keep him and all other inmates safe and healthy," says Fitzpatrick. "Cosby will likely have some level of interaction with other inmates, as complete isolation is not an acceptable form of incarceration. Again, who and how Cosby interacts with while serving his sentence will be governed by safety and health concerns."
Because he is housed in a maximum-security facility, it could be challenging to have Cosby interact freely with inmates. He could conceivably have a chosen inmate assisting him as he adjusts to this new arrangement. Because Cosby is legally blind, he may require additional assistance from either inmates or staff.
How long will Cosby actually serve?
It depends on several factors, including his behavior while incarcerated, as well as his health and age. Most legal experts anticipate that Cosby will serve at least three years of his three-to-ten-year sentence. After three years, he will be considered for parole, assuming he's been a model prisoner. If he has any serious health issues, these could also be taken into consideration before the three years are up, though inmates who are sick or dying generally remain incarcerated in a unit with medical treatment. Being old and sick doesn't necessarily mean an inmate will be released early.
Could Cosby be released on appeal?
Sure. Cosby's defense team has already appealed the verdict as of yesterday and will likely be in court soon (possibly even within the next ten days) to argue that Cosby was unjustly incarcerated. Technically, the attorneys could not appeal the conviction until their client was sentenced, and they did so quickly. In Pennsylvania, the court is required to rule on post-sentencing motions within 120 days. After the ruling, the defendant has another 30 days to appeal.
What we can expect next is that the appeals court, essentially a court that reviews any errors during trial, will review whatever objections the defense presents. In this case, the defense is arguing that evidence in the Cosby case was tampered with, specifically a recorded conversation between Cosby and Constand's mother. The defense is arguing that the recording was made illegally and may have been edited. They are also calling into question the legality of making such a recording without the permission of all parties.
Whatever happens, Cosby will remain in prison for the duration of the appeals process.
Is this the same argument Cosby's wife Camille is making?
Yes. In a statement from Camille Cosby, which was read on the steps of the courthouse yesterday, she accused the prosecutors of ignoring concerns that the recording of her husband may have been tampered with and/or edited. She said unequivocally, "The Montgomery County DA used falsified evidence."
Does the appeal have a chance of succeeding?
That's hard to determine at this point. If the defense can prove that the audio recording in question was tampered with and (this is key) ultimately presented an unfair advantage to the prosecution, they could be successful. But they would need to prove that the recording had a direct impact on the unanimous decision by the jury. It's not an easy case to make, but certainly defense attorneys have succeeded with much less.
What happens if Cosby dies in prison?
Because Cosby is 81 years old and will be serving at least a three-year sentence, it is certainly possible that he could die in prison. If this happens, an autopsy is likely to be performed. The state would want to determine if the inmate died by natural or unnatural causes. It would then be up to the deputy warden or chaplain to inform the family about their loved one's death.
There would also be a report from a doctor presented to the family, who would be permitted to claim the body or have it sent directly to a funeral home. If no one claims the body, some prisons have graveyards or storage facilities. In this case, a body is usually turned over for cremation and either buried or stored until the time that a family member or friend would want to claim the remains.
How are celebrities usually received in prison?
Like everywhere else, celebrities usually have an unfair advantage in prison, starting with the fact that they are most always given a cell to themselves. For security reasons, they are also generally kept away from the most dangerous inmates in the general population.
It's not unusual for other inmates and even prison staff to be starstruck when someone as famous as Cosby shows up. Other celebrities who have served time admitted to being treated a little better than most. They certainly have their pick of the commissary.
Having extra attention as a celebrity can sometimes work to one's advantage behind bars, especially when it comes to getting urgent medical treatment. Because of his fame, all eyes will be on him. Guards are likely going to ensure that nothing happens to their famous inmate under their watch, whether by natural or unnatural causes.
The downside for anyone, Cosby included, is that inmates convicted of sexual assault are not always looked upon favorably by other inmates (it's even worse for pedophiles and serial killers).
Cosby could potentially find some supporters in prison — his fame and money will go a long way toward making new friends. When Martha Stewart was incarcerated, she said she got to know her fellow inmates and even provided mentoring and cooking lessons. For his part, Cosby could either keep to himself or capitalize on his fame by entertaining and even mentoring other inmates. Like anyone, he'll be craving human interaction. And as a star, he'll likely want an audience.