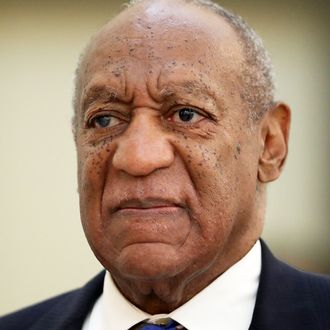 Even before Bill Cosby arrived at the suburban Philadelphia courthouse in the rain today, his possible sentence already came down from a maximum of 30 years to just 10. The prosecution and defense agreed to roll some of the charges together late Monday. After a long and tedious day of legal wrangling between the judge, prosecutors, and defense in this closely watched case, it's expected that today the judge will reveal if Cosby is to be labeled as a violent sexual predator and what his sentence will actually be. After being convicted of three counts of drugging and sexually assaulting former Temple employee Andrea Constand at his home in 2004, we'll learn whether the comedian heads to prison or stay under house arrest. Here's what we know so far:
Prosecutors would ultimately like to see Cosby serve ten years for his crimes. After a dramatic retrial in April where Constand and five other women testified that Cosby drugged and raped them, a unanimous verdict found the comedian guilty on all three counts. It was a big win for the more than 60 women who have accused the entertainer of assault over the course of 40-plus years.
Since the verdict, Cosby, now 81, has been under house arrest in his Montgomery County home, the same estate where Constand said he drugged and assaulted her. Despite the prosecutor asking for Cosby to be remanded to prison the same day he was found guilty, he instead was released under house arrest on $1 million bail and equipped with a GPS monitor.
At this point, the defense would very much like to see Cosby stay under house arrest for the duration of his sentence, giving him freedom to see his doctors and lawyers at will. Yesterday, his attorneys repeatedly cited both his advanced age and health (Cosby claims he is legally blind) as reasons for keeping him out of prison. Also taken into consideration: his longtime philanthropy.
Monday was tumultuous as the defense tried to keep Cosby off of the state's sex registry. The judge ruled that the registry was fair game, which could mean Cosby will be expected to check in with authorities and register as a dangerous sex offender for the rest of his life.
Something that could sway the judge is the statement of a state health expert who minced no words when calling Cosby a "sexually violent predator." She said Cosby is, indeed, a threat to the others because of his inappropriate sexual urges for women who are unable to consent. She also added unequivocally that Cosby would likely assault again.
Today, it's expected that folks from both sides of the aisle will provide statements before Judge Steven O'Neill finally hands down a verdict. Constand is in the courtroom again today — as are a few jurors from the retrial.
It should be noted that yesterday the courtroom was packed with many of Cosby's accusers, while relatively few people turned out in support of the comedian. His wife, Camille Cosby, has not been present at sentencing.
Cosby continues to deny all allegations against him, saying that his relationship with Constand was "consensual." Since he has yet to testify in either his first trial or retail, it's unlikely we'll hear from him today, though he does have the opportunity to speak on his own behalf.