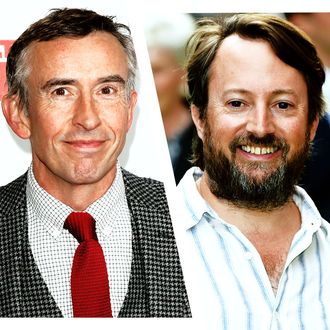 Steve Coogan and David Mitchell.
Photo: Getty Images/Shutterstock
Steve Coogan and David Mitchell are teaming up for a new movie from Michael Winterbottom. Deadline reports that the two will star in an upcoming untitled film produced by Melissa Parmenter, previously titled Greed, described as "a satirical take on the world of the super-rich," with Coogan playing "a ruthless, perma-tanned and self-absorbed retail clothing billionaire" and Mitchell as a "mild-mannered journalist hired by Coogan's character to chronicle his life story."
Winterbottom and Parmenter worked with Coogan on The Trip TV and film franchise, most recently in last year's The Trip to Spain. Coogan also stars alongside Will Ferrell in the upcoming Laurel and Hardy biopic Stan & Ollie, which is reportedly close to being sold to Sony Pictures Classics at the Toronto Film Festival this week.