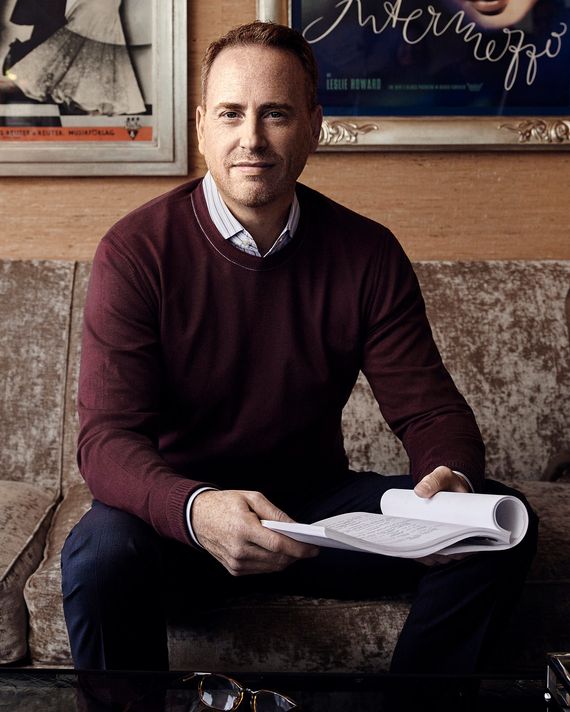 As the fall TV season got underway in 2013, things were looking bleak for NBC. While The Voice was on fire — it had just surpassed American Idol as TV's top-rated reality show — the rest of Peacock's lineup was pretty much plucked. The Office and 30 Rock had both ended their runs, while star-studded swings such as Matthew Perry's Go On, the Ryan Murphy–produced The New Normal, and the ambitious musical drama Smash had all struck out. NBC was in last place among the Big Four broadcasters, placing not a single scripted series among Nielsen's top 30 most-watched programs for the 2012–13 TV season. Things looked so dire, Vulture published something close to an obituary for the network under the grim headline, "Has NBC Passed the Point of No Return?"
Five years later, it's clear that think pieces about the death of NBC were greatly exaggerated. While the network's troubles at the time were very real, what wasn't so evident at the time was how the seeds of its recovery had already been planted. Chicago Fire — the Dick Wolf–created procedural drama which launched to modest ratings during the 2012–13 season — was about to explode into a full-fledged franchise hit with multiple successful spinoffs. The Voice kept growing and provided a powerful platform to launch drama successes The Blacklist, Blindspot, and, most importantly, the megahit This Is Us. And while it took a bit longer to bounce back, NBC's Must-See TV comedy brand has slowly sprung back to life with The Good Place, Superstore, a resurrected Will & Grace, and the newly acquired Brooklyn Nine-Nine. The result of all these hits? When the full 52-week TV season ends on Sunday, NBC will be No. 1 among the advertiser-coveted demographic of adults under 50 for the fifth consecutive year. It will also boast the No. 1 drama (This Is Us), the No. 1 unscripted series (America's Got Talent), and, in the key demo, the No. 1 series overall (Sunday Night Football).
Overseeing this slow and steady comeback has been NBC Entertainment chairman Robert Greenblatt, a 30-year TV veteran who joined the network in 2011, just as it was being taken over by cable giant Comcast. He was recruited in no small part due to his successful seven-year stint running Showtime in the aughts, as well as his work as an independent producer (he helped bring Six Feet Under to HBO) and as a program exec at Fox during the '90s (The X-Files, Party of Five, and Beverly Hills 90210 were developed under his watch). Despite our harsh words back in 2013, Greenblatt recently agreed to an extended interview with Vulture to discuss how he helped NBC get its groove back. Over the course of 75 minutes, we also talked about the challenges still facing the network (one word: Netflix), why a reboot of The Office is probably not happening (but a Saved by the Bell revival could be), and how an NBC/Comcast streaming service could be coming sooner rather than later.
You may or may not remember, but five years ago, I wrote this analysis about how it looked like NBC may have passed the point of no return as a broadcast network. I was very careful to say I didn't think it had anything to do with your tenure, but I predicted the end could be near for NBC. I was wrong about that!
I remember that story quite well! [Laughs.] By the way, at the time I wasn't sure that you were completely wrong. I mean, it was a moment where — who knew? It all went the right direction, but …
Let's talk about where you were five years ago. You were a couple of years into your run at NBC, and as you say, things looked pretty bleak. Were you confident there was a path forward?
Well, five years ago was the year things really started to go in the right direction. If you go back [to the] first couple of years that I was here, it was pretty dark days. I didn't know if it was going to be possible to put the train back on the tracks. When [NBCUniversal CEO] Steve Burke came over and I came with him in January of 2011, I kept saying to him, "Let's say publicly it's going to take five years, minimum." I didn't want anybody to think in two years, if we didn't do it, we were utter failures.
Honestly, I didn't know if it was even possible in five years. Things were trending so badly for the network — and for other networks. Cable was exploding. NBC was in a singularly bad place. Years of being in fourth place, lots of management changes, a parent company [in General Electric] that I think started to waver on the whole business, lack of investment, a culture that was depressed. The list went on and on. So everything had to change. And I don't think we saw any beacon of success except for The Voice. It launched spectacularly well, which surprised all of us.
I was going to bring up The Voice. Paul Telegdy, who runs unscripted for NBC, was developing it before you got there. But you were key to the decision to green-light it to series and get in on the air quickly — before Fox could launch The X Factor. If you had waited a few months longer, it's possible The Voice would've seemed like a clone of X Factor and it might have flopped. Things could've gone very differently for the comeback narrative.
I would say it was a real watershed moment, although like most watershed moments, you don't know it at the time. You're just trying to do what you can do and keep the train running and keep the network programmed.
How did the decision get made?
I'd known Paul before coming here, so we had a relationship. I sat down with him early on and I said, "What in this space can we do quickly and dramatically?" America's Got Talent was on the air and doing well, and Idol was still plugging away. I thought we needed something in this space that we could deploy quickly.  He said, "There's a format that we have from [The Voice creator] John de Mol," and not to belabor the history, but he'd been working on something similar with Mark Burnett separately. He'd decided, probably before this conversation with me, to marry Burnett and de Mol together with The Voice.
But it was not moving forward. It was just sort of sitting there. So he and [Universal Television Alternative Studio president] Meredith Ahr pitched me, and I just thought, "What have we got to lose?" If we put it on and it doesn't do anything, we're in no worse place than we've been in the last several years. We knew X Factor was looming. So I said, "How fast could we get this thing going?" And they moved into overdrive. It was a fantastic, galvanizing show for us that brought millions of people to the network. That was an invaluable building block for everything that followed the next couple of years.
On the scripted side, Dick Wolf's Chicago Fire helped you turn the corner. How did that whole franchise come together? 
I had a relationship with Dick that went all the way back to New York Undercover. He was thrilled when I came to the network, [but] one of the first things I had to do, which was unpleasant, was I canceled Law and Order: LA. It really wasn't working and I didn't think it was going to be a long-term player. I said to him at that point, "You know, you've done so many versions of Law and Order. Is it maybe time for you to think about a whole new avenue to go down?" He said, "You know what? You're right. I have a bunch of ideas."
He pitched us the [Chicago Fire] idea and I just thought, "This could be a good show." It was a Dick Wolf drama, conceived really beautifully, and that seemed like a great one-hour show for us at a time when we needed so many replacement shows. If you remember, just a couple years before that, [NBC] had done [Jay] Leno at 10 p.m.
You had been making fewer dramas because Leno's show took their place.
The ten o'clock hour had just been depleted. So I thought, "Great, a new avenue for Dick Wolf — let's get behind that." And it worked for us.
I remember you ordered the first Chicago spinoff before the first season of Fire was even over. It seemed insane at the time to move so quickly.
Dick being Dick, his appetite was so aggressive to create another franchise like he had with Law and Order. I give him all this credit. He said, "I'm going to use the city as a franchise, and I'm going to bring all of the law enforcement and firefighter franchises together." He conceived that idea from the very beginning. He didn't really push it hard at first because he wanted to get the first show up, but as soon as Chicago Fire premiered, he started talking to me about what the next show should be out of Chicago.
You came to NBC with this reputation for doing "quality" shows, stuff that worked on premium cable networks. So it was jarring, at first, to see you making shows that seemed like they belonged on CBS or USA Network. Were you going out of your way to not be the cable guy at a broadcast network?
First of all, I was really just in the trenches and not stepping back to think, "What will the press embrace? What won't they embrace?" A producer like Dick Wolf is as quality as it comes and is part of the DNA of this network. So it wasn't like I was just saying, "Let's just do something lowest-common denominator." I saw it as, "Let's try everything. Let's try all kinds of things." We were doing it with people we thought were stellar and believed in what they were doing.
We also made a bunch of shows that were more "cable" that came and went quickly. I was still thinking, "Let's get some of that Showtime tone into these shows," because the world's going to cable, so why shouldn't the broadcast audience? We did Awake, which I love, which was this complicated parallel-universe show and the critics loved it. It didn't garner a big enough audience. So I realized pretty quickly that — and we said these words to the press and were often dinged for it — you have to be broader. Broad has been interpreted as more mainstream and less sophisticated, but it just means that you have to have a show that brings more people from different demos and a broader spectrum of viewers. I have no apologies for the Chicago franchise or any of those shows. We needed to find the sweet spot of broad, big audience shows that were also high quality. And the pinnacle of that, of course, is This Is Us.
So you're not going to claim that you knew exactly what you were doing all along?
Yes, I'm not going to take any more credit for it because we were in a triage situation. Nothing was working, and we still had to program the network every night. It wasn't like we could just close for two years for repairs and then reopen. Everything was happening constantly. I had to restaff and restructure the company, I had to build a digital group, we had to do all these things simultaneously. So we just said, "Let's be smart and fast and nimble and do a whole number of different things with people that we believe in and trust."
Let's talk about comedy. You got drama back on its feet pretty quickly, with the Chicago franchise and Blacklist. With comedy, it's been more of a journey. You seemed to move away from the Must-See TV comedy brand for a few years, but now you're doing shows that would feel right at home next to The Office or Cheers. How has the comedy strategy evolved for you? 
Everybody says this, but comedy is really hard. NBC had a comedy brand that was kind of extraordinary. For many years it was multi-cam, some of the great multi-cams of all time. And then that transitioned into a single-cam with The Office, Parks, and 30 Rock. Those shows were extraordinary and award-winning. Before I got here, The Office was a big hit and so was 30 Rock. By the time I got here, those shows were aging a bit and losing some of their ground. We had to start thinking about how to replace them, so we did just a panoply of different things. I think they were really good attempts, and each one of them had its merits, but we couldn't figure out how to get a big "hit." So we kept struggling, trying new things and saying we needed to be "broad." You know, Big Bang Theory had a huge audience. We weren't doing that kind of show and the multi-cam had completely gone out of fashion here, as it did almost everywhere except CBS. So we tried Whitney. We kept trying and trying. It was just hard.
A separate conversation — a tangent but important — you have to look at the business model of these shows as well, especially when you're running a network that's losing hundreds of millions of dollars. The single-camera comedy business is only a good business if you have a gargantuan hit. Those shows are more expensive than half of a one-hour drama. They don't travel internationally anywhere near how one-hour dramas do or hit multi-cam shows. So we were looking at expensive shows that weren't working in terms of enough audience, we were looking at PNLs [profit and loss statements] on shows that were losing $10, $20, $30 million in a season. You keep scratching your head, "We have to do a better job here. How do we change this direction?" Honestly, we just kept rooting around over those several years, and then lo and behold, digital started to enter the fray.
It was a whole new revenue stream.
There'd been Hulu, but Hulu has grown and given us a lot more revenue in the last couple of years as the numbers have grown in terms of subscribers and how much viewership they have. We own part of the company, but in the day-to-day operation of it, we derive a lot of revenue from Hulu because of ads. It's a better ad experience than the linear experience, so younger people tend to gravitate towards it, which is fine by me. As Hulu was growing, Netflix came into the scene.
Suddenly there were other places to derive some revenue on these comedies. A show like The Office, which is not on the air anymore, is hugely successful on Netflix. The Good Place is now on Netflix and doing extraordinarily well. And other shows have been on Hulu, and you start to go, "Oh, these comedies seem to be better bets now." So you can keep some of these things on the air [more easily] than you could. The model's dramatically different now than it was seven or eight years ago. There's ways to make the economics work.
Even for something like The Good Place, which must have seemed really out there on paper.
In the same way you bet on Dick Wolf and you bet on Mark Burnett, you bet on Mike Schur. This is the surest bet you can get in the comedy world. He pitched us this idea which was completely novel and crazy just conceptually, and we went, "You know what? Mike Schur is as good as it gets. Let's try this show and see what happens." And lo and behold, I think it's one of the best comedies that's been on television anywhere in the last several years. Little by little, you piece things back together. We built it slower than the dramas, but I'm really, really proud of the lineup we have.
The digital revenue is important because it lets you do shows which maybe can't get that huge linear audience you used to need, right?
That's absolutely right. We realized that the linear number was declining, but there were a lot of people interested in watching these kinds of comedies and we could rate them — sometimes with Nielsen's help, sometimes with our own internal estimates. As our sales department has gotten so much more sophisticated, they can track the audience and monetize it, so the business model now extends way beyond just, "Oh, is the show paying for itself when it's run on Thursday nights at 8:30 p.m.?" The answer may be no, but when you look to bigger picture, these digital audiences are big. Now, 30 to 40 percent of the audience of a show is digital. That's great for my ego, but it's even better if we can say, "Oh, we're deriving revenue out of it" — and we are now.
Are Nielsen ratings and that linear number just not as critical anymore?
Our advertising is most efficient on the network, and the linear [audience] is the best way we derive revenue. But a big chunk of viewers comes elsewhere now, and I'm thrilled to claim them as NBC viewers. They're watching on other platforms, but they're watching our shows. To me, that's the real measure of what our audience is, and it's really helped in comedy. A comedy on the network can survive now at a much smaller number than it did four to five years ago when we went, "Ugh, we just can't keep that show going because we're just losing money."
You also mentioned The Office. I know that Netflix shares some data with you that they don't always share with reporters. How big is it on streaming?   
I believe it's the No. 1 most-popular acquired show on Netflix. I'm going to check that, but I believe it's the No. 1 or 2 show on Netflix that they acquire, and there are millions of streams of those episodes. A stream is not the same as a linear rating, so the apples-to-oranges thing comes in, but I believe that Netflix has helped make The Office extraordinarily popular, and more popular than it was when it was on the network. And they pay us a lot of money for it. If we knew how popular it was going to be before they made the deal, we would have asked for more money from them! [Laughs.]
But it's very lucrative. It was a big hit in its day, let's not forget that. It had a big audience on the network too. But to your point, younger people weren't watching it on this network and they're watching it in droves on Netflix. It's a very valuable property for us.
Of course, this is where I ask you about the possibility of rebooting The Office. You mentioned a year ago you were very open to the idea.
I hesitate to speculate about the future of more of The Office because every time I do, there's a headline that says, "The Office reboot is coming," and it really isn't. But I have conversations with Greg Daniels occasionally and I keep saying that we would love to have more of the show. It's possible that could happen over the next couple of years. He just got a show picked up at Amazon so I don't think anything's in the cards immediately, but it's an extraordinary show and I would love to say that it's coming back — although I hope you don't say that!
There are other possibilities in The Office universe, right? Mike Schur is at NBC, and he's a former producer and star …
Mike has four shows he's already doing, so he's not going to do it! [Laughs.]
But he's not acting in any of them. It's time for the Mose spinoff.
That's hilarious.
You talk about how good Netflix has been for The Office. It would be even more valuable if it were part of an NBC or Comcast streaming service, no? How long is the show tied to Netflix?
I think it goes to 2020. We're not going to get it back early, but I believe there will be some over-the-top service created within this company in the next couple of years, and The Office — those existing episodes — would be a great asset to have, clearly. [If they're] generating that much interest on Netflix, you'd certainly love to say, "Here's the exclusive home of this show that you love." And I think that's conceivable. It'll probably take a few years for that to happen, but yeah, I think you long for one of those titles which is a driver of an audience.
Let's talk about streaming. You mentioned a direct-to-consumer streaming service like Netflix. How do you see that evolving, and how would it change the NBC network?
All I want to say about that without being too coy is, there's a large group of people from the different divisions of this company focused on that very thing. Because as you say, there is strength in all of the content coming together under one umbrella. There's a lot of people, myself included, who are involved in the evolution of this. We're doing it very carefully and very methodically, because you really have one shot to go out there and we want to make sure it has the best chance of succeeding.
What do you think such a service looks like?
You want the most content you can have. If Netflix is the idealized version of it — where you pay $10, $11, $12 a month and you get thousands and thousands of titles — we think a lot about what price point we could expect to get if we don't have nearly that much volume? Even if we pool all the volume at this company, it isn't thousands and thousands and thousands of shows. A lot of work is going into this, it's very thoughtful, and it's ongoing. Hopefully in the next several months, we'll have a plan that we can execute.
How tough has it become for broadcast networks to compete for talent in a world where Netflix, HBO, and Amazon seem to be in a race to see who can land the biggest names or write the largest checks?
You know, I can't sit around and complain about the world. I have to just try to do the best version of broadcast television that we can. Of course it's more complicated because of all the competition, all the volume, and the literally hundreds of shows that are out in the universe. The competition for talent and writers and all that has never been more complicated. You just have to ignore it and do as good a job as you possibly can in getting great ideas in the door and nurturing great writers.
People have asked me a lot about the Ryan Murphy and Shonda Rhimes deals, and [is Netflix] going to steal all the great talent. My answer is, I love making shows that are the first or second show of a writer. There's always another crop of young writers and producers out there, and it's our job to find them. We love Mike Schur, but we want to find the next Mike Schur. Mike Schur came up on a series of shows here and turned in to who he is because he had that opportunity. It's daunting, but we're all up for it. And when you get a This Is Us or something that cuts through the clutter, it's pretty thrilling.
The other thing about all these platforms is, we're running a big business here and we have several production studios. We're selling shows right and left to these [streaming services]. They're frenemies of the network, but they're certainly friends of the studio. We have shows on Amazon and Netflix and Apple and Hulu and every cable network and HBO and Showtime. It gives some of our producers — the Tina Feys and the Mike Schurs of the world — the opportunity to keep doing network shows, but also branch out and do shows that are more narrow than they would be on a network. In the grand scheme of things, that's a good thing.
Netflix usually dominates the discussion of the streaming space, for obvious reason. What's your take on the rest of the players? Amazon Studios is now being run by your former No. 2, Jen Salke. Disney and Apple are getting ready to launch new services next year. How much will they change the game?
Things move really fast these days. We're really happy to sell shows to all these platforms. We have three shows at Apple we're excited about, and a lot of things all over the place. They're competition — they're diverting eyeballs because there are great shows for our audiences to watch there. Is that a good thing or a bad thing? I think these companies you mentioned aren't going anywhere. They're going to be in this space and, if anything, probably ratcheting it up, which is good for us on some level and challenging for us on others.
You mentioned how your studio produces for these outside streamers. You famously allowed Tina Fey to take Unbreakable Kimmy Schmidt to Netflix, even though it was developed for NBC. Is it a more complicated decision now to let top shows go to streaming rivals, particularly since you might be launching your own direct-to-consumer streaming service soon?
I don't know if the decisions are any more difficult now. You just have to see if you can make something work. One reason I let Kimmy go is because, at that moment in time, four or five years ago, I felt we might not be able to launch that and make it a hit. I didn't want to be the one who had Tina Fey's next show and blew it. And Netflix was there, and rabid. It seemed like, "Oh, we can make a lot of noise with it at Netflix." It's a great business model, in some ways better than it would've been on a network. You can't "fail" because there's no rating. It seemed like the right decision then. If it was up to me today? Maybe Kimmy would work on the network today. But it's always hard to make a hypothetical decision.
There's been a big push in recent years to finally start addressing the lack of diversity that's been a problem for so long in Hollywood, both in terms of on-camera representation and behind the scenes. How do you think NBC is doing on that front?
I am so proud of this company in terms of diversity. I could give you a whole list of things that we do that I'm extremely proud of, from writer training programs, to director training programs, to this new female directors initiative we're doing, to our track record on series regulars on our shows, which I think is close to 50 percent. I'm gay, so I feel like I'm part of the panoply of diversities in this world, and the head of my studio is African and the scripted co-heads are women, and the head of current is African-American and the head of casting is Asian-American.
This is a network made up of diverse people. When writers or producers come in the door and pitch us ideas, they're not pitching to a room full of white men or women. You're looking at people who represent the world. If you bring a show that has six white characters in to us, that doesn't even make sense to us. We are trying to grow these talent pools as much as we can, but you never can do enough. I'm not going to sit here and say, "We do it the best and we're just resting on our laurels." We're very attuned to it and aggressive about it, and it's something that's very important to me personally.
Let's talk Will & Grace. Your confidence in the reboot has gone well beyond what's typical for most broadcast networks. You ordered a second season before the first even premiered, and season three is also already a go. Why'd you go all in so early?
I learned a great deal from [producer and former Fox chief] Peter Chernin, who is my mentor and friend and has been involved in almost every step of my career. In the early days of the Fox network, we were shit out of luck. Nobody wanted to be in business with us. We were a network that was almost certain to die. I learned at that place in my life with Peter that you just have to go for it. If you're not comfortable going out on a limb and potentially falling and failing, then just get out of the business. I could go through a whole list of things where I went for it and I was embarrassed, but I think you've got to go for the things that your gut tells you might work.
So you weren't certain Will & Grace would be a smash?
You never know. If anybody tells you they know, they're lying. We could talk for an hour about the live musicals. I mean, talk about going out on a limb for something that, on the face of it, just looked stupid! But I thought, "Let's try to do something at the highest level we can do it and see if it works."
On the Will & Grace front, two years ago, I was trying very hard to figure out, "How do we bring more great comedies into this ecosystem?" And lo and behold, I get a call from [Will & Grace creators] Max [Mutchnick] and David [Kohan]. They tell me secretly that they've done this reunion thing just for digital that's going to come out right before the election, and they called asking for my blessing. I said, "Of course you have my blessing! I don't know what you're doing, but you have my blessing." Then he showed it to me and it was like time had just stopped. This cast still has it, Jimmy Burrows still has it, and I thought, "This is really exciting! I love seeing this show back and having characters comment on the world as it is today." Immediately, I started to think, "Well, this should come back to the air."
But why did you renew it before the reboot aired a single episode?  
Because I honestly thought to myself, "Is there a scenario where we're going to get through the season and look at a show that we love, and go, Oh, we don't want any more of it?" It almost seemed certain that we would have room for a comedy that's one of the best that's been on television in 25 years. Why wouldn't we want a second season? And quite frankly, it's easier to negotiate deals. I thought, "It's going to be easier to get them to make a deal on the second season before the first season goes on." I'm happy that we did that, because that three rating on the initial episode would've made it even more difficult. [Laughs.] I'm being a little facetious, because we're paying them really well. It's not like I took advantage of them.
And reboots are everywhere this season.
Did I start the craze of reboots? No. I think we've been rebooting shows for a long time. But it's almost like no one was doing it before Will & Grace, and now everyone's doing it. I'm looking forward to Murphy Brown. I thought that Roseanne was a brilliant move on ABC's part, and look at the audience that turned out for it! I'm not going to comment on any of the political stuff, but if you have a show that is great and you have a really good reason to bring it back, go for it.
Is Saved by the Bell coming back? I've heard some rumbling it might.
We've been developing it and we're not there yet, but maybe. It's an intriguing notion. That would be a different kind of [reboot] because you can't just go back to that cast and say, "Let's pick up where we left off!" We're working on a new version of it, but nothing's imminent.
Speaking of reboots, you're working on a Smash musical for Broadway, yes?
We haven't announced anything really detailed about this, but I've said before we want to look at how to adapt Smash or Bombshell for Broadway. We actually have a creative team coming together and are excited about that.
What about a revival for TV?
I don't think a reboot of that show is in the offing. I mean, that cast is all over the place. I love that there's a cult following that would love it, but I think we're going to see what the live stage version yields first.
Have you considered something short of full reboots or revivals? The networks used to do a lot of reunion TV movies.
I don't know, maybe an occasional one? Everything is more expensive to produce than you want it to be. First, you look at what it's going to cost to make the movie, and you're going to have a rating that's going to probably not cover that cost by any stretch. If [Netflix is] willing to buy it for a chunk of money after [it airs on TV], that would help, but you're not going to take a reunion movie and make a lot of money on it by selling it one by one to markets around the world. So it's not a real business model and you can't scale it. That said, if somebody came to me and said, "We could do one two-hour movie of fill-in-the-blank …" I'll say it just to bait you on it, because I dare you not to write about it, but The West Wing, which everyone wants us to reboot and will probably never happen — I say that in capital letters and underlined! — but if Aaron Sorkin said, "I'll do one of those and I can get that cast back together," of course you do that.
Have you talked to CBS TV Studios about a possible Frasier revival? 
I don't know where it's going to progress, but we said we're interested in hearing what you want to do with it. Kelsey's fantastic and I think it's a completely new take on the show with that character in a whole new universe. I'd be happy to hear what comes of that development. It's one of the great shows of all time.
You're going to win the full 52-week season in total viewers for the first time in 16 years. You had some help from the Super Bowl and the Olympics, and you've also always said demo ratings — where you're also No. 1 — are more important. Why make a big deal out the total viewer win?
I think those bragging rights are always important. A lot of it is just perception and press and whatnot. But it's an achievement that says something about this company and all the efforts that have gone into everything from prime-time entertainment to sports to everything that we have. The total households number is a great number, and of course it was bolstered by the Olympics and the Super Bowl. But if you take out sports and you just look at entertainment, we still win. Yes, CBS technically is most-watched if you take the Super Bowl and the Olympics out of our number. But we're closer than we've been to them in a dozen years. It's a measure of the strength of where we are, and it's something to celebrate.
Last question: Michelle Obama's hosting the SNL season premiere, isn't she?
[Laughs.] Wouldn't that be great!
This interview has been edited and condensed for clarity.