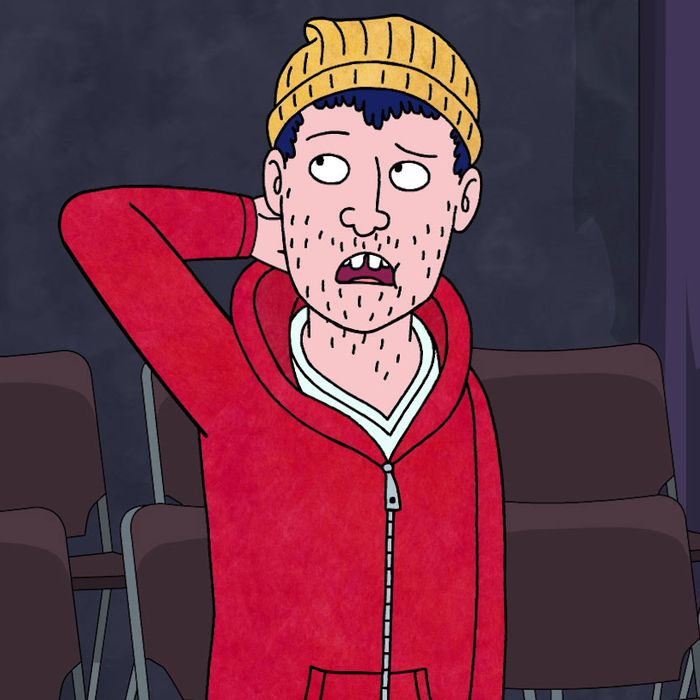 Hooray … question mark?
Photo: Netflix
Happy-go-lucky, scatterbrained, and a beanie-wearing sweetheart, Todd Chavez is BoJack Horseman's most buoyant character. At once the ideal accomplice to get into the dopiest of shenanigans and a confidant whose loyalty is as improbable as the success of a Halloween store in January, Todd's unfiltered optimism is a saving grace whenever the Netflix animated series dives into existential despair.
Yet, for all the reasons that make Todd an endearing goofball with adorably squeezable cheeks, he is the most puzzling piece of BoJack Horseman — a hard-earned distinction in a series that has devoted entire episodes to digging up its protagonists' backstories. Five seasons in, minimal details about Todd's past have been revealed about his iconic sense of slacker fashion, his involvement with multiple criminal organizations, and, most importantly, his ethnic and cultural identity.
Is Todd a Latino character? On Reddit threads scrutinizing his background, users point to specific hints they believe confirm his Latino-ness: He expertly arranged a Quinceañera for a cartel boss's daughter at BoJack's house, and during a stint in prison as a result of one of his ludicrous schemes, both the Aryan Nations and the Latin Kings were courting him to join them, a sign that at the very least there is ambiguity about his heritage. Others have speculated that Todd might be half-white and half-Latino, or he could be a white-passing Latino like many out there. The most undeniable clue, of course, is Todd's last name: Chavez.
Latinos are dismally underrepresented in all positions within the entertainment industry, so when a critically revered show like BoJack Horseman includes a character named Chavez — a surname found in most territories colonized by Spain, but notably prominent in Mexico — it's understandable to wonder if he exists to embody Latino experiences somehow. But as creator Raphael Bob-Waksberg told Vulture during a recent phone interview, Todd was inspired by something else entirely. "I named him Todd Chavez after a guy I went to middle school with, whose last name was Chavez and who I always liked," Bob-Waksberg said. "He had a good energy, and something about his spirit felt Todd-appropriate."
It wasn't until people started asking about Todd's last name that Bob-Waksberg says the possibility crossed his mind: "I'm embarrassed to admit that it hadn't occurred to me. I didn't even realize that my friend in middle school was Latino."
"I want to be very honest, we have not talked about Todd's race or cultural heritage a lot," he added. Although Bob-Waksberg doesn't want to invalidate anyone's perception of Todd, he is also adamant about not claiming credit for deliberately creating a Latino character. "We've played him as Schrödinger's Latino, in that he's not been explicitly not Latino, but we have not told stories about his Latino-ness either," he said.
Bob-Waksberg's biggest hesitation about declaring Todd a Latino character is that Aaron Paul, a white actor, voices him. "I didn't want to feel like we were telling a Latino story that we were ill-equipped to tell, especially because we got some of that criticism with Diane, I think deservedly so, for being voiced by Alison Brie." Those conversations about Diane, a Vietnamese-American character, affected how the BoJack team thought about Todd, and Bob-Waksberg admitted it made them more reluctant to address concerns about diversity. "[The reasons why] we have not discussed it on the show come from a place of cowardice," he said. "They come from a place of, I don't want to rock the boat, and I don't want to do a segment that's going to be seen as even more offensive and more disrespectful, so maybe it's better to live in the space where we're not saying he's Latino — but we're also not saying he's not Latino, and let everyone draw their own conclusions. But there might be a better way to move forward."
Over email, Aaron Paul said there have never been any exchanges between him and the masterminds behind the show about Todd's ancestry. "The only thing they told me was that Todd was not your typical stoner-type guy. There is a lot more to him than just that," wrote the actor, who also serves as a BoJack executive producer.
"Todd is just straight-up full of mystery," Paul added. "We will continue to find out more and more about Todd's past as the series goes on."
For Jaime Aymerich, the Mexican actor who voices Todd in the show's Spanish-language dub, his first impression of the amusing sidekick was a confounding one. "When I noticed the character was named Todd Chavez, I was a bit confused because I thought, The cartoon figure looks like a white guy and his first name, Todd, is not typically Latino, but his last name is Chavez," said Aymerich, who also dubs BoJack's Spanish-language versions of character actress Margo Martindale, Andrew Garfield, and Vincent D'Onofrio.
Aymerich's full name is Jaime Alberto Aymerich Chavez — yes, the man who plays Todd is himself a Chavez — so he feels there is definitely something to be explored about the character's heritage. "Todd might also just be a white-passing Latino. Those Latinos exist in the United States. I identify with Todd in that sense because I don't look like the clichéd Latino we often see onscreen. That can be a problem as an actor, since I'm not dark enough to look like the Latino they have in their mind," he said.
Although Todd's enigmatic nature has been baked into the show, one aspect of his identity has been intelligently tackled: In season three, Todd came out as asexual and embraced that part of himself in humorous, yet nuanced fashion. The reactions from the asexual community have been generally encouraging.
"I love that Todd can somewhat be a voice to the asexual community," wrote Paul. "People who happen to be asexual have approached me and they are proud to have someone like Todd on their screens. [They] come up to me many times expressing to me how they had no idea what they were until Todd voiced it himself on the show."
While obviously not specific to BoJack, this kind of visibility for an underrepresented (or oft downright invisible) minority is what Latinos hope to see in pop culture as well.
"The reason I think the asexual story line has worked for us in the ways that it has, is because it felt natural and we took our time with it. We didn't do it in a way that feels shoehorned in. So if we're exploring Todd's cultural heritage, I want to make sure we're doing it in the same way," Bob-Waksberg said.
When conceiving Todd's love interest, Yolanda Buenaventura — an asexual character who is unequivocally Latino — Bob-Waksberg was conscious of giving her a name that would reflect her heritage, and cast Cuban-American actress Natalie Morales to voice her. (Fitting for the show's many animal characters, Yolanda is an axolotl, a colorful salamander species native to Mexico City.) And when Bob-Waksberg first told Morales that Yolanda's family would come to the foreground in season five, the actress recommended he cast Latino actors for those roles, something that he says hadn't occurred to him. Bob-Waksberg then recruited Eva Longoria and John Leguizamo to portray Yolanda's parents.
"I have to give her a lot of credit for that. That's actually a great example of how diversity begets diversity a lot of times," Bob-Waksberg said. "When you surround yourself with white people, you continue to hire white people, and when you make an effort to hire people of color, that does bring in different stories and different people."
In future seasons, it's likely that more details about Todd's life will be revealed, but Bob-Waksberg says the BoJack team wants to be respectful about approaching any Latino story lines. An instrumental force in getting it right will be the creative minds involved, like Joanna Calo, who has been a writer on the show for several years, and who is half-Mexican and half-white.
According to Bob-Waksberg, Calo played a significant role in telling Diane's story, channeling her own struggles as a mixed-race Latina who did not always feel comfortable in her own skin. "We would draw on that experience more if we were to tell more of Todd's story," he said. "We want to get it right. We don't want to just be a bunch of white people being like, Here's what it's like being Latino in this country."
Ultimately, there is no master plan for what comes next in Todd's wacky journey. In truth, Bob-Waksberg says, he is constantly discovering things about all the characters and adjusting accordingly. "Todd is in many ways a living, breathing thing. All the facts that exist about him are what we have seen and what we can interpret in the show, and there might be more facts still to discover."
In the meantime, Bob-Waksberg has a message for those fans, especially in the Latino community who identify with Todd. "I don't want to dissuade our Latino audience from seeing themselves in him in any way," he said. "There are a good number of Latinx individuals or half-Latinx individuals who are just as confused about where they fit into the culture, or white-passing individuals who have not done that exploration on themselves, and might see themselves in Todd."