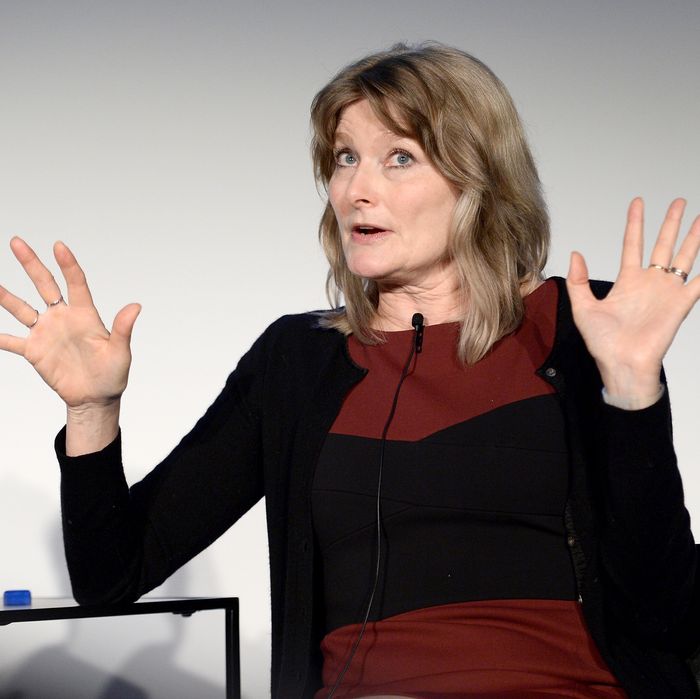 Novelist Jennifer Egan.
Photo: Andrew Toth/Getty Images for Vulture Festival
In its 13th year, the Brooklyn Book Festival (BKBF) — held mostly on Sunday at Borough Hall, but with events sprawling across the city all last week — just keeps on getting bigger: 300 authors in all, including 16 from other countries and half of the 2018 National Book Awards fiction longlist. One writer, fantasy author N.K. Jemisin, can now add a BoBi (Best of Brooklyn) award to her record-setting pile of Hugos (for her Broken Earth trilogy). There were a handful of celebrity ringers (Amber Tamblyn, Omar Epps, Justine Bateman, Isabella Rossellini), and in a sign of the times, two athletes — Etan Thomas and Ibtihaj Muhammad — talking about activism.
"The vision I've always had for the festival has been very, very broad, a festival that has something to offer everybody, and not just the literary world," says Johnny Temple, the charismatic Girls Against Boys bassist-turned-indie publisher who chaired this year's festival council. With 140 events across all five boroughs and 250 booksellers represented, the Brooklyn Fest might be the predominant gathering of writers and readers East of the Mississippi — at least for adults (sorry BookCon). Below, six dispatches from the deckled edge.
A Controversial Death Match
At Gowanus's Littlefield performance space on a rainy Wednesday night, a jetlagged Adrian Todd Zuniga stumbled while kicking off the 2018 BKBF edition of the gonzo lit-rap battle series, the Literary Death Match, that he co-founded in 2006. Meaning to call out all the misogyny of dead white men (T.S. Eliot, Norman Mailer, John Updike), he seemed to make light of Lewis Carroll's "harem of prepubescent girls" — and the caller-out became the called-out, both on Twitter and IRL.
Three of the four event judges were women — novelist Tayari Jones, comedy writer Christine Nangle, performer Natalie Walker. (The other, looking a bit bemused, was Comedy Central star Jordan Klepper.) "This is a majority-female panel, and a majority-female audience, and we're not going to tolerate jokes about rape," Jones said to applause. (After the show, she tweeted: "Rape jokes are never funny. I can never just 'let it go.'")
Later, Walker had her own stumble, confusing Aretha Franklin and Patti LaBelle. The audience groaned, and Walker and Nangle spun the flub into a joke, but the damage was done. Walker later tweeted out her abject embarrassment. All in all it was a rocky (though rollicking) show.
The Mass Extinction of Book Reviews
First thing Sunday morning, Times editor John Williams spoke with the paper's three daily book critics — Dwight Garner, Parul Sehgal, and Jennifer Szalai — about the unsurprisingly glum critical landscape.
"We've witnessed a mass extinction of book reviews," Garner said. "It used to be a new book would get 90 reviews. Then it was 14 or 15. Now it's more like three or four." Being one of the only critical heavyweights puts too much pressure on each individual review, Garner said, and the panel agreed.
"It makes it harder to be idiosyncratic," Sehgal said. "And it's depressing. The loss of critical language is a blunting of the senses." Sehgal also bemoaned the lack of experimentation in literary fiction, but cited Jenny Offill's Dept. of Speculation as an exception. Garner praised other examples of the new generation of autofiction as a fresh way of telling stories. (Though he also gave a one-word preview of his review of Karl Ove Knausgaard's last My Struggle book: "life-sucking.")
It's not just the reviews that these critics miss, but also the readers. "I miss seeing people read books on the subway," Garner said. "Now everyone's on their phone." Williams chimed in: "I saw two people reading books next to each other on the train the other day. I hadn't seen that in a while."
Cat Suicide, Dog Reincarnation, and Pig Fiction
While critics grieved for reviews, under a hot white tent in Cadman Plaza, the authors Patrick deWitt, Eileen Myles, and Sigrid Nunez talked with moderator Benjamin Samuel about the demise of easier-to-please writing companions: their pets.
DeWitt opened with an excerpt from his new novel, French Exit, in which a cat tries to kill himself by jumping off the Eiffel Tower. He keeps landing on his feet, learning "that an animal cannot commit suicide, this due to its survival instinct, which overrides emotion and will." DeWitt — whose dog was seated in the audience, being a very good boy — said that readers get much more upset and offended by harm coming to an animal than a person. "They like to see people get killed!" Nunez added.
Myles, the feminist poet and the mystic of the group, called dogs "a doorway to the afterlife." Myles used to joke that their pit bull Rosie, with whom they spent 16 ½ years, was their father reincarnated. In Myles's memoir Afterglow, Rosie gets credit for much of the poet's work. Myles explained: "She literally took me places I would not have gone." They'd go out for a walk with a pen and notebook. "She amplified and amended my surroundings."
When an audience member bragged that some dogs had learned thousands of verbal commands, Myles said that pigs were supposedly even smarter than dogs — and we hadn't taught them any commands or written many books about them. "Maybe we should stop eating bacon and start writing pig fiction." Has Myles heard of E.B. White?
James Baldwin — Sexist?
The line for a conversation between Jennifer Egan and Tayari Jones stretched around the block of St. Francis College, but it was worth the wait. Egan delivered insights on her (outline-less!) process of writing the historical novel Manhattan Beach — the winner of this year's One Book, One New York program — as well as the power of research, while Jones served up gem after gem.
"I was always told that you should write about people and their problems, not problems and their people," she said early on. Her latest novel, An American Marriage, centers on a couple tested by the man's wrongful 12-year incarceration. She talked about how the book only came together when she overheard a snippet of conversation and figured out how to "animate the statistics."
When an audience member asked if Jones had read the James Baldwin novel If Beale Street Could Talk (now a Barry Jenkins film), she didn't pull any punches. "It's not surprising that that book was written by a man, is it? The woman in Beale Street is kind of … support staffy," she said. "She doesn't have a lot of textual independence."
Jones's book has itself been a little polarizing. "People expected this story to be about one woman's brave struggle to free her man," she said. "One book club in L.A. literally came to blows. I was like, 'Ladies, ladies.'" She paused. "But if you're writing a book to start a conversation, you have to start it, step aside, and let it go."
What Do We Do With All These Men?
"There is no moral or amoral art," said journalist Deborah Solomon — quoting Oscar Wilde — as she moderated a panel on "The Art of the Accused," the festival's most direct address of the complications of #MeToo. Also on the dais were Times movie critic A.O. Scott, producer Tanya Selvaratnam, and New Museum research fellow Maggie Mustard.
Scott told of his own evolution on the issue — which he at first considered an "individual decision" before coming around to "the cowardice of that position" in a hand-wringing essay about Woody Allen last January. (He was compared to Stalin for writing the piece.)
The panel had a lot to say about recent dilemmas, of course. Mustard gave her expert take on the Met's decision to keep a Balthus painting up, versus the National Gallery of Art's abrupt cancellation of a Chuck Close show. She advocated for "something in between." But much of the talk focused on the "comebacks" of alleged offenders, from Louis C.K. at the Comedy Cellar to John Hockenberry and Jian Ghomeshi in distinguished magazines last week. "Their currency is their audience and their fame," Selvaratnam said, and keeping them in the light "gives them impunity."
So what is to be done? Solomon, who suffered harassment in the past (and says she'd complained to Bill Keller at the Times about it, only to be told, "We all have a history") expressed relief and delight that "Ronan Farrow is out there." Given the lack of settled penalties for people convicted (justly) "in the court of public opinion," she had a modest proposal: What if Charlie Rose and his cohort spent two years in community service, writing press releases for Planned Parenthood? Maybe it's a start.
But Seriously, What Do We Do With All These Men?
Days away from a rush vote on whether to install an abortion opponent (and alleged sex offender) to the Supreme Court, "Dystopias of the Patriarchy," held fittingly in the Borough Hall's dazzling Baroque-style courtroom, felt nicely timed.
With Alexandra Kleeman moderating, Amber Tamblyn and Leni Zumas spoke about their harrowing new novels, Any Man and Red Clocks, respectively. Building her dystopia, Zumas looked no further than actual bills supported by Mike Pence and Paul Ryan. The most notable: a "Personhood" amendment to the Constitution that would outlaw abortion. (Another proposed law would only allow straight married couples to adopt children.) "I initially thought these were fringe ideas," Zumas said. "They're not." She was so depressed after Trump's election that she had to stop working on the book.
Tamblyn, too, took a break from writing after the election. When she resumed, she wanted to create "an ugly, irredeemable female character who was the cumulative archetype of the way we talk about women: 'bitch,' 'harpy,' etc." The result, in Any Man, is a monstrous predator. "I hope the book re-centers the conversation," Tamblyn said, "and de-genders readers."
Tamblyn also wanted to hold up a mirror to the media, and to the kind of "activists" who retweet a #MeToo story, dust off their hands, and call it a day. "In trying to help, a lot of well-meaning white people add to the problem," she said.
Meanwhile, Kavanaugh lies in wait.