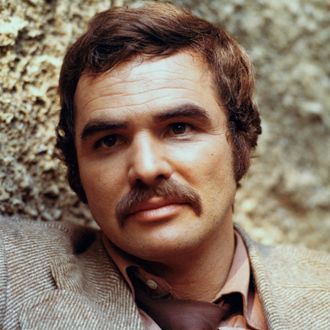 Burt Reynolds.
Photo: Bettmann/Bettmann Archive
Burt Reynolds, the 1970s leading man and star of Deliverance, Smokey and the Bandit, and Boogie Nights, has died. He was 82. The Emmy-winning actor died Thursday morning at Jupiter Medical in Florida, his manager Erik Kritzer told The Hollywood Reporter.
During the '70s, Reynolds was a box-office attraction, starring in movies The Longest Yard and Smokey and the Bandit. He had a steady string of hits in the '80s, including The Best Little Whorehouse in Texas with Dolly Parton, and Best Friends. Reynolds won an Emmy in 1991 for his work on the CBS sitcom Evening Shade. In 1997, Reynolds won acclaim for playing porn director Jack Horner in Boogie Nights. Reynolds won a Golden Globe and garnered an Oscar nomination for the role, but remained unhappy with the movie (he famously fired his agent after he saw the first cut).
Reynolds didn't chase critical acclaim in his prime, and passed on many iconic leading roles, including parts in Pretty Woman, Star Wars, Terms of Endearment, and Die Hard. "I didn't open myself to new writers or risky parts because I wasn't interested in challenging myself as an actor, I was interested in having a good time," Reynolds said in his memoir But Enough About Me, published in 2015.
Most recently, Reynolds starred in A24's The Last Movie Star, and was signed on for a supporting role in. Quentin Tarantino's Once Upon a Time in Hollywood. Reynolds is survived by his son, Quinton.