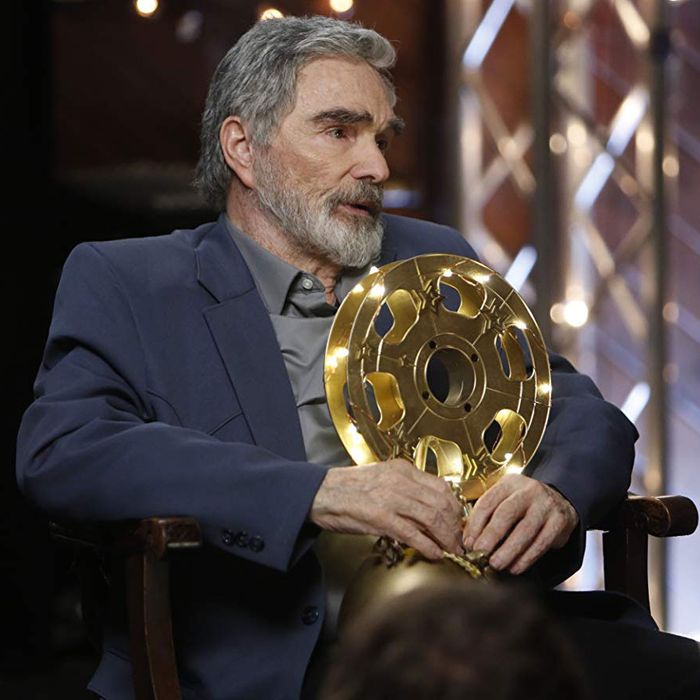 Burt Reynolds played fictional movie star Vic Edwards in
The Last Movie Star.
Photo: A24
"When I was a kid, Burt Reynolds was my hero," Adam Rifkin begins. Rifkin wrote and directed what would be Burt Reynolds's last leading role, in The Last Movie Star, a 2018 film in which Reynolds played Vic Edwards, an actor whose career mirrored his own — albeit with a little more regret. In the film, Edwards visits an extremely indie (read: no budget) film festival in Tennessee as the distinguished recipient of its lifetime achievement award. The honor (and weekend with bedraggled-but-earnest young fans) makes Edwards reflect on his life and career.
"The Vic Edwards character was a movie star who had very public ups and downs. He had a lot of regrets that the movie forces him to face," Rifkin says. "I knew Burt would relate to these things when I wrote it — but in real life Burt was not the melancholy character that Vic Edwards was. Burt lived a great life and Burt loved being Burt Reynolds."
Rifkin became close friends with Reynolds over the seven years it took to get funding for The Last Movie Star. He learned of Reynolds's death Thursday when he got a text from a producer. "One of my producers texted me saying, 'Check the news,'" he says. "It's devastating." In their last conversation a few weeks ago, says Rifkin, Reynolds was excited to work on the new Quentin Tarantino movie, Once Upon a Time in Hollywood, which he hadn't yet shot scenes for. "The fact that [his Last Movie Star] role led to Tarantino casting him in his big movie, and that other roles were being offered to him as well because of it — he really felt relevant," Rifkin says. "He really felt on the top of his game. He said he hadn't been this much in demand since the '70s."
Starring roles in Deliverance (Rifkin's personal favorite Burt Reynolds role) and Smokey and the Bandit — plus his magnetic late-night appearances and sex appeal — made Reynolds one of the biggest leading men of the decade. But Rifkin says he handled fame differently than other stars, which is something he wanted to reflect in The Last Movie Star: "He was more famous than any movie star one can think of today. He didn't take being famous seriously. He thought the whole business of being famous and being important was silly," he says. "His whole attitude was a wink and a nudge and he just kind of let us all in on the fact that being famous can be a lot of fun, but don't take yourself too seriously — otherwise, you're an asshole."
The Last Movie Star, available to stream via Amazon Prime, premiered last year at the Tribeca Film Festival to mixed reviews. But now, watching the way Reynolds navigates an actor's complicated relationship to a career that dazzled then dimmed feels like a fitting and personal send-off. "I never felt he got his proper due as an actor, because his larger-than-life persona overshadowed what an artist he was," Rifkin says. "I decided I want to write a movie for Burt that I felt would remind people what a brilliant actor he really was."