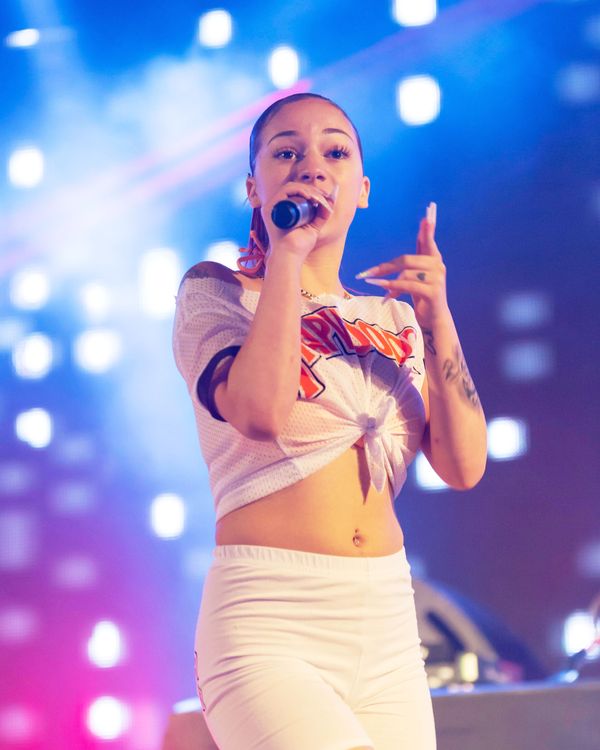 Photo: Richard Nicholson/Music Pics/REX
Bhad Bhabie, the erstwhile Cash Me Ousside Girl, fka Danielle Bregoli fka Danielle Peskowitz, first entered our homes and our hearts via a viral episode of Dr. Phil from 2016. Accompanied by the chyron, "I Want To Give Up My Car-Stealing, Knife-Wielding, Twerking 13-Year-Old Daughter Who Who Tried To Frame Me For A Crime," Bregoli dialed the trope of afternoon talk show wild child all the way up to 11. And even after her extemporary catchphrase — an entreaty for audience members to meet her in the parking lot — had been remixed, Auto-Tuned, and YouTubed ad nauseam, the clip's absurdity and concomitant knee-jerk questions remained: Where did this harmless-looking middle-schooler acquire that mouth? Who let her out of the house like that? Would we let her get away with it?
If the first two questions remain hazily unresolved, the answer to the third question came back a resounding yes — her sneer soon graced T-shirts and she amassed half a million Instagram followers overnight. But sustaining and commodifying her viral fame was another challenge. As recounted to Complex, the day after the Dr. Phil episode aired she was contacted by Adam Kluger, a thoroughly modern spiritual offspring of Jerry Heller and Scooter Braun who speaks like a LinkedIn algorithm. He enlisted as her manager, and the brain trust went to work.
Intent on striking while the iron was hot, they kicked around a reality show but eventually settled on a hip-hop career. Never mind that the rechristened Bhad Bhabie (which, it's worth noting, is not pronounced "bod bobby") had never rapped a bar in her 13 years; she had the requisite attitude, fashion sense, and, shall we say, urban diction, and the groundwork for solo stardom could be laid without reliance on a TV network or product sponsors. Her debut single "These Heaux" (74 million views and counting) arrived in August 2017, peaking at No. 77 on the Billboard Hot 100 thanks to an updated rubric incorporating YouTube plays. Within weeks she'd signed a multi-album deal with Atlantic Records.
The handful of tracks unveiled over the following months — most notably the raucous "Hi Bich" and its video (120 million views and counting) —established a formula expanding upon her snappy, rebellious social-media persona and the blueprint of minimalist trap, a big-budget reimagining of the SoundCloud-friendly sound favored by teenage rappers from her home state of Florida. Her debut mixtape, 15, which arrived on Tuesday, references her age, the number of songs on the mixtape's tracklist, and her proverbial minutes of fame.
Lengthy features in Variety, the Outline, and The New York Times Magazine have granted consideration to Bhad Bhabie's savvy marketing, egregious blaccent, glorification of drugs and crime, and opportunities afforded her as a white, female, teenage trap artist, but for the most part they agree on one thing: the shit, as the Teens say, low-key slaps. "The Cash Me Outside Girl Is Actually Good At Rapping," proclaimed a September 2017 Fader headline. If Atlantic's financial interest in Bhad Bhabie was a hedged bet — an investment in a piece of supple intellectual property with baked-in name recognition, the hip-hop equivalent of The Emoji Movie —15 plays like a market-tested summer blockbuster, but is shrewd beyond its expensive assembly-line sheen. Farrah Abraham's hasty synth-pop experiment, this is not.
It hardly bears mentioning that there was an official "Hi Bich" remix (46 million views and counting), because most every song on 15 is effectively a "Hi Bich" remix. Save for the stray shots at culture mainstays Charlamagne tha God and the Kardashian sisters, Bhad Bhabie's targets are nameless haters. Taken at once, 15 is 39 minutes of aggressive posturing, staccatoed ruminations on various cars and accessories which, if we are to take her at her word, Bregoli has already procured. This narrative is contingent upon a circular logic: her prospective monetization is predicated on the imminent success of this very tape.
From that conceptual perspective, 15 is none too ambitious, subsisting on a canny nihilism rather than outright shock value. The minor-key three-chord progressions and sparse clap drums evince a slick polish rare among her most immediate contemporaries. Bregoli displays proficiency with an array of multisyllabic sing-song rhyme schemes, most impressively on "Juice," a duet with Compton critical darling YG. On the Lil Yachty-assisted "Gucci Flip Flops" (88 million views and counting) she protracts her vowels in a southeastern drawl reminiscent of T.I.'s.
Can Bhad Bhabie rap? The truth is she can. Does she write her own rhymes? Almost certainly not, but finding fault with that means you somehow supposed she did in the first place. "No More Love" and the Ty Dolla $ign collaboration "Trust Me" (28 million views and counting) are easily digestible pop tunes, heavy doses of Auto-Tune and syrupy sweet melodies. The most formulaic among 15's handful of filler tracks expose flat writing, but generally sport enough pithy zingers ("Think you hot shit? Get you fifteen knots, quick / That's a lump sum, sweaty bitches Trump dumb") to keep things moving. True, it never quite exceeds the threshold of Migos karaoke, but Candlebox had some jams too.
In what is perhaps a first for a 15-year-old rapper signed to a major label, the tape is adorned with an Explicit Lyrics sticker. Bregoli's lyricism drones with mundane profanity — if you're reading this, chances are you're a bitch, hoe, or both — but thankfully sidesteps one of the manifold elephants in Bhad Bhabie's problematic room, which is the overt sexualization of a performer who was 13 when she entered the national consciousness.
"Bregoli is a boggling study of proportions," wrote Jamie Lauren Keiles in her Times Magazine profile, "small feet, small frame, superlong acrylic nails and a horsy ponytail that her managers say they make her wear as a strained prophylactic against sexualization." Later in the same paragraph, Bregoli is quoted discussing the constraints on her wardrobe: "'Anything a real 15-year-old girl could wear, dial that down to a 9-year-old,'" Bregoli says. Yet if these visual cues are intended to infantilize her, to further contrast her childish frame with her harsh vernacular, it's complicated by the fact that she tends not to wear much in the way of clothing at all. Onstage and in photo shoots, her midriff and pierced navel are almost always exposed; her videos devote considerable attention to her giant fake eyelashes, tattoos, and long acrylic nails. The comments sections on any of her more suggestive Instagram posts are each crime scenes with enough evidence to put a few grown men behind bars.
A charitable reading might be that Bhad Bhabie's aesthetic is a paean to rebelliousness and empowered femininity, but if these stylistic nods to pubescent sexuality — à la Ariana Grande or …Baby One More Time-era Britney Spears — aren't queasy enough, they carry an additional menace for the way Bregoli, as a rapper, purports to identify with marginalized populations. Weeks before host Adam Grandmaison was leveled with a series of harrowing sexual assault allegations, Bregoli appeared on No Jumper, a carnival sideshow of a podcast in which Grandmaison conducts long, off-color interviews with a clientele of mostly teenage rappers. When asked by Grandmaison about her racial identity, she responded, "I say I'm clear. I blend in like a fuckin' … what's it, a flamingo?" (Grandmaison conjectured that she was in fact referring to a chameleon.)
This echoed a 2017 interview with The Fader. "You cannot act a color," Bregoli declared. "You can't say I'm acting black because I braid my hair." In a genre notoriously hostile to women of color — from the Roxanne Wars to this month's Nicki Minaj-Cardi B catfight, female MCs grapple for limited real estate — Bregoli's ignorance of her relative privilege has largely been forgiven due to her youth and image as a dead-end girl from a broken home cashing in on overnight celebrity in a male-dominated field.
15 is peppered with drug references but for the most part abstains from kingpin narratives. (A 2017 loosie titled "Whachu Know" with a chorus repeating "Trap house, whachu know 'bout it?" and a video of Bregoli stalking through abandoned cityscapes was left off the track list.) Still, her on-record claims to mansions and sports cars must necessarily be qualified as fiction; at 15, she's only just getting a learner's permit. If she lends the sense of a little girl delighting in inner-city cosplay, here it should also be noted that even the most street-certified of rappers regularly delve into the realm of fantasy. Positioned as an entertainer, there's an ineffable sense that if Bhad Bhabie's character and priors aren't completely authentic, her attitude is something close to it. And yet her America's Nightmare shtick only plays because of her diminutive lily-white stature, a joke that doesn't even warrant a punch line.
For me, the most lasting image of the Bhad Bhabie phenomenon involved a small cottage industry of clones spawned after "These Heaux." In a likely staged battle royale video filmed during Coachella weekend, Bregoli encounters Woah Vicky and Lil Tay, both of whom are purported rappers although neither really has any music to show for it. In an anticlimactic sequence, Bregoli trades insults with Woah Vicky, an 18-year-old white woman who's turned her predilection for saying the N-word on camera into her own Rachel Dolezal odyssey. Lil Tay, the 9-year-old "youngest flexer in the game," throws a few barbs but appears overmatched and overwhelmed. (In June, Lil Tay's social media accounts were deactivated after another video surfaced of the visibly frazzled Tay being coached by an off-camera teenager, reportedly her older brother, in the use of African-American slang.) They all look like people who spend too much time in those interstate-adjacent Westfield ultra-malls which have a lot fewer stores in them than they did ten years ago. They all look like they need a hug.
Bhad Bhabie's time in the spotlight has been prolonged by a persona that people connect with enough to support her musical output. As a culturally insensitive public figure she's still exceeded the low bar of the click-based content mills which produced her lurid doppelgängers. Going on two years since the fateful Dr. Phil episode, somehow we're still watching. As Ann-Derrick Gaillot reported in the Outline, a June tour stop in Spokane drew a crowd ranging from 8-year-olds on their parents' shoulders to curious, even enthusiastic 50-somethings giving into their varying afflictions of Deeply Online Brain.
Despite its histrionic overproduction, 15's outro "Bhad Bhabie Story" is the most human moment in the platforms-spanning Bhad Bhabie oeuvre. Her verse opens:
Finally reached out to my dad
We met at the mall on some other shit
Pissed off by his tattoos
'Cause they had the names of his other kids
Like fuck me, I don't exist
And you actin' like I'm s'posed to praise you?
My whole life, you bought a pair of J's
Now you think I'm supposed to say thank you?
In a spoken-word monologue, she recounts selling drugs and reveals that her mother sent her to Dr. Phil because she couldn't afford to send her to rehab. At 15 years old, she sounds as thrilled as she is tired of her fame.
But Bhad Bhabie's appeal is based on the fact that she's always teetering on the edge of being canceled for the next tantrum caught on a smartphone camera, the next artlessly muttered racial epithet, the next airplane assault victim, or even the next honest slip-up that any15-year-old might commit if gifted an instant audience of millions. If and when that happens, we'll all agree that it was the inevitable culmination of reality television, monetized clicks, the notion of hip-hop as an escape route for marginalized Americans, corporations investing in intellectual property rather than artists, and culture's reduction to an ideas exchange of easily packaged two-minute video clips. And then we'll all move on un-implicated, and Danielle Bregoli will be stuck being the Bhad Bhabie.