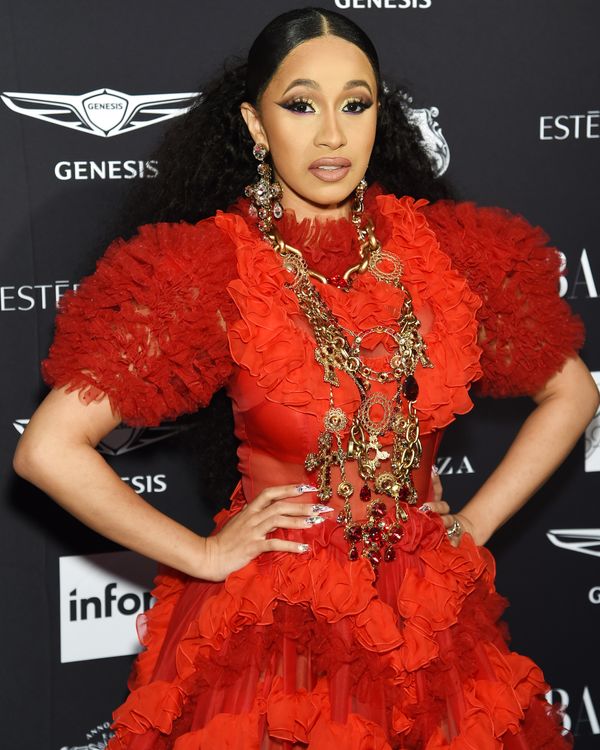 Cardi B.
Photo: Dimitrios Kambouris/Getty Images for Harper's Bazaar
Nicki Minaj and Cardi B nearly got into a full-on fight at the Harper's Bazaar Icons party at New York Fashion Week. Both rappers wore incredible gowns and looked downright amazing, but an exchange of words at the event led to a physical altercation, according to videos posted to social media.
This follows reports of drama between the two women at the Met Gala, though both rappers have said in interviews that they are not feuding with each other.
In the video, you can see Cardi B, wearing a Dolce & Gabbana floor length, red ruffled gown, lunge toward Nicki before being pulled back by multiple bodyguards. It's not clear exactly what the two are saying, but multiple people can be heard yelling "whoa, whoa, whoa!"
TMZ reports that Cardi lost a shoe in the incident, which she reportedly threw at Nicki. At this time, neither woman or her team has posted a comment.
Cosmopolitan reports that Cardi left the party with a torn dress, and photos show a lump on her face. Videos show Nicki posing for photos before leaving in a car.
A few hours after the initial reports, Cardi B posted to her Instagram, writing "I let a lot of shit slide! I let you sneak diss me, I let you attempt to stop my bags, fuck up the way I eat," Cardi wrote.
"I addressed you once in person, I addressed you a second time in person, and every time you copped the plea," the note continued. "But when you mention my child, you choose to like comments about me as a mother, make comments about my ability to take care of my daughter, all bets are fuckin off!!"