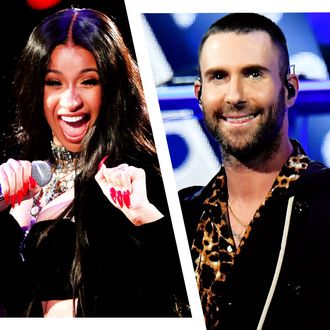 Stand for something. Even if it means sacrificing Maroon 5.
Photo: Getty Images
Last week, reports emerged that Maroon 5 is the front-runner for the 2019 Super Bowl halftime show. Today, Cardi B has come along to make the case for why they should probably just be runner-up. Maroon 5 and Cardi B have scored the No. 1 song on the Billboard Hot 100 with "Girls Like You," knocking Drake off the throne he's been keeping warm all year ("In My Feelings" ruled for ten weeks). "Girls" is Maroon 5's fourth No. 1 in their career; it's now Cardi's third No. 1 song in her career … all accomplished in less than a year. (Maroon's 5's first No. 1 was in 2007.) The numbers don't lie! So NFL, please, we beg you, do the right thing and reverse your decision. (Not the Kaepernick thing, but yes, also the Kaepernick thing.) Allow Cardi B to headline alone.
Cardi first hit No. 1 last September with "Bodak Yellow," becoming the first female rapper since Lauryn Hill to get a solo No. 1; she then went No. 1 again earlier this summer with "I Like It," making her the first woman to have multiple rap No. 1s. "Girls" is Maroon 5's first No. 1 since 2012; their last before that also needed a female assist, from Christina Aguilera. Did we mention that "Girls" was a solo Maroon 5 song before Cardi hopped on the remix and drove it to No. 1? Listen, facts are facts. TMZ reports that, as we speak, Cardi is already angling for a solo set at the Super Bowl, instead of the planned guest spot to perform "Girls." Believe in something, NFL. Even if it means sacrificing Maroon 5.