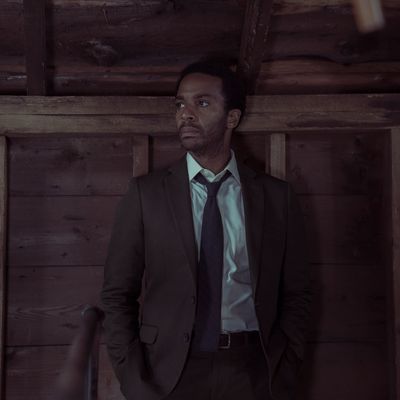 Photo: Patrick Harbron/Hulu
Not long after Shawshank warden Dale Lacy (Terry O'Quinn) kills himself on Hulu's Castle Rock, an out-of-town couple turns his house into a macabre tourist attraction. As the dummy perched on the living room couch with an ax lodged in its head makes clear, their bed-and-breakfast offers more than shelter and a warm meal. It's also a museum, displaying artifacts from Castle Rock's gruesome past. "We believe this to be the first fully immersive lodging experience of historical integrity for the true-crime aficionado," the B&B owner tells a pair of wary guests.
Or, as the puckish Jackie Torrance (Jane Levy) puts it: "A murder theme park!" That description could also apply to Castle Rock, the TV show. Created by Sam Shaw and Dustin Thomason and inspired by the work of horror titan Stephen King, Hulu's freshman drama is awash in violence, featuring arson, stabbings, suicides, a mass shooting, and numerous other atrocities. It follows in the footsteps of FX's Fargo and NBC's Hannibal, mixing pulpy scares with winking humor and brooding melodrama. What buoys it amid all that bloodshed is the deft performance of André Holland.
Since making his screen debut in an episode of Law & Order, Holland has dabbled in everything from romance (Moonlight) to political comedy (1600 Penn). Yet, one need only see The Knick to appreciate his exceptional versatility. As Dr. Algernon Edwards, he is by turns calculating and passionate, imperious and insecure, petty and generous, and he slips between moods as readily as the weather changes. Watching him counter Clive Owen's icy scowls with blistering glares, you get the impression that he would be equally convincing as a sociopath or a heartthrob.
In Castle Rock, he gets to be a little of both, elaborating on its portrait of resistance in the face of marginalization and at last giving Holland, a perennial supporting player, a lead role as complex as Algernon. He plays Henry Matthew Deaver, a defense attorney specializing in capital punishment cases who returns to his hometown of Castle Rock to help an anonymous client. At first, Henry appears to serve as an audience surrogate, observing the secluded Maine town and its oddball inhabitants with the detached bemusement of a stranger. We share his alarm at Alan's (Scott Glenn) appearance in his mother Ruth's (Sissy Spacek) house and his frustration with Theresa (Ann Cusack) as she denies his client's existence. (There's that glare again, practically singeing the screen.) Dapper in a suit, adept with sarcasm, and intent on justice, he's a voice of reason amid madness.
Early on, however, we're led to doubt. After the execution of a different client, Henry stops at a riverside restaurant called Doc's Lizard Bowl and watches a kid feed a chicken to an alligator. Meanwhile, at Shawshank, the deputy warden explains Henry's backstory: When he was young, he vanished in the woods with his father Matthew, reappearing days later to find Matthew dead and his memory of the incident gone. Consensus in Castle Rock holds that he is somehow responsible for his father's death. By itself, the scene could be dismissed as a random tangent; accompanied by the voice-over, it acquires an unsettling undertone, framing Henry in a murkier light.
So, Henry Deaver is both the detective and the mystery. Many actors would have reduced him to a cipher, elusive to the point of emptiness, but Holland gives texture to his ambiguity, exploring the fault lines of his psyche with the finesse of a tightrope walker. He hints at the turmoil beneath Henry's poise without quite exposing it, rather letting it seep into his demeanor like ripples — a flicker of irritation here, a touch of stiffness there.
Episode eight, titled "Past Perfect," brings the show's overarching conflict into focus, providing something of showcase for its star. It opens with Gordon (Mark Harelik), the eventual owner of the Castle Rock Historic Bed and Breakfast, listening to a thesis presentation. "The fundamental problem," the student says, "is that repression has become a dirty word, when it is, in fact, a crucial Darwinian tool. The human mind is expressly designed to forget much of its past suffering, as the body is designed to heal its wounds."
While the theme of repression is illustrated most clearly in Gordon's storyline (even before he and his wife commit murder, they have her infidelity to deal with), it plays out most vividly in Holland's body language, his every gesture fraught with the tension between confrontation and denial. In "Past Perfect," Henry endures a string of confrontations, and none of them go the way you might expect.
The centerpiece is a brief exchange with a police officer who comes to the Deaver house in the aftermath of Alan's death. It starts on a businesslike note, as the officer interrogates Henry about his client, who has been connected to several inexplicable murders. Then, she drops a comment that catches Henry's off guard: "Maybe next time, you'll think twice before you spring a lunatic from prison." Henry looks her straight in the eye and replies, "Maybe prison is what turned him into a lunatic." For Henry, it's a rare instant of candor, his voice firm and his gaze unflinching; though kept in check, his anger is plain. But as the exchange continues, the officer dredging up Henry's past and tacitly accusing him of causing the rash of carnage, he grows restless, his posture sagging and his eyes wandering.
If horror traditionally manifests internal fears as external forces, whether beasts or serial killers, Castle Rock steers in the opposite direction, examining how people's minds are infected by their surroundings. Through Holland's performance, we come to understand the strength of Henry's ties to his home, the extent to which it has shaped him despite his efforts to dissociate. This isn't color-blind casting: Although the issue of race is seldom addressed point-blank, it is impossible to ignore, woven as deeply into the show's DNA as King's influence. Beyond its Easter eggs and mythology, Castle Rock is about the experience of being an outcast — specifically, the lone black man in a "lily-white" town — and the trauma that results from it.
Henry's trauma emerges in myriad details, from his empathetic relationship with his clients to his reaction to being held up by cops, the flash of shock that quickly subsides into resignation. Particularly poignant are his interactions with his estranged son, Wendell, played in a clever bit of meta casting by It's Chosen Jacobs. Look at their parting at the bus stop, the subtle shifts in Henry's impassive façade: a tilt of the head; a lopsided half-smile; a hand on Wendell's shoulder, both reassuring and distancing. An expression on Holland's face or a gesture of his body can hold multiple, even contradictory, meanings. Even as he conveys a desire for genuine connection, he suggests that a part of Henry will remain forever inaccessible, locked away.
Only once so far has he lost control. Searching for answers, Henry breaks into the house that used to belong to Dale Lacy and finds a room adorned with paintings of his anonymous client, the Kid (Bill Skarsgård), all signed with Lacy's name and a year. He is still processing this discovery, when Gordon walks in. Chaos ensues, eventually leaving both B&B owners dead. It's a brutal sequence, presented in jittery close-ups and dramatic angles by director Ana Lily Amirpour, but Holland anchors it in emotion. His eyes record the trajectory of Henry's desperation as it builds, curiosity morphing into bewilderment, then unease and fear, and finally exploding into pure panic. For a moment, the audience is completely immersed in his perspective.
But there's no catharsis. On the contrary, Henry retreats further into himself, slumped under the glow of police sirens like a phantom. Now, it's the absence of expression that speaks volumes: Holland's face is blank, his gaze registering nothing. Instead, his thoughts come across as noise: For the remaining minutes of the episode, a faint, staccato scream repeats in the background like a record stuck on a loop, an echo of the past. There is no escape.