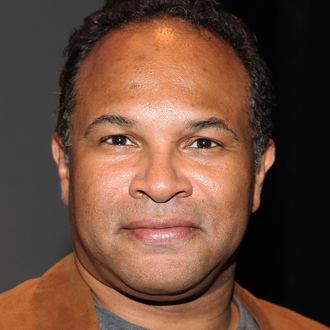 Geoffrey Owens.
Photo: Robin Marchant/Getty Images
It's almost Labor Day, which, you may not realize, is a holiday meant to honor the labor movement and working people's contributions to our country. Unfortunately, it seems the internet has decided to take an interest in only one working man, former Cosby Show star Geoffrey Owens. Last Saturday night, a woman named Karma Lawrence spotted the actor just trying to earn a living and decided to take the story to the Daily Mail. "It made me feel really bad. I was like, "Wow, all those years of doing the show and you ended up as a cashier," Lawrence told the outlet, seeming to forget that without the people working there, your local grocery store would just be whatever you're able to grow in your own backyard, ma'am.
The response to the article has been swift, as actors everywhere are taking the opportunity to let people know that there's no shame in working for money. Emmy nominee Pamela Adlon, star of the FX series Better Things, took to Twitter to list all the jobs she's held between gigs, noting "Your visibility as an actor never goes away. But the money sure does."
HLN correspondent and former Entertainment Tonight co-host Nischelle Turner recounted the time she applied for a job at Target between gigs.
Quantico's Blair Underwood also defended Owens having the job that he probably needs in order to pay for things like food, housing, and medical care.
Even James Woods, yes, that James Woods, came to Owens's defense.
Once the story got picked up by Fox News, Tami Roman, star of Basketball Wives got involved to shut this whole thing down once and for all using her Bonnet Chronicles Instagram account. "So the fuck what?" Roman says. "He was doing what he needed to do to for his family."
Let this be a lesson to everyone this Labor Day that working in exchange for money is a perfectly good and fine thing to do. And, as the seller of this photo might soon realize, just because people recognize you doesn't mean you don't have to go to work.