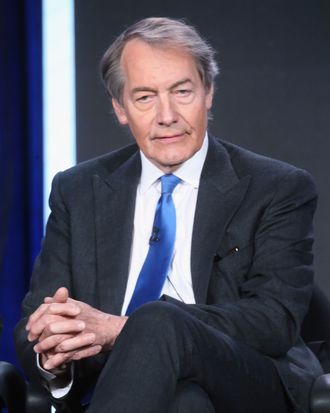 Charlie Rose.
Photo: Frederick M. Brown/Getty Images
With over 30 women now accusing Charlie Rose of various forms of sexual harassment, three of those women, ex-CBS employees, are in the middle of suing Rose for "abuse" they were subjected to while working at the network. In the lawsuit, the women — Katherine Brooks Harris, Sydney McNeal, and Yuqing "Chelsea" Wei — claim Rose would repeatedly touch their bodies and make inappropriate comments about their sexual history, as well as make unwanted, regular sexual advances. While the lawsuit was filed in May, Rose has only now taken public action about it, and is seeking a dismissal on the grounds that the trio have no basis to their claims — because the only reason they're suing is because of the #MeToo momentum.
In a filing obtained by Deadline, Rose's attorneys argue that Harris, McNeal, and Wei are "failing the law" by moving forward with such unwarranted claims. "Tacitly recognizing the weakness of their factual allegations, Plaintiffs seek to bolster their threadbare and conclusory claims by exploiting the #MeToo Movement and bootstrapping the accusations of sexual harassment made by third parties against Rose in articles published by The Washington Post," the motion states. "Plaintiffs are not alleged to have had any knowledge of a single one of those accusations set forth in the articles. These hearsay accusations do not and cannot supply the missing link to the legally deficient claims." Rose had previously said the Post's exposés on his behavior at CBS were "unfair and inaccurate."
As for CBS, the network decided to fold its internal investigations into Rose and chairman Les Mooves together. It's unclear when the findings from this investigation will be released to the public.