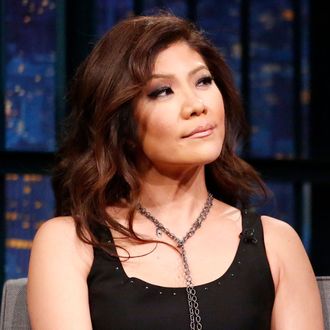 Julie Chen.
Photo: NBC/NBCU Photo Bank via Getty Images
Julie Chen is taking time away from her CBS talk show The Talk after her husband, former network head Les Moonves, was forced out of CBS in the wake of allegations of sexual harassment and assault from a dozen women. "I am taking a few days off from The Talk to be with my family," Chen said in a statement to Vulture. "I will be back soon and will see you Thursday night on Big Brother." Chen, who married Moonves in 2004, defended him in July, when Ronan Farrow first published a report on Moonves's harassment at CBS, saying, "Leslie is a good man and a loving father, devoted husband and inspiring corporate leader. He has always been a kind, decent and moral human being." This Sunday, Farrow published the accounts of six more women, accusing Moonves of sexual harassment, sexual assault, coercion, physical violence, and professional retribution. That night, he resigned from the network, though he continues to deny the allegations against him.
On The Talk today, Chen's co-hosts did discuss Moonves's exit in her absence. "As you all know, Julie's husband is in the news, and she's taking off time to be with her family," Sharon Osbourne said at the top of the show. Osbourne went on to say that though she knew Moonves in a "superficial way" and had shared messages of support for him, the new allegations against him changed her perspective. "The stories are so similar. The pattern is so similar that, for me, he's not been convicted of any crime, but obviously the man has a problem," she said. "I'd like to say that Mr. Moonves has stepped down and Mr. Moonves is an extremely wealthy man and good luck to him for being a wealthy man. He worked hard. He's made this network No. 1." Co-hosts Sheryl Underwood and Sara Gilbert also sent support to Chen, while also insisting that Les Moonves should have stepped down. "I support her always," Gilbert said. "However, this is an important time in our culture and just because this hits close to home, it doesn't change this story. All women's stories matter and these women's stories matter. This is very serious, and the appropriate actions need to take place."
Josef Adalian contributed reporting.