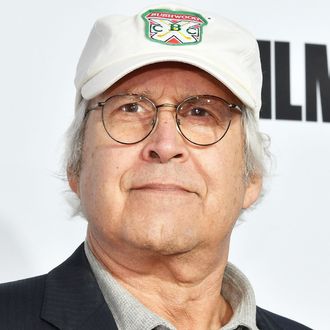 Chevy Chase.
Photo: Dia Dipasupil/Getty Images for Tribeca Film Festival
Chevy Chase isn't happy about all the negative headlines he's created over the years, but he just created a whole new batch of them. In a new profile in the Washington Post, the original Saturday Night Live cast member got candid about Donald Glover and Community, his thoughts on SNL these days, growing up with an abusive mother, his recent attempt to stay sober, and struggling to find acting work. Most of the profile is full of Chase doing lots of shit-talking — of both the subtle and blatant variety. Below, check out some of the juiciest bits.
He provides a bit of an update to The New Yorker's profile of Donald Glover from earlier this year, in which Community creator Dan Harmon revealed that Chase often tried to "disrupt" Glover's scenes by cracking racial jokes and once said, "People think you're funnier because you're black." Glover told The New Yorker he saw Chase as "fighting time … a true artist has to be okay with his reign being over. I can't help him if he's thrashing in the water. But I know there's a human in there somewhere." After the New Yorker profile, Chase says he tried to approach Glover at the SNL season 43 finale:
The night the story went up, Chase texted, "There goes my career."

He doesn't deny delivering the line — "I could have said it" — but he denies the interpretation. It was a joke. Chase had been a fan of Glover's since they filmed the pilot in 2009. How could anybody think he was racist?




By the time SNL co-creator Lorne Michaels texted Chase an invitation ("you're still a legend here") to the season finale in May, the New Yorker thing seemed to have blown over. Then, he ran into Glover, who was doing a cameo in the finale.




"I never saw a guy turn white so fast," Chevy says.
Here's what Chase thinks of SNL these days:
"First of all, between you and me and a lamppost, jeez, I don't want to put down Lorne or the cast, but I'll just say, maybe off the record, I'm amazed that Lorne has gone so low. I had to watch a little of it, and I just couldn't f—— believe it."




Maybe off the record? A microphone and digital recorder sit in front of him. He is reminded that SNL is immensely popular, with millions of viewers.




"That means a whole generation of shitheads laughs at the worst f—— humor in the world," he says. "You know what I mean? How could you dare give that generation worse shit than they already have in their lives? It just drives me nuts."
Chase on Will Ferrell as George W. Bush:
"Just not funny. Makes $25 million a picture."
On Kristen Wiig:
"I liked her a lot. She had two things going for her. She had clear-cut chops, and she was pretty, too. But what happened to her? Where did she go?"
On Eddie Murphy:
"I thought Eddie Murphy was funny. Gumby. I found that funny and people loved that. . . . Stevie Wonder, he did well. [Pause.] It's not that hard, for Christ's sake. Your skin's the same color. You just put on some sunglasses and do this."
On Rena Fruchter, the author of Chase's so-called "authorized biography" from 2007, I'm Chevy Chase … and You're Not:
"She had the sense of humor of an egg timer."
Chase also discussed his rejected request to Lorne Michaels six years ago — during Chase's daughter's wedding, no less — to host SNL. As Chase remembers it, "It's like denying that I was the guy who made this show really go that first year. It's like taking all that away from me." Michaels's take on the ask paints a slightly different picture of the moment than Chase's recollection. For him, the timing of the request was significant: "They were literally waiting for him to walk Cydney down the aisle. And he said, 'I'm ready to host again,'" Michaels said. "All I was saying was, we have to stop this discussion now. You're old and annoying. This is a big moment in your life. I'm here for you. Danny [Aykroyd] is performing the ceremony. We're your friends; we're here. You're walking your daughter down the aisle."
Despite all the shit-talking Chase does in the profile, he also admits that the negative coverage of his behavior over the years has gotten to him. "I guess the part they don't write about is where I'm lying in bed, hurt by that, not going to sleep but thinking it over, why would somebody write that?" he said, referring to the many online articles and the book Live From New York, where Will Ferrell called him SNL's "worst host" ever. "I'm highly sensitive. I don't know it in my insensitive self."
Read the rest over at the Washington Post.