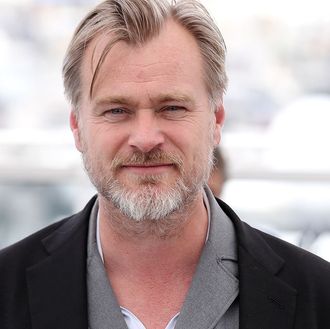 Photo: Christopher Nolan attends the 71st annual Cannes Film Festival at Palais des Festivals. Mike Marsland/WireImage
If after a long day of watching NFL games, you plan to immediately switch over to Netflix to stream The Dark Knight, Christopher Nolan would like a word. You might not know it, but your fancy TV is probably using something called "motion smoothing" that makes all your fun sportsball games look great, and all your movies and prestige television dramas look horrible. Maybe you've never noticed this, maybe you don't care, maybe you love Heath Ledger's Joker so much you'd watch him on on an Apple Watch, but Christopher Nolan cares, a lot. And even if you want to do what's right and make Christopher Nolan happy, you might find yourself struggling to figure out how to correct these settings, since TV manufacturers each present "motion smoothing" differently in their menus.
Nolan decided to take action against this in an email this week to his fellow Directors Guild members. The Dunkirk director announced a new effort to work with TV manufacturers to make the settings easier to change. "[W]e hope to try and give directors a voice in how the technical standards of our work can be maintained in the home," the director wrote according to the email obtained by /Film. The email also included a survey for members to express how they'd like to see settings change. In the meantime though, maybe Google it?