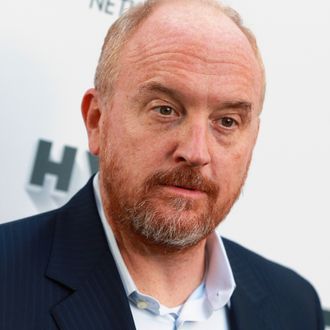 Louis C.K. in September 2017.
Photo: Rich Fury/Getty Images
Hey guys, don't forget about Louis C.K.'s victims, and by that we of course mean Comedy Cellar owner Noam Dworman, who recently told HuffPost that he's upset with C.K. for thrusting his club into the limelight by staging an unexpected comeback there.
"I'm very upset with him because my life has been substantially affected and his life has not, and I'm not sure he's aware of it. I'm not sure that he gave it sufficient thought," Dworman, who told The Hollywood Reporter last week that he had no advance notice of C.K.'s surprise set, said in the new interview. "On the other hand, I think he's been disconnected from the world and didn't realize. I am upset." Referring to the sexual misconduct allegations that C.K. confirmed were true, Dworman added, "We were the place that never did that stuff … And now I'm the national symbol of it. The very opposite of what I always stood for. The very fucking opposite!"
Dworman said what he's most upset about is that C.K. didn't use his set to acknowledge or deal with his allegations in any way, something he called a "missed opportunity." The owner stated the club would institute a new policy following the C.K. fallout: "Essentially 'swim at your own risk.' We don't know who may pop in that's not on the lineup. If someone does come in that you don't want to see, you are free to leave, no questions asked and check completely on the house. Having said that, we don't expect Louis back anytime soon." Still, Dworman says he has the "absolute right to do whatever" when it comes to featuring comedians at the club: "Even if it means tolerating somebody who [people] really disapprove of, who really did something bad, whatever it is. As long as I don't force somebody to be there that doesn't want to be there. I think it's okay."
HuffPost also spoke with some of the Cellar's employees, including one comedian named Joyelle who asked her full name not be used to avoid professional ramifications. Joyelle said she felt a "subtle discomfort" not only about C.K.'s surprise set but the industry's treatment of women in general. "I've said this before — I've said this to Noam — as a black woman, I don't always necessarily feel comfortable in the space because it's dominated by white men. Now, there seems to be a white man who has been accepted after he's an admitted sexual predator." Joyelle also noted that allowing someone like C.K. onstage "means you do not think what he did was that bad … That's what it says if you let him get on your stage and work on your stage."