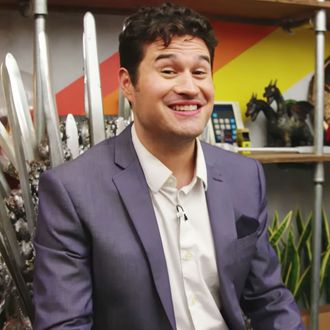 Mike Trapp from
Um, Actually.
Photo: College Humor
The death of NBC's streaming comedy service Seeso might not have been in vain, because now a popular comedy outlet is launching a subscription comedy service of its own. Today CollegeHumor announced the launch of Dropout, a new ad-free, mixed-media subscription service dedicated to comedy. The initial launch of both scripted and unscripted shows as well as comics includes the following:
SHOWS




• Cartoon Hell: Created by and starring Drawfee illustrators Nathan Yaffee and Caldwell Tanner, Cartoon Hell finds the duo in hell doomed for eternity unless they draw a cartoon good enough to get out. Each week, they draw a new cartoon suggested by fans and bring it to life through animation.




• Dimension 20: Fantasy High: If John Hughes ran a tabletop RPG, the result would be Dimension 20: Fantasy High. Dungeon Master Brennan Lee Mulligan leads a campaign centered around the Aguefort Adventuring Academy, a fantastical high school for teenage elves, orcs, gnomes and goblins. CollegeHumor cast members past and present play a range of characters on this epic adventure.




• Kingpin Katie: Katie Marovitch has a reputation among CollegeHumor fans for her frenzied cocaine use. But after getting caught up with a powerful drug cartel, she soon finds herself in over her head.




• Lonely and Horny: Ruby Jade (Amir Blumenfeld) is a neurotic, selfish, understandably single 30-something who wants to have sex more than anything else in the world. Along with the help of his empathetic dating coach Josh Rice (Jake Hurwitz) Ruby embarks on a quest to find love, with literally anybody.




• Paranoia: Can you hide your high? Ally Beardsley hosts a crew of 420-friendly comedians and friends in a "Mafia"-style game that pits secret stoners against an innocent public.




• Rank Room: Host, philosopher and CollegeHumor cast member Katie Marovitch leads a rotating team of comedians in determining the definitive answers to life's most important questions, such as "What is the sexiest way to die?"




• See Plum Run: A reboot of Precious Plum, CollegeHumor's wildly successful and insanely NSFW web series. See Plum Run finds Mama (Josh Rubin) and Plum (Elaine Carroll) retired from the pageant scene and embarking on a campaign for student body president at the posh New England private school Buckingham Academy. Their wild campaign is a direct parody of the 2016 presidential race.




• Total Forgiveness: Crippled with debt, Grant and Ally go head-to-head in this agonizing competition show to prove they'll do ANYTHING to pay off their student loans.




• Troopers: A space saga of epic incompetence. The Interstellar Legion is thrown into chaos when two of Dreadlord Sinister's unremarkable underlings, Vin and Mara, break ranks and traverse the galaxy to retrieve an item of untold power.




• Um, Actually: Host Mike Trapp introduces a game show of fandom minutiae one-upmanship, where nerds do what nerds do best: flaunt encyclopedic nerd knowledge at Millennium Falcon nerd-speed.




• WTF101: Afternoon detention with Professor Foxtrot leads to magical, educational, and extremely gross journeys.

 

COMICS




• Cartoon Hell Presents: Part of Dropout's Cartoon Hell universe, Caldwell and Nathan's hell-born cartoon ideas aren't up to demon Managar's television standards. But hey, what about a comic series? (A new issue per each episode of Cartoon Hell, written by David Seger, art by Millionfish, Britt Wilson, Stephanie Mided, and more)




• Dreadlord: Part of the Troopers universe, the baddest boss in the galaxy ditches his bumbling lackeys for a cosmic spy chase (written by Ben Joseph, art by Paul Westover)




• Gay Spy: The top (and bottom) secret adventures of America's stealthiest queer operative, loosely based on the memoirs of CollegeHumor's Grant O'Brien. Will he blow it? (written by CollegeHumor cast member Grant O'Brien, art by Levi Hasting)




• Ladies Book Club: An expansion of Drawfee's Dungeons & Dragons series, Drawga, Roxy, Gina, and Legzi (a.k.a. the Ladies Book Club) are in for a wild ride when they take one last magical road trip before college. (Written by Jacob Andrews, Julia LePetit, and Tony Wilson, art by Patricia Daguisan, Gabrielle Gomez, Sammy Borras, Mady G and more)




• Legend of Jared: Angry, purple Jared dreams of becoming a full-time gamer. When a mishap turns him into an embarrassing meme, he sets out to prove the video game world wrong. (Related to Dorkly's Today in Nerd History character Jared the Puppet. Written by Tony Wilson and Jake Young, Art by Andy Kluthe)




• The Continuing Adventures of Kim Jong Un: Supreme Leader Kim Jong Un continues to fight Western scum in this most excellent mandatory comic entertainment. You will enjoy it or face the consequences. (Relates directly to CollegeHumor's original series, The Adventures of Kim Jong Un, Written by David Seger, Art by Kyle Smeallie)



In addition to the shows and comics, Dropout will also feature something it calls "chat stories," which it describes as "text-based story arcs presented in an environment not too dissimilar than iMessage or WhatsApp" designed to "bridge and expand upon the narratives between new episodes of Dropout's original programming."
iOS and Android apps for Dropout are expected to launch sometime later this year. In the meantime, you can sign up for a free trial at the Dropout website. For now, Dropout will be available for $3.99 per month for the first three months, then it will offer tiered subscription plans with options of paying per month, six months, and yearly prices.
In their new video promoting Dropout, it appears that CollegeHumor has read our article about how the internet is killing comedy and doesn't want to become a slave to branded content like some other comedy websites have. Time will tell if Dropout finds more luck in the subscription comedy content model than Seeso had, but one thing's for sure: It's not sponsored by Shell, and that's got to count for something, right?