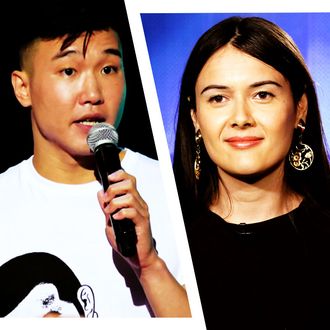 Joel Kim Booster and Patti Harrison.
Photo: Comedt Central/Getty Images
The very funny and delightful Joel Kim Booster and Patti Harrison are teaming up to host a new digital series in the works at Comedy Central. According to the Wrap, the Paul Scheer–produced series Unsend will take a look at the news of the week through the lens of social-media reactions like "ill-informed tweets and TMI Instagram stories" and will also feature "Daily Show–style correspondents" to do "deep dives into memes and baffling feuds." Comedy Central previously had a digital series with the same title, but a rep from the network said the new show is different, just with the same name.
Comedy Central has not yet announced a premiere date for Unsend, so start crafting your ill-informed tweets about this show immediately.